In order to stay relevant and appealing to new users, dating apps have come up with so many features: video chatting, prompts in addition to bios, niche information about your daily life, etc. But Lex is different. Lex saw these advancements in dating app content, and was like "no, we're actually gonna take it back in time." Lex is a queer dating/friendship app that's format matches classified ads. There's no pictures, though you can link your Instagram in your bio, so all you have to go off of is the person's ad. This has given users to post whatever they want without their pictures being attached to it. Which makes for some wild posts. Some are simple messages looking for friends, and some are very detailed explanations of exactly what kinky experience they are looking for. I could spend hours scrolling through and crawling into the most intimate parts of brains all over the world.
People who post on Lex can let everyone know exactly what they are looking for, but what are users looking for when viewing someone else's profile? I decided to find out for myself. First, I made a profile: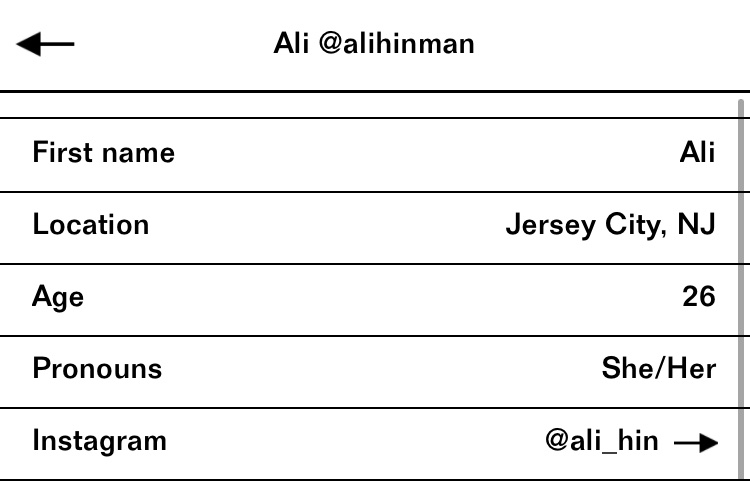 I wasn't kidding when I said Lex has no pictures at all. I figured those on Lex had experience with other dating apps, so I purposefully made my question vague. Here's my post:
Then I set my preferences: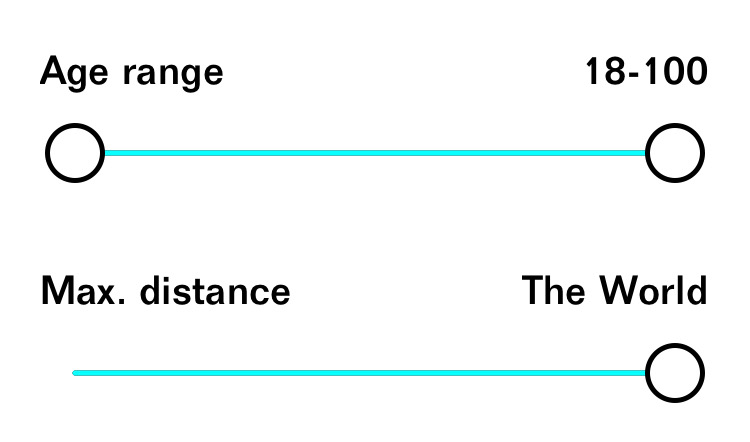 I thought they were being facetious when the app said "The World," but I literally got answers from all over the world: America, Canada, UK, Spain, Portugal, Algeria, just to name a few! I gathered my 30 responses from the most diverse pool I could have imagined. So, without further adieu, here are the responses to my post.
---
1. "Bottoms! I'm pretty much open to any type of queer as long as they're a bottom. Bonus points if they're femme and extra bonus points if they are trans femme." — Shay, 21, he/him
2. "Wit, which is easier to come by here then most other places." — B, 43, she/her
3. "I look for someone who's looking for what I'm looking for, if we have compatible interests. I'm not looking to hook up right now so I'm thinking more about the long-term…The funnier the better, but please keep away from me with poetry. I didn't like it in high school English class, and I'm not going to like it here either. I also usually respond to ads more if they're not specifying butches/femmes because I don't really know where I fit on that spectrum… I'm really just out here trying to wear clothes and be comfortable." — Aurora, 24, she/her
4. "I usually check the interests looking for book lovers and outdoorsy people." — Wafa, 27, she/her
5. "I look for mentions of kink or bdsm or sexting. I look for confidence and someone who doesn't put themself down." — Monster, 47, it
6. "I look for someone whose post(s) show they aren't afraid to be themselves. Tbh, I think way too many folks are here putting up a front because they think if they showed more genuinely who they are, others automatically wouldn't like it (regardless whether or not that's true or not). Also, overall good judgment: wanting to play with a stranger while one or both of you is/are under the influence is a no go for me, for example. I wish more folks on Lex asked themselves, 'If a cis man posted this on a hetero site, would I be creeped out?'" — Meredith, 31, she/they
7. "A femme bottom who knows how to talk dirty to me." — Dane, 42, she/her
8. "On Lex, I look for a linked Instagram account, maybe that's shallow but I need to know who I'm talking too, especially since I've seen some cis men on here. And I message people if I find them attractive, again shallow I know. Unfortunately I'm a picky person, which I know is a horrible thing and probably why I've been single my whole fucking life." — Ashley, 35, she/her
9. "On Lex specifically not too many posts. If I go on a profile after seeing an ad I like and see you have 20+ it turns me off. Go through your old ones and prune them. Also, specific actions, like if you have an extra ticket to a show or an event you want a date to or something let's hang out is too passive for me." — Becca, 22, she/her
10. "Any indication of emotional intelligence." — Anonymous, 25, she/her
11. "Personality, basic demographic info." — Kelly, 29, she/her
12. "More than one bloody sentence…like no 'ask me anything ;).'" — Gisele, 25, she/her
13. "What's the realness? Are they looking for a (monogamous) partner? What kind of partner are they looking for? Important details include non-cigarette smoking, bi-poisitivity, and monogamy." — Aleta, 26, she/her
14. "I'm looking for a reason to want to ask them a question. For example, how did this idea first manifest?" — Perry, 30s, she/they
15. "I like it when dating profiles have a lot of words and info about the person. I will instantly swipe left if it's just pics. I like to see first thing what they are looking for and their sexuality cuz I don't trust apps to match things correctly. It also can't just be selfies. I want to be able to get to know more about the person via their pics, so if they love traveling, having pics of places they've been with them in it, etc." — Keya, 22, they/them
16. "Usually something witty, relatively short, and original." — Mac, 22, she/her
17. "Actual content and personality. I'm allergic to cats, dogs, and rabbits, so I'm always checking to see if people have pets. I used to check folks' music interests, but my own are so weird that finding a match on that particular criterion is hard. I'm not looking for hookups so I automatically reject empty or super low content profiles. I also check for folks' spiritual beliefs to increase the odds that they're the right kind of weird for me." — Batshua, 37, any pronouns
18. "I look for photos that look nice but not, like, professional? Idk how to describe, but something that's not some sketchy grainy selfie but not something that's so perfect that it looks fake?" — Gabriela, 22, she/her
19. "I guess I look at pronouns first as I'm lesbian and only into women. I also look at what they are looking for to see if we may be compatible." — Muffin, 24, she/her
20. "Biggest thing I look for is smiling. I want to find someone lighthearted who can keep up with my laughter." — Zheyna, 24, he/they
21. "I have tons of thoughts on this but my brief answer is values/interests aligned with mine." — Ariella, 28, she/her
22. "Someone interesting who actually puts their personality in their profile." — Eliz, 24, she/her
23. "1) an instagram handle, 2) do they have 57 other ads?, 3) did their ad make me laugh?" — MJ, 28, they/them
24. "I look for clarity of intention, first and foremost!" — Alannah, 25, she/her
25. "I look for humor, values, and a sense that someone can carry a conversation. On Lex, I like to find people who have a question I can respond to, because this app can be a really hard place to start a conversation (for me). I also tend to feel intimidated on Lex because everyone seems sure and confident and I feel like the kid sibling just hoping to be included, so I tend to respond to people who seem open and curious as opposed to looking for something specific. On other apps that include pictures, I look for someone who isn't just all bathroom selfies or highly filtered. I want to see who someone actually is, because hands down the most attractive thing about someone is a genuine smile." — Abby, 29, she/her
26. "Someone with activist ethics, deep respect for the natural/nonhuman world, and a creative passion, who doesn't mention astrology and isn't wedded to the masc/femme identities." — Wendy, 41, she/her
27. "If the dating profile is in a standard app like tinder: photos that are not heavily filtered, photos where I can actually see the person's eyes (sunglasses are not welcome, sorry). My main pet peeve is white people surrounded by black/brown children in a foreign country. Also, posing with 'exotic' animal is a hard no. Other than that, a bio with at least a touch of humor is nice! The profile just has to have something to spark a conversation. Not that the person has to tell every interest they have. Just pick one or two topics, or maybe ask a witty question to engage with other people." — Juliana, 29, she/her
28. "On Lex, I usually look for people who seem to have shared interests. I usually click on their profiles to see if they have their insta linked because I like to see what they look like/what their vibe is. On Tinder and Bumble, I usually avoid anyone who uses a snapchat filter and generally swipe right on people who look like they aren't trying too hard. I'm always turned off by people who only use super professional model shots and things like that because it just doesn't seem like they're showing their real selves" — Casey, 23, she/her
29. "If it's an app with pictures, I feel like I actually don't pay THAT much attention to their profile. I mostly just go "are you cute" and then look for something to start a convo. But then it's all about the conversation and banter/back and forth for me, because if that's not there, I'm not going to be interested for long." — Kendra, 31, she/her</i
30. "I look for something funny but also genuine. I want to know that there is a person behind the jokes." — Michelle, 26, she/her