Lizzie Borden took an axe
and gave her mother forty whacks.
When she saw what she had done
she gave her father forty-one.
Calling all creepy entrepreneurs! The Lizzie Borden house in Fall River, MA is up for sale.
For the last few years, the owners of the house have been running it as a bed and breakfast. They also catered to events, like Creepy Catalog reader Tori's incredible spooky wedding she held at the home. The Lizzie Borden house has long been a part of every horror fan's hypothetical dream road trip to check out every haunted hotel in the U.S..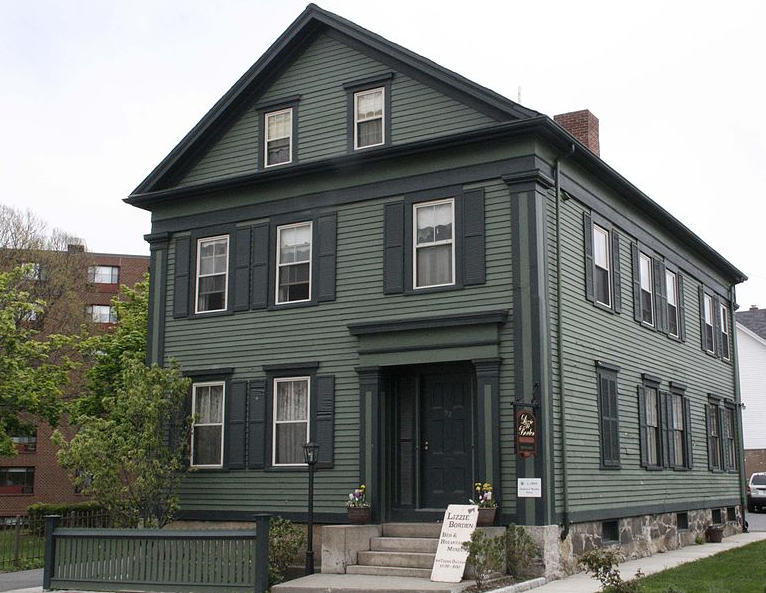 The home gained notoriety because of its most infamous resident, Lizzie Borden. In August, 1892, Lizzie's stepmother was struck 18 times with an axe while making the bed in the home's guest bedroom. Shortly after, Lizzie's father was also killed with 10-11 strikes to the head with an axe. Lizzie claimed that she was in the barn and has no idea who murdered her parents. A trial acquitted Lizzie and she lived for 35 more years as a wealthy woman before dying of pneumonia in 1927.
The Lizzie Borden house has since developed a reputation as a haunted house. The home was built in 1874 and in 1948 the McGinn family purchased the house. In 1996 Martha McGinn inherited the home and turned it into a bed and breakfast. Donald Woods and Lee-ann Wilber purchased the house in 2004.
Books have been written about ghostly apparitions at the home. It has been investigated by paranormal crews both amateur and professional. The TV shows Ghost Adventures, Ghost Hunters, The Dead Files, and Kindred Spirits. The fictional CW show Supernatural also had an episode about the house. Chloë Sevigny and Kristen Stewart also starred in a film about Lizzie Borden, Lizzie, although the project was filmed in Savannah, Georgia.
Now the famous murder house is on the market. The home's realtor says that there are enough reservations coming through the bed and breakfast that it's likely the new owner will keep the property open to the public. The list price is $2 million and you can take a virtual tour of the home here.
Hopefully this property is snapped up by the perfect spooky entrepreneur!