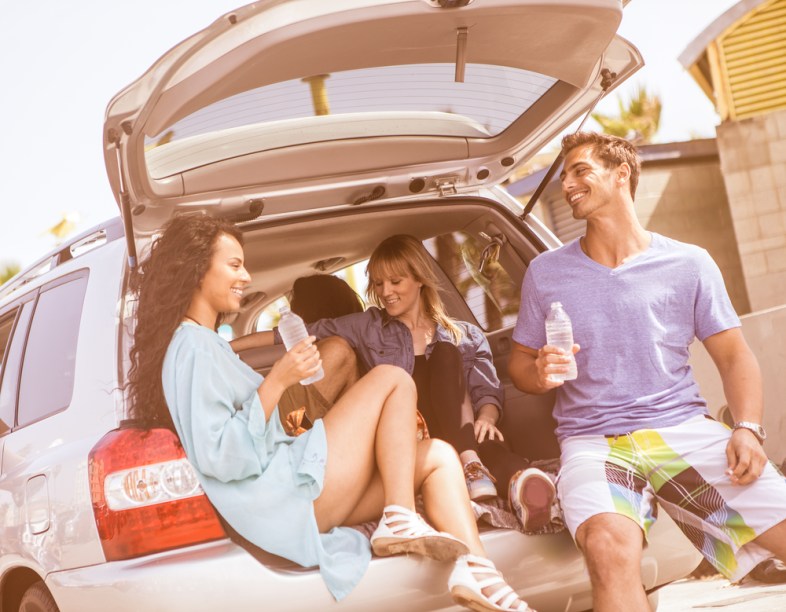 There's nothing more therapeutic that packing a swag, hitting the freeway, crankin' up the tunes, and losing cell phone reception. Presumably, one embarks on a road trip with the goal of arriving at a final destination. A beach house, camping grounds, visiting friends in another city or town, or perhaps just a cottage somewhere in the countryside. Usually though, the unifying sentiment behind all road trips is the desire to get away. Freedom. Abandonment. Shedding old skin and breathing in the fresh air. A new chapter.
I escaped the rat-race of Los Angeles over Thanksgiving and headed up the coast to Big Sur and then San Francisco. So I decided to put together a list of everything there is to love about road trips.
Cheesy Tunes. Seriously, when else do we get to shamelessly (and loudly) sing along to 80's and 90's playlists for 2 hours straight? Songs like Billy Joel's Uptown Girl, Cindy Lauper's Girls Just Wanna Gave Fun, The Knick's My Sharona, The Beach Boys' California Girls, George Harrison's Got My Mind Set On You and The Jackson 5's I Want You Back were all delightfully blasted from my VW Golf sound system this holiday weekend.
Fast Food Splurges. I don't need to go into why fast-food is bad for you and why corporate chains like McDonalds deserve to burn in hell. But on a road trip, my "I don't give a fuck" attitude extends to food and I love nothing more than driving through at an In-N-Out Burger or a Maccas (us Aussies call McDonalds "Maccas"—kinda softens the blow…), and scoffing down fries with ketchup or sweet 'n' sour sauce, munching on a dirty cheese burger, and slurping a large coke. Has to be done.
Storytelling. If you're on the road trip with a friend, friends, family, or a lover, this is the sacred time where each of you allow for uncensored and long-winded storytelling. And because road trips, by nature, offer a sort of reflective, time-traveling vibe, what normally unfolds is sometimes heartfelt, hilarious, and often insightful childhood, teen or early adult storie. Noone's going anywhere, everyone lost phone reception an hour ago, and all there is to see is the expansive, never-ending landscape outside your window. So let the nostalgia begin!
Games! Boardgames are fun, but games that must transcend props and exist in our imaginations are even more fun. All-time fave road trip games: Eye Spy, and 20 Questions (Animal, Mineral, Vegetable).
The Art of Sweet Fuck All. Unless you're a mediator, in today's fast pace, gain-driven, capitalist world, it's kinda hard to justify getting away with doing nothing for any stretch of time. But since there's very little else you can do on a road trip, it becomes one of the rare occasions in our lives when we literally do sweet fuck all. And in that space of sweet fuck all-ness, without the burden of work, domestic duties, responsibilities (besides navigation), and social media, are minds are free to wander. And wander they do…