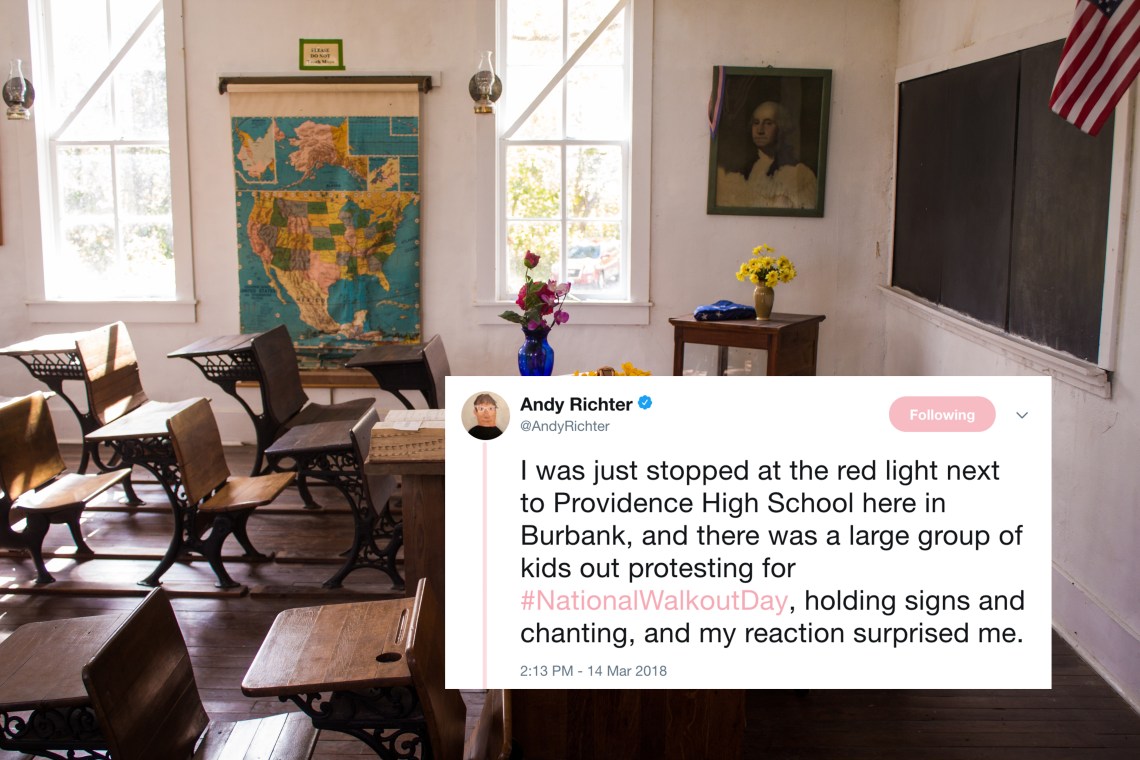 Today, just one month after the shooting at Marjory Stoneman Douglas High School, thousands of students walked out of their classrooms to demand stricter gun laws and to end school shootings. They stood outside of their schools for 17 minutes — one minute for each student who was killed in the Parkland, Florida shooting — before returning from their classes. Some students even went all the way to the White House to sit on the front lawn with their backs facing the building.
It's pretty inspirational to see so many young people rising up and speaking out for a cause, but as some pointed out, it's more than just that — honestly, it's tragic. Actor Andy Richter tweeted exactly why #NationalWalkoutDay is actually quite a heartbreaking day for our country.
It all started when he was driving past a school and noticed children standing outside.
I was just stopped at the red light next to Providence High School here in Burbank, and there was a large group of kids out protesting for #NationalWalkoutDay, holding signs and chanting, and my reaction surprised me.

— Andy Richter (@AndyRichter) March 14, 2018
The driver next to me & I both tooted our horns in support, and as we smiled at each other I registered what it was they were chanting: "Less Guns. More Kids."

— Andy Richter (@AndyRichter) March 14, 2018
I reflexively choked up. I was sitting there feeling encouraged by these kids' enthusiasm and activism, & that chant hit me with the bottom line reason those kids, and kids all over the US, are out there today; they're scared. Our kids are scared for their lives. My kids. Yours.

— Andy Richter (@AndyRichter) March 14, 2018
They're not out there being political, they're out there because they're afraid of getting shot to death. In their schools and elsewhere.

It didn't used to be like this. Kids weren't so scared when there weren't so many guns. It's that simple.

They deserve better from us.

— Andy Richter (@AndyRichter) March 14, 2018
Andy is far from the only person who's getting emotional about all of the protests today. What happened last month was absolutely horrifying, and seeing the huge response only adds to everything our nation has felt since.
Same. I didn't anticipate how emotional I was going to be. I'm a teacher, we've been prepping for this for a week. The minute kids got up I started & I've been choked up all day!

— Let Me BEE (@theBEESknow) March 14, 2018
Did you cry? I would've cried.

— Ridge (@RidgeRooms) March 14, 2018
Same here as I passed El Camino High School in the west San Fernando Valley. Emotional. These kids are so inspiring!

— SarahSerinaB (@SarahSerinaB) March 14, 2018
I cried for those we've lost, for those we failed, for those who deserved so much more from us adults. I cried that American children must fight for the right to live free of gun violence…I cried knowing they're the change we've all been waiting for… I cried because I'm human

— Debra Lynn (@seannbella) March 14, 2018
To all you students out there who participated in the walk out: we're so proud of you. You're changing this country one step at a time.