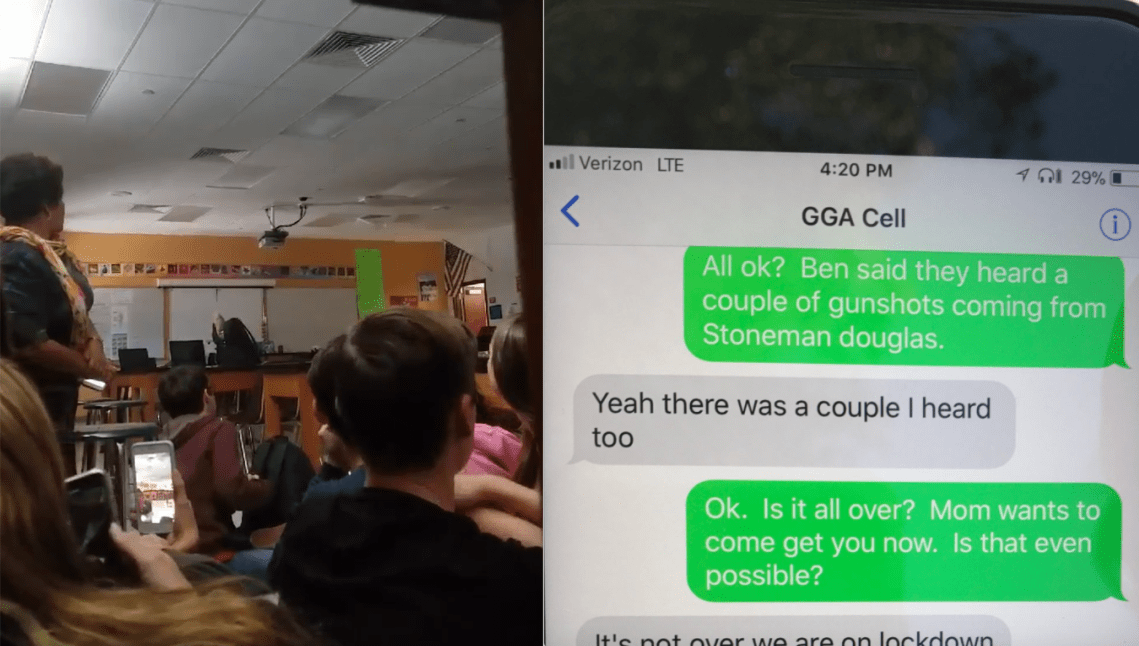 Yesterday afternoon, a teen gunman open fired in a high school in Parkville, Florida, leaving 17 dead and over a dozen more wounded. The gunman, 19-year-old Nikolas Cruz, was a former student at the school who had been expelled for disciplinary reasons.
The school was put on lockdown while the shooter was still active, leaving students stranded in classrooms and in the auditorium. They did, however, have access to their phones, which many of them utilized to record the event.
Trigger warning: even though the videos don't show any violence or gore, they're still pretty scary, given the circumstances.
My little brother just sent me this video of the swat team evacuating his classroom at stoneman douglas. So scary but glad he's safe. @nbc6 @CBSMiami @NBCNews @wsvn @CBSNews pic.twitter.com/XNTtra221q

— melody (@melodyb_jpg) February 14, 2018
Emergency responders evacuate students sheltering in place in an auditorium during shooting incident at high school in Parkland, Florida. https://t.co/BuEAqGjCN1 pic.twitter.com/gKjQbu23kM

— ABC News (@ABC) February 14, 2018
Students also used their phones to contact their loved ones and tell them they were safe. One particular conversation between a 14-year-old boy and his parent went viral when Miami Herald reporter Carli Teproff tweeted a photo of the exchange.
Parent's conversation with -14-year-old son who is currently in lockdown. pic.twitter.com/6M4f0FrbZJ

— Carli Teproff (@CTeproff) February 14, 2018
Honestly, even just the conversation is heartbreaking. The fear the parent must have felt — not to mention what the 14-year-old son felt — is nearly palpable. Their obvious concern for each other's safety (and the son telling his parent not to come because they "could get hurt") is truly tragic. And the fact that any parent has to advise their child to "stay hidden or play dead"… oof. That really hurts.
The fact that it's 2018 and this is still such a prevalent problem is disappointing, to say the least. Children are being killed in their own schools, the one place they ought to be safe. 14-year-old kids shouldn't have to step up and be the adult in the situation. Parents shouldn't have to tell their kids to play dead. This should not still be happening.