If you watched the Golden Globes yesterday, you probably noticed that a huge theme of the night was sexual assault and how to end it within the industry — and, hopefully, the world. After the Harvey Weinstein scandal was outed to the world, there's been a long list of actors and actresses who have been under fire for alleged sexual misconduct, proving that Hollywood has a problem with sexual assault. If you thought 2017 would be the end of the #MeToo movement, you were wrong, because women are still speaking out about their experiences with sexual predators, and it looks like the next in line is James Franco.
Franco was brought into the limelight at the Golden Globes after he won for Best Actor in a Musical or Comedy for his portrayal of Tommy Wiseau in The Disaster Artist. Some people were outraged about the win, especially when the theme of the night was sexual assault awareness, and decided to seize the moment and use his trending tag to call him out on all the predatory things he's done in the past.
It all started when The Breakfast Club star Ally Sheedy, who worked with Franco when he directed her on an off-Broadway production of The Long Shrift in 2014. Sheedy began tweeting during the award show, specifically using the platform to call out Franco.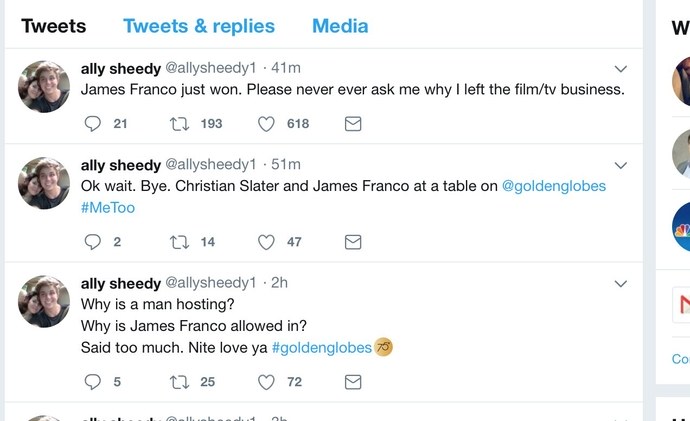 Sheedy has since deleted the tweets, but she's been far from the only one who's been using social media to talk about Franco and his indiscretions.
Let's just say that Franco's reputation for doing "creepy" things isn't anything new.
Some people online have criticized these women for speaking out so soon after Franco won a top acting award, arguing that the actor deserved full recognition for his work, but the fact of the matter is this: people listen closer when the subject is already in the limelight. Franco has been relatively under the radar for the past few years, so it's not surprising that people decided to speak out when he became a trending topic. People were finally listening.
Let's hope that 2018 continues the trend of calling out sexual predators. Honestly, it's only just the beginning.