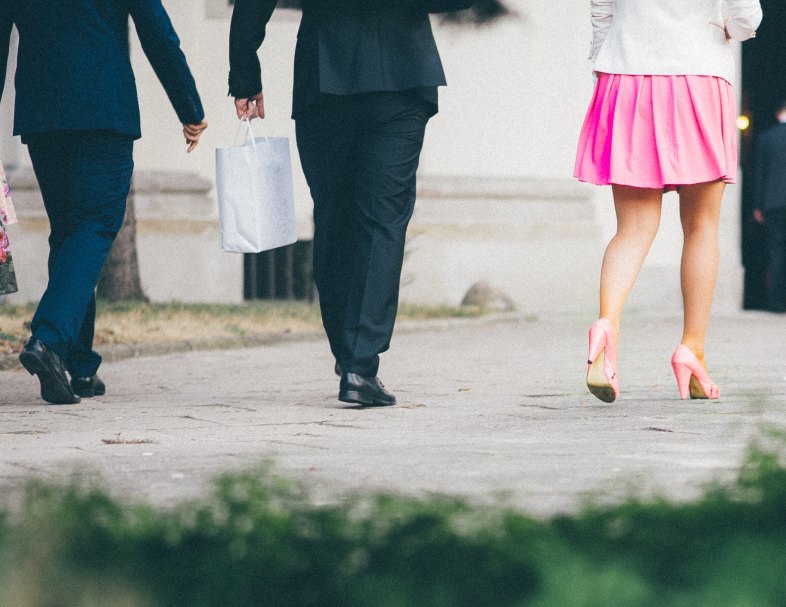 If you haven't heard about the allegations against film producer Harvey Weinstein, I'll give you a quick rundown: Weinstein, who had a hand in creating films like Shakespeare In Love and Pulp Fiction, sexually harassed and assaulted multiple women in Hollywood, many of whom worked for him or met with him for professional help. So far, Gwyneth Paltrow, Angelina Jolie, Rosanna Arquette, and Asia Argento have all spoken out again him. Even still, the allegations continue to come out.
Should we be upset? Of course — we should be outraged. But should we be surprised? Honestly, those who are are only fooling themselves.
The fact of the matter is this: every woman has a Harvey Weinstein in their lives. Most of us just don't like to talk about it.
Hear me out. I am not saying that every woman has been sexually assaulted at the workplace (or at all). However, I am saying that every woman has faced some sort of intimidation — yes, even sexual harassment — by men who are in a position of power over them. By men who think they deserve that power.
I still remember when it happened to me clearly. I was still in college and working on a story that involved a local grassroots organization. There was one man that was key to my story, so I reached out to him about meeting up for a short interview. He was quick to respond.
"Of course," he said. But he had a condition — he didn't have much time, either, and would probably only be able to meet at his home for a bit. He knew how that sounded and promised I had nothing to worry about. His wife would be there, he said. Of course, if I felt uncomfortable, I didn't have to agree to it, he told me — but he probably wouldn't be able to talk to me otherwise.
I told myself it was no big deal and quickly agreed. I needed this story, and besides, his wife would be there, which set my heart at ease.
When I showed up to his house that evening, he answered the door with a smile. "My wife had to step out for a few minutes," he told me. "But that's okay, isn't it?"
Suddenly, something felt very wrong. But I just nodded, because what else was I supposed to do? I was already there, and I needed the story. It felt impolite to admit that he made me uncomfortable.
He made me sit across from him at the kitchen table as he ate dinner. Ribs, I remember — he kept licking his fingers as he spoke. Everything about the situation felt wrong, but I shrugged it off. I didn't plan to stay long.
But what was meant to be just a few short questions turned into hours of excruciating diatribes and condescending asides. Whenever I tried to leave, he'd say something that made me feel guilty. So I stayed glued to the chair, fidgeting awkwardly, glancing at my phone as it lit up with my roommate's frantic messages: Where are you? You were supposed to be home an hour ago. Hello? Are you okay? I'm hungry. If you don't hurry up, I'm eating without you. Callie?
When I finally stood up and said I needed to leave, he followed me, inching toward me as I inched toward the door. He stood in front of the exit, a blockade between me and my freedom as he continued his tirades. Was it just me or was he looming over me? Why wouldn't he let me leave?
I was growing panicked and became more forceful about leaving. When I finally made it to the door, he stopped me. "If you have any recordings of this, delete them. Now."
I stared at his hardened expression, shocked. Why did he assume I'd recorded something? And even if I had, why was he so forceful about me deleting it? But he kept watching me, so I pressed a few random buttons on my phone and pretended to honor his request. Then I got in my car and called my roommate as I made my getaway.
"Did something happen?" she asked.
I laughed it off. "He was a weird guy, but it wasn't a big deal," I told her.
But adrenaline was still pumping through my veins, stemming from the primal urge to run. I wanted to be as far away from him as possible. Everything about the situation felt wrong, wrong, wrong.
It wasn't until later that it hit me: his wife never came home.
Nothing terrible happened — he didn't assault me, had hardly even touched me, hadn't really threatened me. But I felt dirty, as if I'd been coerced into something, and then guilty for even thinking about it that way. I didn't tell anyone about it. I turned in the story and tried to forget.
But can we really forget about these things? And if we can, should we? He is just one of the Harvey Weinsteins in my life, just one of the millions in the world. How many of them have been forgotten? How many are remembered but quietly ignored? And how many of them are all the same man, doing the same thing to different women who have all decided that they just want to forget?
The fact of the matter is this: nearly every woman has a story about a man who has intimidated her, who has harassed her, who has used her own professional drive as leverage to get what he wants and then used those same tactics to silence her. Harvey Weinstein may be an extreme case, but he isn't necessarily an exception.
So should we be upset? Of course — we should be outraged. But should we be surprised? If we are, we just haven't been paying attention.