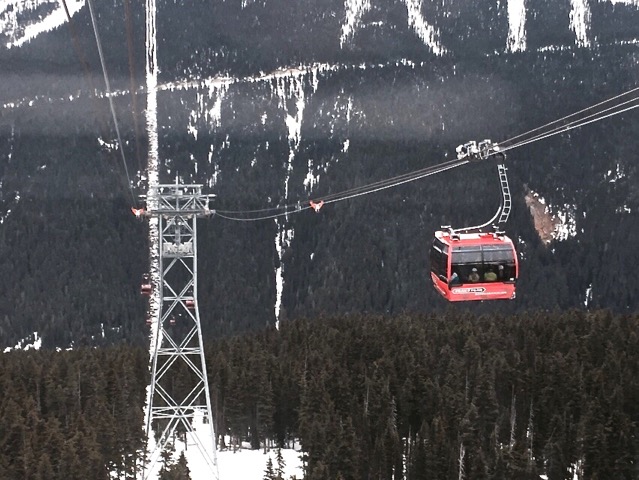 Whistler is a small province in British Columbia, Canada, with populations of less than 10,000. However, every year it hosts over two million guests. The town sits at the feet of two side-by-side mountains, the Whistler Mountain and Backcomb Mountain, which are connected with the highest and longest unsupported cable gondola in the world! With over 200 trails, 8000 acres of skiable terrain and vertical drops of over 5000 feet, Whistler Blackcomb proudly carries the title of the largest ski resort in North America, leaving Jackson Hole and all the Colorado resorts behind. With a season that stretches from November to May, Whistler Blackcomb became an obsession for many skiers and borders from all over the world. I came to see why, and, of course, to ski.
Warming my hands on a steaming cup of Starbucks, I took a stroll to the heart of Whistler Village. The sun was still dipped behind the mountains. The crisp winter air was quite cool. The streets were silent — shops were closed, bars and restaurants enjoyed the temporary quiet. Even the Whistler Olympic Plaza, the former place of the medal ceremony during the 2010 Olympics and Paralympics, was empty of people. The village delighted in tranquillity it had not known before.
When the first sun rays peeped over the mountain, people began to fill up the streets in search of a good cup of coffee and a hearty Canadian breakfasts. A group of tired snowboarders trudged towards the lifts. Despite yesterday's late night, they wanted to get to the top as soon as possible so they could make their first track of the day down the virgin snow. It was time for me to start my first ski day.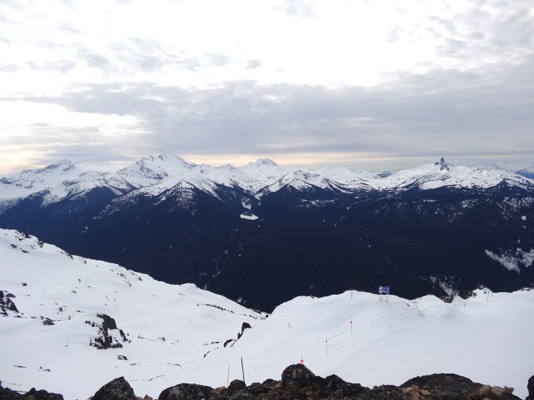 One of the best perks offered by the hotel I was staying in was a complimentary mountain tour. My guide and now my friend, Ryan Vit, knew the mountain better than anybody else in the village. After obtaining skiing passes, we boarded the first lift. I was bracing myself for my first run down the Blackcomb Mountain.
On the way up, Ryan told me he has been skiing since he was three and his girlfriend, a Canadian freestyle skier, had competed for Canada at the 2014 Winter Olympics. I noticed he had a "Sarah" stickers on his helmet. "Is her name Sarah, your girlfriend?" I asked. "No, my girlfriend's name is Yuki. Sarah Burke took freeskiing to a whole new level for both, men and women. She was a wonderful person. I skied with her a few times. She died tragically during a training accident, but she will live forever in our hearts." Sarah was only 29.
The drive up was fantastic! I kept turning back to look at the view but could not come up with a better word than a good old 'WOW!' Since it was a new ski area for me, we decided to start with easy trails which were marked with green circles, but I soon learned that in Whistler, for my level of skier, green meant blue (intermediate), and blue meant black. So I stuck to the easy trails.
After two hours of skiing, we stopped at the Crystal Hut (elevation 6,053 ft), a rustic restaurants perched atop Backcomb. There, I had the best Belgian waffles of my life. It was warm enough to eat outside and the waffle was big enough to share it with a flock of whiskey jacks, adorable gray birds that were friendly enough to eat from the palm of my hand.
After such a great fuel up, we turned things up a notch. Ryan took me to 7th Heaven. "Why is it called 7th Heaven?" I asked. "You'll see," he answered smiling. When we reached the top, a view of a beautiful snow covered mountain range left me breathless. On the side of the trail, stood a pile of stones in a form of a human. "Inuksuk, a symbol of symbol of friendship." During the rest of my stay at Whistler, I found more Inuksuit on the mountaintops, across the village, inside bars and hotels. Admirably simple, it has a great deal of deep meaning.
"Go to heaven, ski like hell," Rayn said and sped down. I followed, gliding mostly through the flatter sections to be able to adsorb all the beauty around me. The views skiing down 7th Heaven were truly thrilling! I tired making a video with my phone and snapping a few photos but no camera in the world could transmit what I've seen at 7th Heaven.
The next day, we boarded a red sky cabin of the Peak-2-Peak gondola to the Whistler Mountain. Two of the 28 cabins, however, were silver. "They have a glass-bottomed floor," Ryan explained. I might be wrong, but I don't know of any other transit technology in the world that allows riders to look down from such heights. Riding it had to be fascinating!
In just 11 minutes of flying above the fir trees, we reached our destination. From there, we took one more lift up that brought us to Top of the World — elevation 7,160 ft. I was speechless for a while, trying to grasp the immensity of the mountains before me. The snow, like diamond powder, glistened in the bright sun. Wisps of white clouds trailed across the blue, almost purple sky. The silence of a windless day made my heart beat faster. Gazing down at such incredible beauty, a feeling of a complete serenity came over me. I felt free.
I skied down the mountain, enjoying the sound of the dry powder parting beneath my skis. The run seemed to go on forever and I enjoyed every second of this magical perpetuity. By the time we came back to the base, I was exhausted but exhilarated. Another great day of skiing was over. I looked back at the mountain and smiled, pride filling me with a through that just 40 minutes ago I stood on top of that massive mountain.
Where to stay: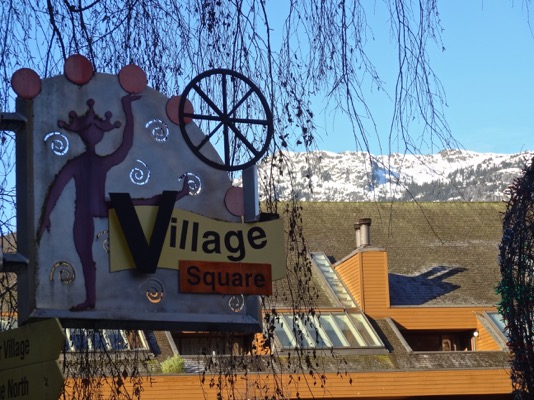 Amazing thing about Whistler Backcomb resort is that despite its popularity, it is quite affordable for those who travel on budget. You can find housing for as cheap as $20 for a dorm room and hotel rooms for as cheap as $100 per nigh. I was lucky enough to stay at the Fairmont Chateau Whistler, a magnificent edifice at the foot of Blackcomb Mountain. I absolutely loved my stay there, mostly because of an exceptional service, wonderful personnel and a complimentary ski valet. At the end of the long day of skiing, you literary ski-to-your-door — take off your boots, slip into your cozy slippers and walk to your room. That was priceless!
Where to eat:
This is a tough one because everything from the five-star dining at Araxi and Rimrock Cafe to fast food at the Zogs Dogs and Splitz Grill is very decisions. Whistler has more than 130 restaurants, so the only problem you will have is picking one!
I ate breakfasts at my hotel, lunch at on-mountain restaurants and dinner in Whistler Village. I'd like to single out the Bearfoot Bistro, which offered over 20,000 bottles of wine from the world's best wineries. Upon your request, you can saber your bottle of champagne. But I skipped the wine and champagne sabering in order to experience another Whistler must-do — the sub-zero vodka tasting room. Wrapped in Canada Goose parka, which is said to be the warmest coat in the world, I walked into -25F room furnished with iced shelves with over 50 vodkas from across the globe. For $50, you get to try four vodkas of your choice. Since my husband doesn't like vodka, I had to drink for both, as any good wife would.
After this experience, I went straight for poutine, Canada's signature dish made with french fries, topped with a light brown gravy and cheese curds. Since vocations and weekends have no calories, I topped it with a beavertail, a Canadian deep-fried pastry covered with cinnamon and sugar, a divine combo!
Getting to Whistler:
Getting to Whistler is easier now since it has become one of the most visited resort in the Northern America. Every hour, one of the numerous shuttles leaves the airport and takes you on the world's most beautiful drive, Sea to Sky Highway (Highway 99). This winding road passes beautiful lakes, snow-covered forests and soaring mountains. I planned to sleep on the bus to gain enough strength for skiing, but my eyes were glued to the window for the entire two hour drive.
You can also book a chauffeured SUV or even a stretched limousine to take you to your hotel in Whistler, but of course it is much pricier.
And for the Superclass — there's a helicopter charters. No waiting, no traffic. 30 minutes, $3000 per person one way and you are in Whistler. Maybe next time.
What else is out there:
Whatever you seek in a winter vocation —Whistler has it. You can race across the snow-covered landscape pulled by a team of Alaskan Racing Huskies or take a horse-drawn sleigh ride through the mountain area, you can experience the thrill of charging through snowdrifts on snowmobiles or devote the entire day to cat skiing or heliskiing with all it's the bells and whistles. If you feel like taking a break from skiing or snowboarding, try yourself at bobsleigh or skeleton, go skating, slide down the hill on a tube or just sit in a hot tub (every hotel has them). Just in case I missed anything, trust me, Whistler has it.
I was sad to leave Whistler feeling like I didn't have time to say a proper goodbye. The snow gods probably picked on my pain and sent a blizzard to Chicago. My flight was canceled. I had to stay in Vancouver for another night. Sitting at the bar, watching Super Ball, I was happy to be somewhat closer to Whistler. I know I will be back.