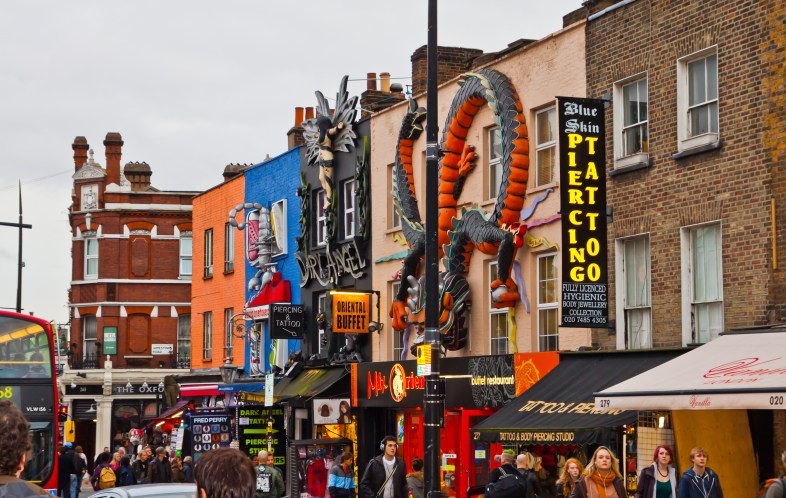 When in London, venture out to Camden Town — it's pretty cool, in a weird kind of way.
With a big smile on my face and a brand new London Travel Guide in my purse, I got off the bus at the London Victoria Train Station. I closed my eyes and inhaled London smog — so began my exploration of the world's most visited capital.
As a bona fide tourist, I've made sure I covered all the major 'must sees.' I went for a spin on the London Eye, fed pigeons at the Trafalgar Square, watched the changing of the guard at Buckingham Palace, ate lunch on the steps of the Shaftesbury fountain, went window- watching on Oxford street and took a picture holding Big Ben on the palm on my hand. Once I was done traveling by the book, I decided to venture out to the other side of London, the side often overseen by a proper tourist — I went to Camden Town, a notorious neighborhood of alternative subcultures and fashion, which won't leave anyone indifferent, that I promise.
Back in the day, Camden Town was a quiet, residential suburb with scattered farms and picket fences, but the arrival of canals and railways metamorphosed the town into a busy place of commerce. This Northern borough of London had its ups and down throughout the history, but in 1970s it transformed into what it is today.
The Main St.
From the moment I came out of the tube station, I was captivated by the energetic vibe of this eccentric place. The first thing that catches anyones attention is the funky artwork on the buildings: oversized shoes, skulls, dragons and more are simply plastered on the shop facades. No Victorian style architecture here… As I stood there with my mouth agape, a girl with long pink dreadlocks and bright make-up skipped passed me. She wore a fluorescent top, a pink tutu, pink high platform boots and, believe it or not, a pair of wings. This marvelous creature was a typical inhabitant of Camden Town. Everything there screamed 'You can be whatever you want because no one will judge you!'
The Main St. of Camden is lined with amazing shops. You're enticed to go inside by the smell of herbal incense and the sound of trip-hop music. There are even shops that catered to drug cultures with gas mask bongs, manuals for growing weed and beginner kits for cocaine users! And, oh, it's very easy to spot a tourist in this shop. Don't be alarmed if a drug dealer approaches you in the daylight to offer you illegal substances. They are not pushy. Just kindly refuse and move along. Don't take a risk because most of them are undercover police officers.
The most extreme tourist can get a tattoo or piercing in one of the numerous tattoo/ piercing parlors. Who will do it better than a Camden dweller, covered head to toe in tattoos and piercings?
It is obvious why the most flamboyant and exotic people choose Camden as their hang- out place. Punks, goths, Rastafarians, hippies, Bohemians, rockers, ravers… you name it, they are all there, mixing together in harmony. A group of punks with bright mohawks, studded jackets and bulldog collars drew my attention. After my initial shock wore off, I summoned all my courage and asked them for a picture. For a few British pounds, they gladly agreed to pose with me and for a few brief seconds, I too pictured myself as a Punk!
Camden Markets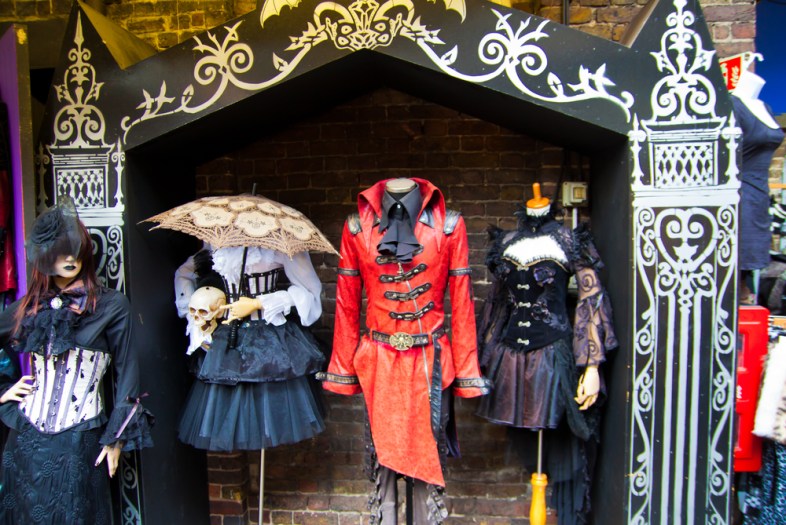 Be prepared to be dazzled by the abundance of absurd, because Camden Markets have nearly 1000 stores. Quirky jewelry, bizarre bric-a-brac, various types of clothing from vintage and fetish to alternative and futuristic, funny slogan tee-shirts, handcrafted furniture, peculiar music instruments, eccentric artworks… in other words, most of the stuff on sale there is miles away from your mainstream. But remember, no market is a place to be a wally. Beware of pickpockets in a thick crowd!
Walking in the maze of these wacky stores, I heard psychedelic music. I walked towards it to find myself in Cyberdog — a store of futuristic clothes. Inside I was met by DJs and caged dancers. The music was so loud that I couldn't even hear myself think, but I didn't care because I was dancing already. The sales assistants moved to the beat wearing Cybergod clothes that glow in the dark! Visiting this store is an absolute must. How often do you have a chance to try on a T- shirt with jumping equalizers or glasses with flashing lights on each side? FYI — prices in this store are also from the future.
I highly recommend checking out these stores: Saisai is a very snazzy store that specializes in Japanese styles of gothic, Lolita, punk and visual kei. Elizium Gothic will satisfy the demands of the most capricious goth customer. It has everything from clothes to household items. You do not need to be a goth to find something for yourself here. I bought a pewter flask with a skull debossed in its face — a great gift. Gekko is another great example of the unconventional wear in Camden Town, which draws its inspiration from nature, music and faraway cultures. Clothes here are very boho-chic. Irregular Choice. If Lady Gaga's shoe and Bambi had a baby, it would be on sale at the Irregular Choice. The most bizarre footwear and fashion styles is for who is in defiance of convention.
Food! Food! Food!
Camden is a paradise for lovers of a tasty food. If you do have time to stop for a bite, there are many pubs and restaurants at Camden. I didn't want to waste time, so I stopped at one of numerous food stalls that offer tastes from different parts of the world, from Mexico and Brazil to Africa and Asia. Feeling adventurous? Try deep fried Mars Bar with whipped cream and butterscotch sauce — so Camden Towny.
The Night Life of Camden
Camden Town has always revolved around music, that is why it does not go to sleep after the Market is closed — it becomes a true party place. You have a chance to enjoy a wide variety of musical styles, from jazz and alternative to garage and funk. If you do decide to stay there after hours, be careful and restrain from wearing expensive jewelry and showy clothes. I ended up grabbing a pint of beer at the Hawley Arms, one of the favorite places of Amy Whinehouse. No wander she loved and lived in Camden — she blended right in with her beehive hair, black cat-eye makeup and old school tattoos, and most importantly, no one ever judged her there.
I highly recommend checking out these places: Electric Ballroom, with two levels and plenty of bars scattered across two levels, is a historic music venue at the heart of Camden Town. It hosted the concerts for U2, Red Hot Chili Peppers, Garbage and many more. The Underworld is easily the best place for rock, metal and alternative music in England, with artists like Sherly Crown, The Offspring, Radiohead taking its stage. The Devonshire Arms is the longest-surviving Goth pub in London, but it also plays rock, alternative, EBM and industrial. Don't worry, goth dress code is not enforced there any longer.
P.S. As you see, to appreciate Camden, you have to be able to appreciate the full meaning of the word freedom, to be ready to broaden your horizons within just minutes. The people of Camden don't let the outside world dictate them how to live their lives. Camden shows you that nihilistic can be admirable and punks can be sweet. At the end of my Camden trip, I realized that Camden might not be the best place for a die-hard conservative who turns red at the scene of sex- shops and boys wearing makeup. But if you're willing to be a part of human harmony — then welcome to Camden Town.
How to get there
It is extremely convenient to get to Camden Town, which is located in Zone 2. The Northern line (black line) will take you directly to Camden Town or Chalk Farm. If you enjoy riding on top of the double-decker bus, there are plenty that will shuttle you to Camden Town from various parts of London: 24, 29, 214, 274 and a few more. Car parking in Camden is very limited, so save yourself frustration and choose another way to travel.