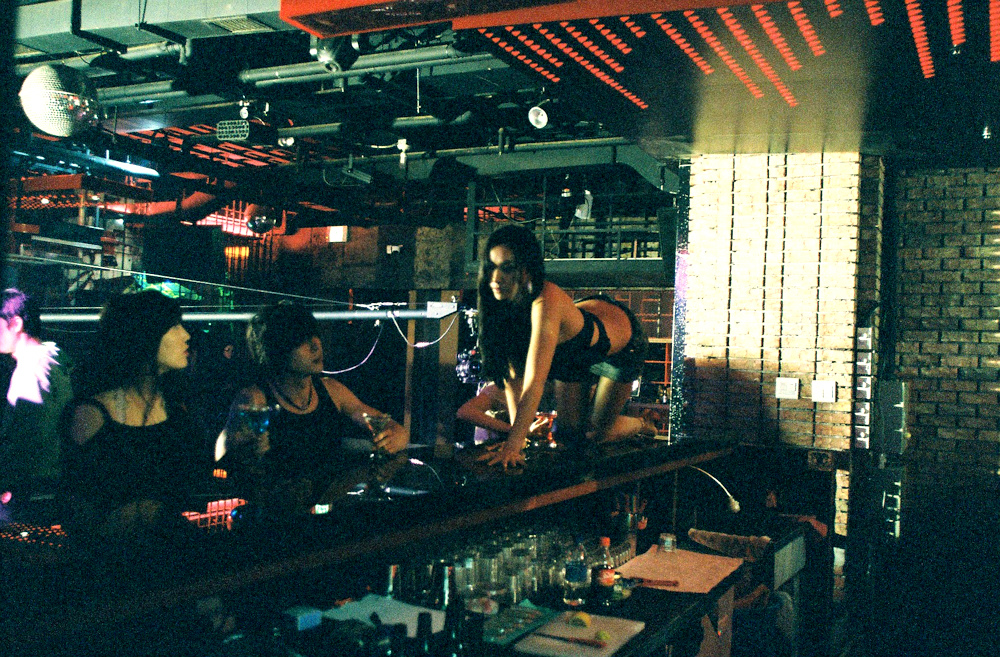 As both of us got dressed in our party wear, I tried very hard to resist doing Diya right there and then. She wore a dress that cane down to right above her knee, and a push-up bra that made her 34B tits stand out almost as much as my cock did when I saw them. I was simplistic like many men, I wore a dressy shirt and jeans. Our cab had arrived downstairs and I wore my shoes, ready to leave as Diya was wearing her lipstick. We kissed on the elevator on the way down, and got into the cab.
We got there, and after we entered we bit the bar, got ourselves a few drinks, and headed to the dance floor. We danced for quite a while, I grinded her, I kissed her even more, and we danced until we were exhausted. Looking at her panting and the after effects of our grinding left my cock throbbing and hard. I took Diyas hand from the bar table and put it over my jeans.
She felt my hardon has a look of shock mixed with lust flashed across her eyes.
"Hottie" she whispered. My cock didn't seem to be going back down, I took her by the hand and led her to a dark corner of the bathroom where I kissed her hard and held her boobs tight. I squeezed them hard and I pulled her bra down to suck on it. Our spot was right behind the toilet, and we had to make sure no one came and disturbed us. As I held her boobs tight in my hand about to dive in for seconds, a young man of about 24 came around and saw us at it. He got an ample view of Diyas boobs. I closed her bra and looked at him.
"Sorry, we're leaving" I said as I took Diyas hand.
"No no, you guys carry on," he said, "my bad, that was hot by the way" I was turned on by the fact that he saw Diyas boobs. So much so, in fact that my cock was stuggling to get out of its pants. Before the man could even leave, I took Diyas hand and placed it over my jeans. She gasped, and slowly slipped her hand underneath my jeans and felt my cock. The man, seeing this, froze in place. Diya unbuttoned and unzipped my jeans as she took my cock out and immediately devoured it.
Her lipstick was still on her lips, and she sucked on my cock until my pink head turned pinker and pinker. I told her to stop as I was about to cum. My 7.6″ penis was drenched with her saliva. We decided to move it to the bathroom, and we dressed and went into the second floor mens room. The second floor mens room was much more secluded, and people hardly used it. The stranger had also followed us here, and watched as Diya took my cock out again inside a cubicle.
I made her sit in the closet and lifted her dress up. Using one finger, I moved her panties to the side and licked her clitoris slowly.
The stranger slowly moved his hands over his pants, and a brief outline of his erection was visible. As I was licking her pussy, I saw Diya wink at the man with the corner of my eye. My cock stiffened. Now ready to have it all, I sat down on the toilet seat and had her sit on my cock. It was so wet and warm. Her pussy ate my cock up easily, and before you know it, we were humping furiously, she jumped up and down on my cock rode it hard to orgasm.
Diya kissed me hard, her tongue down my throat and started to fuck me more. I stopped her and put a finger over her lip. I made her suck on my finger, and when wet, I inserted it slowly into her asshole. She let out many moans of pain followed by pleasure, and i slowly kept the finger inside her while she rocked her body back and forth. It was now that I noticed the stranger had taken his cock out, and was jerking off looking at us. I stopped immediately and told Diya. She looked at me and gave me a foxy smile that almost made me blow my load inside her right then. She turned to the stranger.
"Come here" she told him and he came. We got a closer look at his cock. He was an indian boy, and his cock was a massive 8 and a half inches, clean shaven and circumcised. Diya put her index finger on the tip of his cock.
"Are you going to be a good boy?" She asked seductively.
"Yes I am" he replied, as he took his hand and slowly jerked off his cock. Diya spit on his cock, and got up and asked me to fuck her doggystyle. The stranger started masturbating furiously using Diyas saliva as lube for his big uncut cock. I fingered her asshole a bit more, then I tried to slide my cock into it. The hole was very small, and my cock being thick, simply couldnt get in. I tried inserting two fingers, then three, then I tried my cock again. This time, the tip went in. We used a lot of lube we brought, which helped so much.
Then slowly, inch by inch, I slid my dick inside her asshole. The tightness and warmth was enough to give me multiple orgasms just be being there. I rocked my body back and forth slowly. Diya couldn't stop screaming, I could tell it hurt her a little in the beginning, but she was getting intense pleasure now. I fucked her hard, not stopping for a breath, at a constant pace. At one point, she screamed for me to stop because it got too intense.
I didn't stop, I rammed her hard like a bull, pumping my veiny cock into her wet asshole. "Baby I'm cumming!" She screamed about three times, and all her anal muscles clenched on my cock, and I gave in, jet after jet if warm, sticky, thick cum shot into her asshole. I stayed at the state of shock for about a whole minute, then I looked at the stranger, who was staring at Diyas tits. I removed her bra and gave him a nice look.
"You like these tits?" I asked him. I licked her nipple and bit it lightly.
"Don't you wish you could do that?" Diya kissed me hard and bit me. I could tell she was still very horny. I kissed her hard and put two fingers into her pussy. Diya looked at the stranger and touched his throbbing cock. The stranger gasped.
"Do you boys want to have some real fun?" She asked. My head was spinning, and my cock was becoming rock hard again.
"Yes ma'am!" The stranger said. Diya bent over and slapped her ass. The stranger got the signal and went over. He teased her pussy with his tip and slid his big cock inside her pussy.
"Fuuuccckkk" she screamed. He slid further in and she moaned loudly "That's a big dick" my cock was harder than it had ever been. Every vein was visible and my head was pink with blood flow. "Give me your cock" she told me, and I stood in front of her. She sucked my cock hard and wet while being fucked hard from behind. She clamped down on my cock with her teeth lightly as she grunted multiple times and screamed as he pounded her from behind.
She told the stranger to sit on the toilet seat, and she went and sat on his cock facing me. She rocked her body forward and fucked him. She told me to enter her ass from behind. My entire body felt warn as I felt every pulse of my cock wanting this. I put my cock inside her asshole slowly and she screamed out loud.
"FFUUUCCKK OH MY GOD YES!" She screamed. Two big dicks were in her at the same time. We rocked our bodies and with every rock Diya screamed and shouted begging for more.
She came quite a few times that night. I pounded hard at her ass and needed to cum badly. I could feel the cum from the last time, it acted as lube as I destroyed her ass roughly. The stranger pulled out and spunked over her boobs while I unloaded my balls inside her ass, my cock throbbing hard.
The stranger left without a word and Diya and I returned to dancing, she danced with cum on her boobs. A few people saw it, but it was the hottest. There's a night I'll always remember.