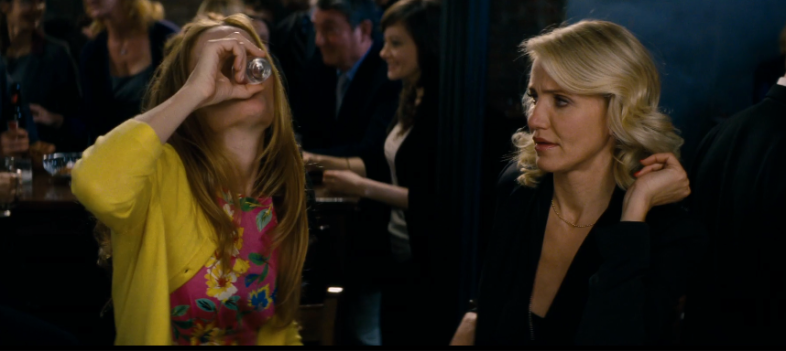 Sometimes, reality is stranger than fiction. But when it comes to movies, fiction can be more similar to reality than we think. When it comes to employment, friends, relationships and the like, here are how movies can relate to our life – in ways that they would probably not be like our lives.
1. The Sweetest Thing (2002)
Synopsis: Chronicling the misendeavors of 20-something women, friends Courtney Rockcliffe (Christina Applegate) and Christina Walters (Cameron Diaz) assist their relationship-stressed pal Jane Burns (Selma Blair) by painting the town red with an obligatory girls' night. During their failed mishaps in landing her a fling, Christina is unexpectedly introduced to a man named Peter Donahue (Thomas Jane). Ironically enough, Christina is the one who finds potential in Peter and is persuaded into an excursion in hopes of snagging him. Losing her chance the night she met him is just a snapshot of the difficulty Christina faces after years of swearing off men.
Why It's Like Your Life: Finding a man who can commit in actual life, let alone in one night. The struggle is real. No explanation necessary.
Why It's Not: What are the chances of chasing a man once he leaves town and then finding him, in hopes that he'll magically share the same passion for you – because of "love at first sight"?
2. The Sisterhood Of The Traveling Pants (2005)
Synopsis: Based on the best-selling novel The Sisterhood of the Traveling Pants by Anne Brashares, a quartet of besties (Dream Team: Blake Lively, America Ferrara, Alexis Bledel, Amber Tamblyn) experience their first summer segregated from one another. But, one thing can't separate them: a shared pain of denim. What's so enchanting about these jeans, you ask? Well, regardless of their diverse body types, the perfect pair fits like a glove on each and every one of them. To stay connected, they send these pants back and forth to each other – like hand-me-downs, but for fun!
Why It's Like Your Life: Because what's sisterhood without "borrowing" jeans? Le duh.
Why It's Not: Where can we find a one-size pair of jeans – that fits all sizes and not just "one-size"?
3. The Devil Wears Prada (2006)
Synopsis: Plain Jane journalism grad Andrea Sachs (Anne Hathaway) successfully finds employment as the second assistant of the prestigious and glam Miranda Priestly (Meryl Streep) – who is also the underhanded and shameless executive of the Runway fashion magazine. (In other words, no f*cks given). Andrea's destiny is to become a writer and channels (in Chanel's, appropriately so) the opportunity of a lifetime in her temporary position. Her co-workers warn Andrea about the specific appearance and behaviour guidelines of the extreme Miranda, while the stylist conducts a trendy makeover on Andrea to Miranda's liking. This alteration takes a toll on her outside life; including that of one with her boyfriend Nate (Adrian Grenier), her family and friends.
Why It's Like Your Life: Andrea depicts the mindframe of the journalism grad battling with a competitive job market and a world of temporary internships and contracts. #allthefeels
Why It's Not: Who are we kidding? Even scoring an unpaid internship at a fictional magazine typical to any mainstream publication would be near impossible without college credit – let alone if we pull Andrea's stance to Miranda at her job interview. (Imagine if that strategy actually worked in real life?) We'll take Adrian Grenier as a love interest though.
4. Sex And The City (2008)
Synopsis: After moving into an overwhelmingly striking New York apartment, Carrie Bradshaw (Sarah Jessica Parker) and Mr. Big (Chris Noth) choose to wed. The event itself renders less than desirable, as the guest list expeditiously balloons from 75 to 200 guests, and Carrie's straight'n'arrow gown succumbs to disaster. A future spread in Vogue directly inserts the incident – which occurs at the New York Public Library – in the public eye. Meanwhile, Carrie's friends – sex-obsessed Samantha Jones (Kim Cattrall), unassuming Charlotte York (Kristin Davis) and meticulous Miranda Hobbes (Cynthia Nixon) – applaud this milestone. However, Charlotte is struggling with the desire to conceive, Samantha with her serious relationship, and Miranda finding herself victim of infidelity at the hands (um, not just hands) of her husband.
Why It's Like Your Life: Friends forever. Another movie about gal pals who stick together, despite their differences. Inspiring, but still applicable to this day and age – right?
Why It's Not: Despite possible issues of infidelity, infertility, and just relationship/wedding wars – who the hell can afford a New York spot like that, by just penning a column?
5. Post Grad (2009)
Synopsis: Ryden Malby (Hello again! Always adorable Alexis Bledel) has structured her life plan since her teen years; almost fulfilling it to the tee: first to get a college scholarship and now that she has earned her degree in English/Book Publishing, her end goal is to snatch a role as assistant editor in the hypothetical publishing house Happerman & Browning, in Los Angeles. Her male best friend is Adam Davis (played by Zach Gilford), who has been infatuated with her for years and remains chummy with her in hopes of her, one day, requiting feelings. To her dismay, after over-confidently purchasing a loft close to her desired work company, righteous classmate Jessica Bard attains the position instead. Ryden is then left with no choice forced to move back home with her family. Long story short, Ryden is unemployed almost all summer while searching for work frantically – until finally getting her dream job, then leaving while realizing her love for Adam – who moves to New York to study at Columbia Law School.
Why It's Like Your Life: Best friend loves best friend, who are both unemployed college graduates. Both appear to reside at home with family and strive for cut-throat career paths. How much more relatable can you get?
Why It's Not: As sweet as this story is while teaching you it's who you're with that matters, it's almost like the conventional post-modern, post-grad rom-com plot (if there was one).
6. The Ugly Truth (2009)
Synopsis: A very-single morning show producer Abby (Katherine Heigl) is coerced into taking on her totally sexist, but tell-it-like-it-is and charming correspondent Mike (Gerard Butler) to argues his tough-love views on relationships and aid her in finding true love. Of course, we can all figure out how this turns out. They find…each other (Shocker!)
Why It's Like Your Life: Mike's blatant advice about "what men want" ie. someone who's skinny, wears form-fitting attire and oozes sex appeal 24/7 are disheartening, but so apparently reinforced in today's society that you can't deny its "ugly truth".
Why It's Not: Well, the situation is very plausible (a morning show producer would cross paths with a TV personality). But while opposites do attract, him giving her a complete makeover and winning her over can be arguably unlikely.
7. He's Just Not That Into You (2009)
Synopsis: A movie with an all-star cast ((Jennifer Aniston, Ben Affleck, Bradley Cooper, Scarlett Johansson, Drew Barrymore, etc.) selects their protagonist as overly eager Gigi Haim (Ginnifer Goodwin), who isn't afraid to let her pursuits, dates and other "potential boyfriends" know how she feels. While a go-getter, Gigi's weakness lies in discretion and identifying her boundaries. She becomes desperate, clinging on to the hope of any guy and calling them to make the first move. But after tending to one date with estate agent Conor Barry and not receiving a call post-date, Gigi decides to visit his regular bar with the intention to "run into" him, but she intersects instead with his friend Alex (Justin Long) who works as a manager there. With gradual interaction, Alex becomes Gigi's friend and love guru – helping her define the mixed signals guys send and thrive in the dating world as a girl who "waits".
Why It's Like Your Life: Just like you, Gigi wants to deviate from these unjust double standards and refuses to allow them to bottle up her emotions or define who she is! She also misinterprets (like most of us) supposed "signals" from Alex and pursues what she believes is a reciprocated interaction. Let's not forget to mention the movie's purpose in covering multiple types of relationships; including one of the extensively co-habitating and years-long relationship that finally turns into marriage (Bennifer), the hot husband-asshat cheating with hot yoga instructor/singer (Cooper-ScarJo-Jen Connelly), and the lovable Drew Barrymore opting for online MySpace dates before finding Conor Barry (Entourage's Kevin Connolly).
Why It's Not: As much as we were rooting for Gigi and Alex to end up together…we saw it coming. Also, Drew Barrymore's character discovering Conor Barry in a real estate ad and recognizing him at the table across from her while she's reading said ad? No, not happening.
8. How Do You Know (2010)
Synopsis: Celeb softball player Lisa (Reese Witherspoon) has just been eliminated from the national team; serious business man George (Paul Rudd), has just been accused of committing a crime while working for his father's company. With both losses in account, Lisa and George meet while trying to find romantic potential within one another. However, Lisa's other possible boyfriend Matty (Owen Wilson) is as fickle with women as he is without them (translation: single playa status), and George's girlfriend just ended things. A random match-up through mutual friends, Lisa and George may acquire at least a platonic friendship. But Lisa has to choose between waiting for George or Matty. How will she know?
Why It's Like Your Life: Hook-up culture. Almost-relationships. Fear of commitment or labels. Need I say more?
Why It's Not: Unfortunately, one's chances of choosing between Owen Wilson and Paul Rudd are as high as the ground – even in the scripted sense. *Criesincorner
9. You Again (2010)
Synopsis: Back in 2002, high school outcast Marni (Kristen Bell) was bullied by everyone – especially Joana (Odette Annable) the head cheerleader. Eight years later, we find Marni as a prominent PR executive with newfound confidence and strength. That is, until she discovers her brother is marrying Joana – her tormentor. While her brother is unaware of how Joana treated Marni back in the day, Marni still feels she needs an apology to make peace with Joana. When Marni reveals Joana's bullying to her mother Gail (Jamie Lee Curtis), Gail also ends up meeting Joana's aunt Mona (Sigourney Weaver) who coincidentally enough also harassed Gail back in high school. With an ancestry of mean-girl predecessors, Marni's mind is made up on unraveling the truth about Joana to her brother.
Why It's Like Your Life: Of course, you run into the biatch who made your life a living hell in high school – almost 10 years later. And of course, it's at a bar or a party with crowded escape routes.

Why It's Not: Maybe she isn't marrying your brother or her aunt didn't bully your mother, but epic revenge like that on your high school bully needs to be premeditated and planned. But, success is totally sweeter – so whatever.
10. The Other Woman (2014)
Synopsis: After learning her boyfriend is married and spoken for, Carly Whitten (Cameron Diaz) gets hunted down by the hilariously neurotic wife Kate King (Leslie Mann) who he's been cheating on. Instead of blaming the mistress as most women do, both girls decide to join forces and catch him in his tracks. When locking down another one of his women Amber (Kate Upton) – and following to unravel even more – all three women collaborate to impose revenge on their cheating boyfriend/husband.
Why It's Like Your Life: Stories like three young women meeting their "boyfriend" at the airport to address his infidelity to him, are circulating the internet. Social media has normalized and glamourized the affair, making it all the more accessible and blurring the lines as to what's considered cheating ie. flirty texts vs. flirty kisses.
Why It's Not: It's still unlikely side chicks and main chicks would get along. But sometimes it'd be awesome if they did.