We're on week 5!!! I'd like to thank everyone who's always sending in their questions to the #WFL team. We truly are overwhelmed for the number of responses! Last week, we answered a question from Derek who wants to pursue a Digital Nomad Life. Here's what's happening this week: (1) I am still in Mancora, Peru and will be moving back to Argentina in a week! (2) Yara won't be able to join us because she's currently exploring Europe, with limited Internet connection. (3) However, I invited Ted Campbell of No Hay Bronca travel blog, a serial expat who lived abroad for 13 years and have traveled to over 40 countries. He now lives in Mexico and works as a University teacher, translator, and freelance writer, along with other less regular sources of income. Why did we invite Ted? You'll see. ;) Do you have questions for the #WFL team? Send it to trishavelarmino@gmail.com and let me know if you want to remain anonymous.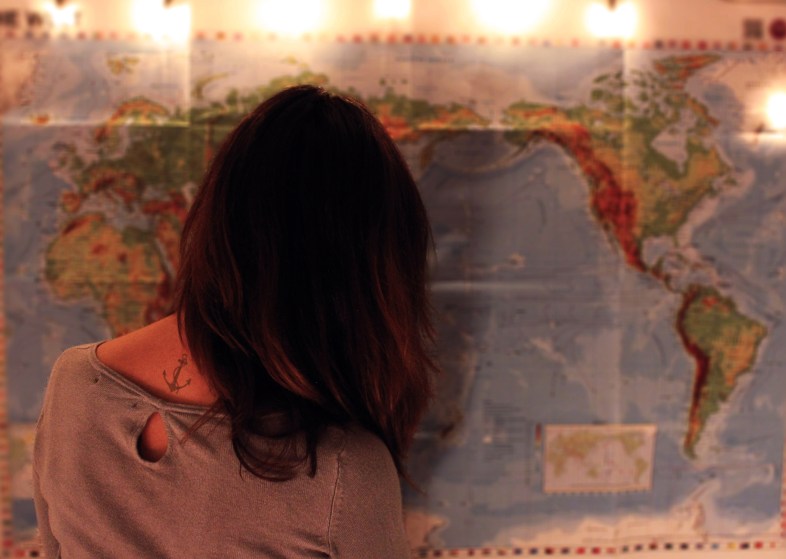 ---
Hey Trisha! My name is Kaylee, and I am about to start taking courses for online/classroom ESL teaching in the hopes of being able to travel and support myself in the future! I have a few questions I was hoping you could answer, since you have taught English in the past. Was it hard not being a native Spanish speaker to teach English? I am currently learning Spanish, but I'm not at a fluency level. Was it really difficult to get the kids to want to learn? Was it hard to find teaching jobs or are they widely available? I spent 3 weeks in Mexico over December, am I am pretty positive that I would like to start my journeys in South America. I just love the culture. Anyways, thank you for your time. I love reading your blog! Keep up the good work, I love seeing solo female travelers kicking ass! :)
---
Trisha: Kaylee! I am really happy that you've decided to take this path! Teaching English is one of my main sources of income when I started traveling the world – and I am still doing it from time to time. May I ask where are you taking your TEFL certificate course? I'm sure you're going to do great!
I speak Spanish fluently and believe me, it never helped. I only teach children (though I am open to the idea of teaching adults, too) and when they know a teacher can speak Spanish, they will never speak to you in English and it sucks! It was always difficult to start a class most especially if you are teaching privately. Schools are always a different case. When I taught in a British school in Argentina, the administration had a strict rule that we can only speak English inside school premises for the benefit of the students. Some assistant teachers are locals and we couldn't even speak Spanish with each other because of the school's strict rule. In short, you don't need to learn Spanish to teach English in Latin America so don't worry about that! A parent pulled out a student from one of my private classes last year because she thinks it's more effective to enroll her son to a teacher who doesn't speak Spanish. And I definitely understand that.
Well, if you are not a child person, they could be really difficult sometimes. Not sometimes – all the time. But I love children so I created lesson plans that are fit for them. For example, when I realized they would rather watch Frozen (the movie) rather than have classes with me, I designed a Disney Lesson Plan and it worked. They even insisted starting the classes on time for a week! But then, after a few weeks, they got tired of it and eventually went back to, you know, being kids. Children have very short attention span and they are fast learners – they tend to get tired of one topic so your goal is to have a diverse (and numerous) lesson plans that will trigger their interest.
I believe there are more ESL jobs in Asia but learning English is becoming more and more popular here in Latin America. Schools are always searching for potential teachers every year so I am sure you'll find one. Do you have teaching experiences? If yes, I suggest you create a stellar profile to be able to find good ESL jobs here. Brasil and Colombia are two of the countries who have decent pay rates. Though these countries have a high cost of living, teachers get by because of the high pay. I even lived in one of the good areas in Rio de Janeiro and Sao Paulo because I can afford it! The rest of the countries of Latin America, I have to be honest with you, you will only take the job to gain is experience. Pay is really low because each country have different demands in this field.
I'd like you to join Freelance English Teachers in Latin America for further chat. You can post questions there and interact with ESL teachers all over the continent. Good luck and I hope to meet you in the future if ever you decide to push through.
---
Ted: One of the biggest misconceptions about ESL is that you must speak the first language of your students – that you must speak Japanese to teach in Japan, Arabic in Saudi Arabia, Spanish in Mexico, and so on.
Actually, it's better to teach 100% in English – even for beginners. This is a policy in many schools.
Think about it – did you learn more Spanish while traveling in Mexico, or while studying at home? In Mexico, right? And obviously, it was because you were surrounded by it.
You had to speak Spanish to order food, get a hotel, or ask for directions. Unless you were in Cancun the whole time, you couldn't rely on English.
It's good to create that kind of environment in a classroom, and in your ESL training course you'll learn techniques for teaching the language without resorting to translation, such as using flashcards or speaking drills.
Your second question made me chuckle – Was it really difficult to get the kids to want to learn? – because I call my university students "kids" sometimes.
I taught children years ago, and in my experience I never had a problem getting them interested in learning. Teaching children is hard work and you'll have to find the way that works best for you, but the important thing is to keep trying new things and asking for advice until you get it.
Adolescents and adults are a different story. It's important to know why they are studying English. Is it their own choice, or is it a requirement at school? Do they want to travel, do business, pass a test? Who's paying for the class – themselves, or a parent or boss?
Make an effort to find out what your students want, and give it to them. You can use a written questionnaire on the first day of class (called a Needs Analysis), or simply ask them.
Chances are they want to practice, to use the language in class, which means that the students should always speak more than the teacher, and the teacher should always correct their mistakes.
Of course, grammar is a fundamental part of language, and it's absolutely necessary to teach it. However, grammar shouldn't be the focus of the class, but rather the real-life situations in which your students will use English.
And to answer your final question, teaching jobs are widely available in Mexico. There are many types of jobs – some with few hours and very low pay – and digging up a good one can take time. The biggest factors are your attitude, your experience, and simply applying at the right time – when the school needs a teacher. For example, the worst time to apply at a university is the beginning of the semester, because the schedule is already set, although you might get lucky if a teacher doesn't show up on the first day of class.
Also, where you go is a big factor, and I assume this is true for all of Latin America, not only Mexico. Where there are more students, like in a big city, there are more jobs, and where there are more foreigners, like at a beach or a famous colonial town, there will be fewer job openings.
Good luck!