Greetings, earthlings! Welcome to Vol. 2 of #WFL Presents: Travel Advice For Aspiring World Travelers! Last week,
we answered a question from Charlotte
, a girl who studied abroad in Rome, and after getting bitten by a terrible, never-ending case of wanderlust, anything and everything that has to do with traveling catches her eye. Yesterday, I just arrived Mancora, Peru from a 24-hour ride bus from Lima, joined by my friends from Barcelona who came here to visit me! Unfortunately,
Yara
is still braving the cold in Lisbon, Portugal and she's caught a very bad fever but she will be able to join us in this volume! As promised, we will be inviting one world traveler every week to answer with us. This week, we will be joined by Cat Gaa who blogs about working in Spain at
Sunshine and Siestas
. We invited Cat because this week's letter has to do with teaching English in Spain. Do you have any questions for the #WFL team? We'll be answering every Friday! Send it to me at trishavelarmino@gmail.com and let me know if you'd like to remain anonymous. Here's what's going on this week.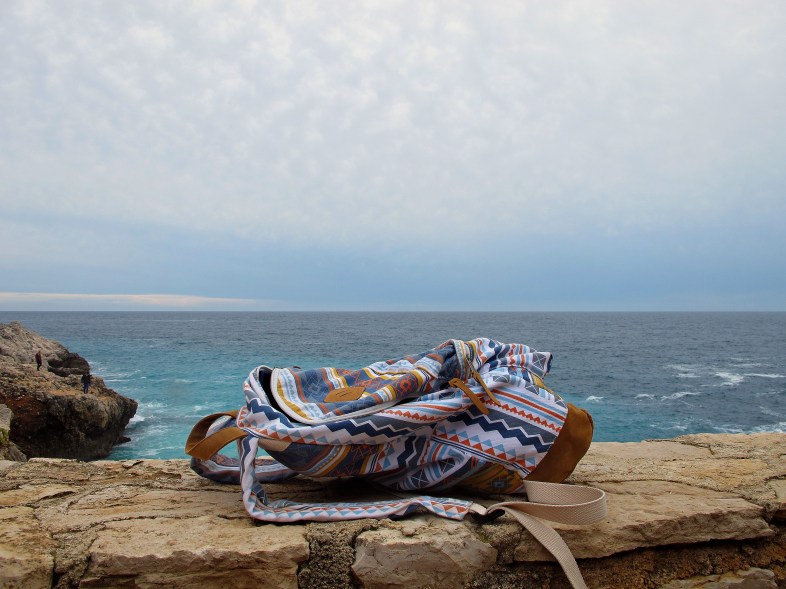 ---
Hey Trisha! I'm glad you're enjoying the sun in Peru. It sounds absolutely beautiful. A little bit about myself: I just graduated college and I wanted to do the whole corporate job thing until I returned from study abroad in Spain. I have had my heart set on returning since the day I got back. I am currently applying and waiting to hear back about being an English language assistant in the fall. I have applied to positions with various companies. I know the pay isn't great, and I'm worried it won't be enough. I'm planning on teaching English privately for cash, and I'm working to save now for the big move..but I'm coming to you and Yara for more advice.
Do you know of anything else I could do abroad to make living there easier? Do you think being an Au-pair is a better option? I would not consider myself fluent in Spanish just yet. I'm sure after a year I could look for a job in my field. Until then, however, I'm not sure of any extra things I could do.
I appreciate any and all advice. Whether it be in regards to this or living abroad in general.
P.S. I love the WFL travel column. Thank you for creating it :-)
---
Trisha: I am so happy you love this series! We've been receiving good feedbacks ever since we started and it feels great! Thank you so much for the support! I've never taught English in Spain but Barcelona is definitely my turf. As for me, the experience of getting your own students is a better option because: (1) you can charge a bit higher than the normal rate. Just make sure you are connected with the teachers there. Maybe Cat, our friend here can be a good connection! (2) You can teach in your own home or go to the students' houses. If you choose the latter, you have to take in consideration the transportation budget. (3) Build your reputation as an English teacher by creating a stellar profile. There are heaps of websites where you can post your services for students to see. 
I've been an au-pair in South America and Africa and it's one of the better options as well. There is a daily allowance in this type of job, however, it depends on your host family. Many times, I've been taken advantage of in au-pairing. For example, in their post, they said "work 5 days a week" but I ended up doing 7 because I live with them. Sometimes, it's a bit uncomfortable to say no but you have to know your rights as an au-pair. Au Pair World is one of the best resources! 
Above all, I am very glad that you are doing something you really like. It's important to put ourselves in an environment where we are not forced to do something just because the majority thinks it's the right thing to do. I know you already know but I want to say it again: living in Spain is one of the greatest things in the world. You will have loads of fun and new experiences so don't give up even if the companies you applied to didn't call you back. My best advice is to just go there, blindly and take a leap. Sometimes, the more we are programming our life, the more it fails miserably. So just go without prior knowledge and see things for yourself. You'll never know what's waiting for you on the other side.
---
Cat: Hola from Southern Spain! Like you, I was convinced that Spain was my immediate plan post-graduation from the minute I boarded the plane after studying abroad. I weighed several options as my graduation date loomed – including working elsewhere in Europe – before deciding that teaching would be a way to work legally and learn some new skills. My experience working as a language assistant near Seville set me up with a comfortable career that I enjoy, particularly for the vacation time and interaction with students! It's also allowed me to have a home base while still traveling in my ample free time.
I always suggest that aspiring teachers and travelers go the legal route and teach through a government- or privately-run program, as there could be legal ramifications down the road if you are in the country illegally for more than 90 days. While these programs have their (often very public) drawbacks, they are by and large the easiest way to score a student visa and have a guaranteed stipend. Since you'll work part-time, you have plenty of spare time to tutor for extra cash (also known as tapa money), explore Spain and Europe and learn the language. Plus, the stipend is enough to live on if you're smart with your budget, and you'll also get health care included in the package.
Don't stress too much about money yet because, while teachers aren't rich by any means in Spain, the work is steady and your job as a language assistant is well-paid compared with the average salary in Spain. You should save up at least 1000 Euros before you leave to cover your start-up expenses when you arrive, such as rent and deposit, possible hostels stays and enough money to get you through your first month or two without a paycheck. Look for tutoring gigs for your weekly expenses, like groceries or going out, and budget as best as you can without missing out. I literally went home after a year with around $250, but I was convinced then and even now that it was money well-spent. 
My advice if you end up choosing this route is to do some research into teaching methods as well as where you'll be living. A TEFL or CELTA teaching degree isn't necessary for this sort of job, but if you've never been in front of an audience of either slobbering kiddos or apathetic teens, well, they say that experience is the best teacher. Also, network with other people in your program for those moments when you may question why you came and what you're doing there (and bear in mind that one of these people may have an oven when it comes time for Thanksgiving!).
If those programs don't work out, you'll have two options: live illegally and try and find some work, or try your hand at being an au pair. To be honest, finding work in a school is nearly impossible without a teaching degree, and strict labor laws will mean you'll be subject to an extremely low salary if you're paid in a cash envelope from a language school. The markets are saturated in big cities like Madrid, Barcelona and Málaga, but smaller cities can offer you more as far as language immersion and more competitive work conditions, and you'll likely save money, as well. 
Being an au pair is something I never considered, despite loving kids. I didn't like the idea of living in someone else's house and had heard horror stories about people who were made to do housework. That being said, I know so many people who have had wonderful experiences and have maintained relationships with the family. Plus, there's a new au pair visa available, so you can start earning legal years towards residency while saving some money and learning Spanish in the process. Or, you could be a live-in au pair and work as a language assistant at the same time!
No matter what you choose to do, going abroad is a great resume booster: you'll not only speak another language, but you'll have problem-solving skills, a more worldly view and way cooler pictures in your cubicle than your workmates! Mucha suerte and have a great time!
---
Yara: Hey, nice to hear from you. I've lived in Spain for many years and I can totally relate with the fact you can't stop thinking about returning. I'm a Spanish by heart and I'm also considering moving back :) Spain is my favorite country in the whole world! I personally think, the best way to make and save money while traveling is either by Teaching English or being an Au-pair. English is my second language, so I haven't had the incentive to try it, but I do have a couple of friends who made really good money.
I'm not aware of the wages in Spain for English teachers, but I've heard of other girls who had no financial problems with their salary. Spain is a cheap country, so if you share an apartment and depending where you'll be placed, you should be perfectly fine. Spain is going through an extreme financial crisis at the moment, so the rents went down which is good, but so did the wages. Be wise with the cities you chose to live in. Rents in Barcelona and Madrid are horrendous, but if you rent in the near by town, prices drop dramatically and you can stretch your Euros.
You asked if being an Au-pair should be something to consider, I definitely think so depending on what you want to experience. I didn't only save a few thousand dollars by being an Au-pair, but I actually made good money, got to travel, made new friends, explored a new country and improved my language skills.
Exactly one year ago, I was living at the most expensive city in the world; Zurich and had the chance to explore Switzerland for free, because my host mother took me to a lot of new places every week. Your wage and perks will be directly related to the legal "pocket money" each country has designed for the program and your academic skills or experience in the field. You can check this detailed guide to being an Au-pair. 
Spain offers the lowest pocket money for Au-pairs,so don't count on getting rich…but if you just want to learn the language, live there legally for a while and be totally stress free, go for it. That will cover all your basic expenses and in your free time you can teach English privately, which can add to your pocket money.
Good luck and have fun in Spain!