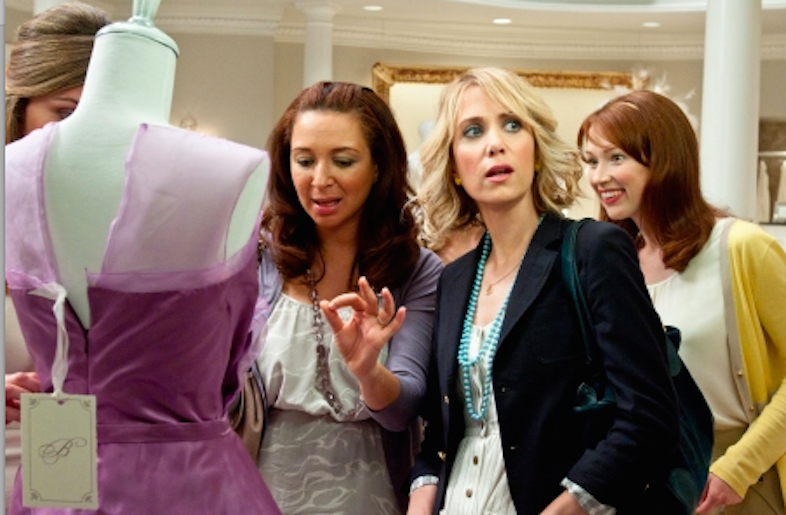 Congratulations! He FINALLY popped the question! You've laughed, cried (tears of happiness, of course), hugged, high-fived, and jumped for joy! You've already started getting all of your ducks in a row, and last night you just asked your best friend that's practically your sister to be your MOH. What's next?

The dress!
After working in PR and wedding culture for years, here are five questions you should know the answer to in order to help your wedding stylist help you find the dress of your dreams!
1. What kind of silhouette do you want?
There are four basic families of dress style. Sheath is a straight, slim cut. Most of the dresses you've probably bought or seen others wear in your life are probably sheath. Trumpet aka fit & flare aka mermaid gowns are fitted until they flare out at the bottom of the dress. A-line starts flaring out right at the hips (The idea is that the entire look creates a capital A.). Ball gowns are like A-lines, just think bigger; like a LOT bigger. Cinderella big.
2. What neckline do you want?
This might seem like an insignificant question, but this is just as important to a dress as the silhouette! Sweetheart is a popular option, with a dip right in the middle of the breasts, it always dresses the girls up quite nicely. I mean, can it be their big day as well as yours? Do you like straight or V-neck? Do you want straps? Sleeves? These can also affect the neckline. Start thinking ahead of time what you're comfortable with and what you'll be willing to try.
3. Where has your dress of your dream inspiration come from?
Is there a designer you particularly admire? Is Zac Posen your honorary groomsman? Do you wish you could call up Vera Wang and have coffee? Is there anyone that for every dress they create, you wouldn't mind trying on every single one? Have this name readily available, and maybe some inspiration pictures. Visuals are helpful.
4. How do you want to look and feel on your big day?

Do you want to be the star at your wedding premiere? Do you want to be sexy? Or do you want to be soft and romantic? Do you want to be classic? Simple? Just beautiful? Simply you? Your wedding day is entirely about you, and we want to help you be as comfortable and in your own skin as possible. Have a few adjectives ready to help point your stylist in the right direction.
5. What detail are you ok/not ok with?
Do you like lace? Satin? Are you ok with floral detail? Does your dream dress look like it could compete with a disco ball for bling? Is this enough tulle or is this too much? Do you want your dress to be white or ivory? What about blush or champagne? Are you open to negotiation? Keep all of these in mind.
These five questions should help narrow down your search dramatically for you and your stylist when wedding dress shopping. If you don't remember these questions, on top of everything else, remember to have fun! This day is about you. No wedding experience goes 110% smoothly. Just keep in mind that gorgeous man (or woman) of yours and remember why you're even having a wedding, and trust me, everything else will fall into place.  Even if you have nothing else arranged for your day yet, these questions should be able to help make some leaps, and you'll be saying yes to your dress in no time!