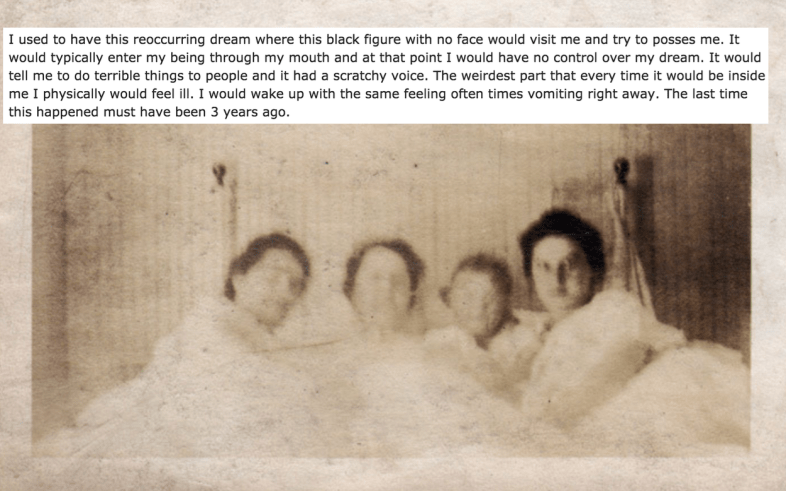 Mom's home
"When I was around 12 my mother had to go out of town for a bit and she left me home alone for a few days (we lived close to relatives so it wasn't a big deal back then). She refused to give me a mobile phone because she figured she could just call me on the landline if anything came up.
She told me the date when she'd be back and that was that.
The date arrives and I hear my mom knocking on the door downstairs, calling my name. My dog (who loved her) got excited when she heard her voice and ran down ahead to greet her. She got to the door, freaked the hell out and ran back upstairs to me.
I refused to go down and open the door. The phone started ringing and the knocking stopped. I picked up the phone to hear my mom say, "Hey, I'm sorry, I have to stay one more day here. I'll head home tomorrow."
Tl;dr – Someone/something pretended to be my mom. Didn't fool the dog." — rowhesr
"He's coming"
"We used to live in a battered women's and children's shelter when I was young, because my father was looking for us(ugly divorce, Alabama gave him custody, mom took us to WA). One night, I looked in the mirror, and saw a hairy demon looking back at me. I screamed and cried and ran to get my mom who assured me it was a normal mirror. But that night, a kind looking man, that I can only describe as a ghost, appeared at the end of my bed. He was there all night, but gone when I woke up in the morning. Then, the next night, and the next night. He was there every night for 4 months. We never talked, he never moved. Just stood guard.
Then, one night he woke me up from my sleep, and I'll never forget how surprised I was, because I'd never seen him move or talk. He said, "He's coming. Get out now." So we packed up the car and left to a hotel for the night. The next morning, we went back to find out someone had broken in and gone room to room looking for someone.
I never saw him again after that." — CharlieBaumhauser