SPONSORED
With the start of the fall season comes the beginning of new routines, busy schedules and a penchant for wanting to eat tasty meals that are both healthy and convenient. Whether you're watching football or visiting with family, we all know the food is just as important as the experiences and memories that accompany it. Instead of wasting money on eating out every night or wasting time slaving in the kitchen when you could be catching up with friends, make everyone you know wonder how you got so good at cooking by creating wholesome, budget-friendly meals you can proudly show off through drool-inducing Instagram photos. In honor of food selfies everywhere, we partnered up with the National Frozen & Refrigerated Foods Association to bring you 6 high-quality, tasty and convenient recipes that look as amazing as they taste.
When you've spent all night out with your friends, the only thing saving you the morning after is a sweet (no pun intended) Sunday brunch. Skip the line, stay in your pajamas and indulge in an ooey-gooey layered French toast favorite while recounting all the funny moments that happened the night before. Pass on the classic eggs and pancakes, and whip up this delicious recipe with some extra help from those frozen, ready-made French toast sticks. Pair it with a mimosa garnished with frozen fruit—because what's brunch without mimosas? Make sure to snap a pic for Instagram – yours will surely rival any Sunday brunch creation.
2. A quick breakfast that's brain food before a test (or big work presentation): Blueberry Banana Smoothie
Whatever add-ins you decide to mix into your smoothie, yogurt is always the essential base – choose Greek for an extra protein punch or a flavor to satisfy that sweet tooth! Complete your smoothie with your choice of milk, some ice cubes and your favorite fruit for a day's quick and healthy start with a quality meal when you need it most. You can buy the frozen fruit in advance to eliminate any washing or chopping to cut down on the prep time—plus it will never spoil. The best part is, it can be made in 5 minutes, making it ideal for a delicious grab-and-go breakfast.
3. A casserole that'll feed all your friends when they come over to watch your favorite TV show: Waffle Fry Chicken Bake
You've waited all summer for your favorite show to come back this fall, and the day is FINALLY here. All you need are some friends to watch it with and some great food to share when they come over. Keeping your fridge and freezer stocked at all times is the key to making weeknight meals in a snap and being prepared for unexpected guests. Instead of going to the grocery multiple times a week, keep convenient, versatile and quality ingredients in your kitchen that will last. Parmesan and cheddar cheese add an extra zing to all kinds of savory dishes! Combining convenient ingredients with this simple recipe, you've produced a delicious casserole. And who doesn't love chicken and waffle fries? Be sure to share a photo before you sit down for your favorite show to make all of your friends really jealous.
4. An elegant meal for a dinner party with your besties: Baked Ravioli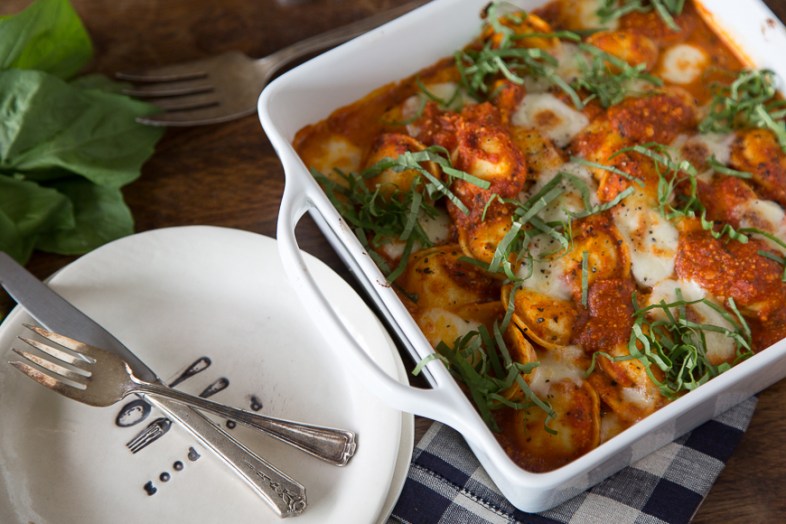 Sometimes you want to skip the takeout and actually have a real, quality meal with your best friends. Whether it's spontaneously getting together after work or planning an early dinner on the weekend, share a satisfying dish that tastes like homemade in less than 30 minutes with some essential pairings. This ravioli recipe is an easy crowd favorite with quick add-ons for a wholesome Italian meal—bake up a ready-made garlic bread, steam and season some green beans and don't forget to pop a bottle of wine. To really polish off the scene, grab some fresh flowers and candles for the table. They're all little touches, but they go a long way in making it look and feel like you've put in a whole afternoon's effort for your guests. If you are in a crunch or have a mishap in the kitchen, there are a variety of frozen Italian meals made from scratch just like Mom's that can be ready in minutes.
5. When you want to make something fun and simple after a stressful week: Shrimp Tostadas with Chipotle Cream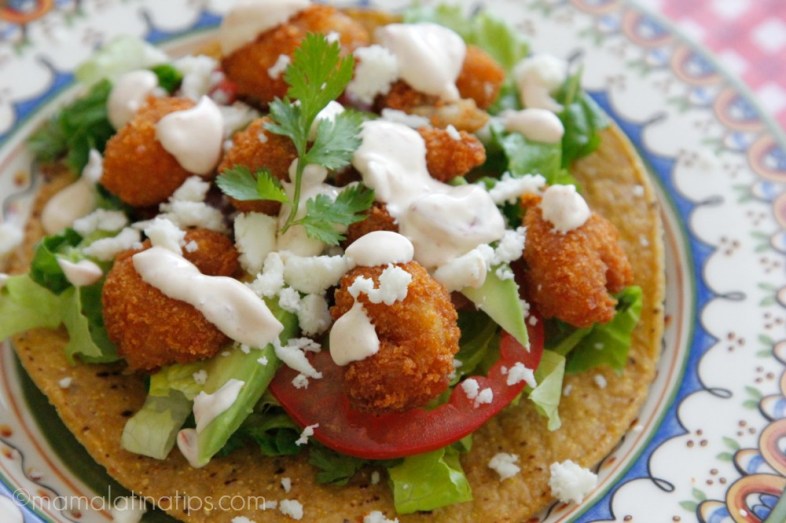 Just because the fall season is here doesn't mean you have to give up some of your favorite meals from over the summer. After a busy week with work or school, reach for this mouthwatering, budget-friendly tostada recipe. It's easy enough for even an amateur cook to master, contains a well-balanced blend of wholesome, delicious and convenient ingredients like frozen shrimp that make it a breeze to put together. Don't forget to pile high with sour cream, queso fresco, cilantro and as many chipotle peppers as you can handle for a wow-factor that everyone will love! The best part—this dish allows you (and any unexpected guests) to customize your tostadas however you please. But beware—your Instagram followers may be texting you to come over for leftovers!
6. The perfect antidote to mid-day work stress: Cinnamon Apple Muffins
There's something about fresh, homemade baked goods that makes everything seem like it's going to be okay- but that feeling doesn't have to be reserved for when you get home. These convenient cinnamon apple muffins are made with real ingredients that are staples in your fridge. You can easily bake these ahead of time and freeze so they can be taken with you to work or class and enjoyed at any time throughout the day. Simply bake a batch the night before, try using yogurt as a healthy substitute and let your culinary creativity and inspiration shine by tossing in some nuts or frozen fruit like cranberries to really amp up the fall flavor. Then, when you need a break or a pick-me-up, grab your extra hot triple extra whip skim latte, and head to a nearby bench for some fresh air and this classic, seasonal, tasty treat. Any little stresses that built up throughout the day will swirl away like the fall leaves around you.

This post is brought to you by the National Frozen & Refrigerated Foods Association—find more great recipes, meal ideas and tips at EasyHomeMeals.com!