Montauk is a hamlet located on the the southeastern-most part of Long Island.
It is home to the first-ever lighthouse in New York state (Montauk Point Light) and is famous for fishing (home to the largest recreational fishing fleet in NYS).
A mostly sleepy town, it attracts tourists from all over the country, enticed by its natural beauty as well as the debris-free beaches, friendly people, and the wealth of having six state parks located in its 17.5 square mile area.
This past weekend, we went out to Montauk and asked people — locals, visitors, animals — what their favorite thing about "The End" was.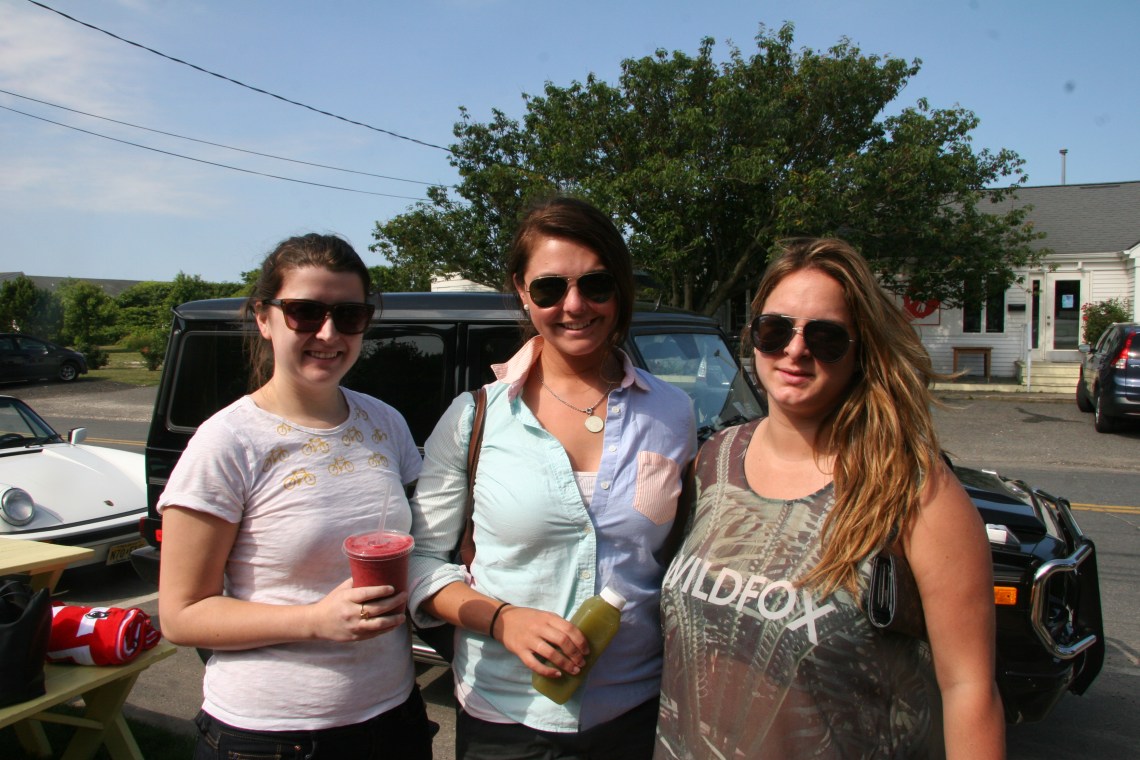 Mary, Jacqueline, and Maxxi
Jacqueline: "I really like Ditch Plains Beach. It's the best."
Mary: "Getting away from NYC is really nice."
Maxxi: "Yeah, it's nice to get away from that concrete jungle."
---
Robert and Aaron
Aaron: "We come back here every year with the family. It's like a family reunion…except sort of not. [laughs] We see them every day."
Robert: "I like how I can walk from the hotel to the beach and it's just right there. I like to be near water. Montauk has some fantastic restaurants. We've been coming here 30 years and it's always been great."
---
David
"I like surfing in Montauk."
---
The waves were pretty nice.
---
Patrick and Naoko
Patrick: "I like hanging on the beach. It's relaxing."
Naoko: "I really like the shabby chicness here. [laughs]"
---
[Asked not to be photographed]
Gabby and Jesse
Gabby: "I like the nightlife out here. It gets really crazy."
Jesse: "I was going to say that! Oh well, I guess I really like the beach then."
---
Jordan and Melissa
Melissa: "What do I like about Montauk? Well, the air. It's so fresh and clean out here. Not like the city, you know?"
Jordan: "Ah, that was my answer too. [laughs] I like the air out here. But I'll go with the beach."
---
Kristen, Amber, and Kristin
All in unison: "Surf lodge!"
---
Omar and Julie
Omar: "I like the sea. You don't get to appreciate it enough."
Julie: "The people here, they are really nice. I really like that about Montauk. It's also so different from other places!"
---
"My favorite thing about Montauk? I'd say it has to be the clean beaches. It's definitely not like Rockaway or Brighton. The people are really nice out here and I really like the area."
---
It had a very "Main Street" vibe, but also felt very different.
---
"I like the relaxed atmosphere of the town. The food was great. The fish was especially fresh and delicious! Shoutout to Joni's for making the best breakfast burrito ever! And to Solé East for making the weekend pleasant and worry-free!"
---
Seagull
"I really like the presents you leave out for me when you vacate your nest, you know? Very nice. Very considerate. Sometimes, I'll find treasures, like shiny things. I like shiny things a lot. Here on Big Rock — what do you mean this isn't "Big Rock"? You want me to call it "Montauk"? I can't pronounce that. Are we done here? Oh, yes, sorry about that. My favorite thing about this place is ziploc bags. The shaking and the biting I have to do, it's a great way to kill time and get presents."
---
It was also a full moon that Friday night.