Skye Parrott
Sloane Crosley graduated from Connecticut College in 2000 with a degree in creative writing. She took the literary world by storm in 2008 with her debut collection of essays, I Was Told There Would Be Cake,which became a New York Times bestseller and a finalist for the Thurber Prize of American Humor. Her follow-up book, How Did You Get this Number (Riverhead books), will be released June 15th. Crosley works at Vintage Books, where she is the publicist for literary stars like Joan Didion, Toni Morrison, Jay McInerney, and Dave Eggers.
How drunk would you have to be to sleep with Tucker Max?
Is it possible to drink enough to permanently alter your DNA? That drunk.
Will there ever be a Sloane Crosley book not about Sloane Crosley?
I hope so. It will probably still have my name on the cover though. I do see giving the "I" vowel a rest but if I produce a decent novel, I'm sure I'll want my name slapped on it. I think Joyce Carol Oates has a whole franchise of mysteries just casually under a pseudonym. You have to have a pretty flush brain to be that generous with your creative wealth.
What makes a good day in your life?
Leaving the house after 9 but before 10. Learning something new. Feeling content around people and then feeling relieved and content when I'm by myself again. That, sprinkled with good food, cocktails, good music, some brownies, something truly amazingly funny and maybe some newly acquired item like headphones (I'm on the hunt) and cool summer shoes.
And a bad one?
Dry brownies. Nothing is worse than a dry brownie.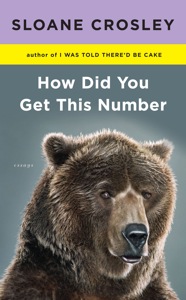 What's going on with HBO show for I Was Told There Would Be Cake?
I'm writing the pilot.
What do you think about critics?
Well, I have been a book publicist for about a decade so I have no blanket thoughts but lots of specific examples in mind. Sometimes I think they're brilliant people who help control what's on America's bookshelves and sometimes they review the book they think the author should have written or they wish they themselves had written. Luckily it's usually the first. I'm also answering this as "book critics" because I have no sense of how many people are just critical of me in general.
Will you share a great quote or passage from How Did You Get This Number with us?
I made a note to myself to patent a Girl Talk for adults. You could spin the wheel, have some unprotected sex with an inappropriate partner, and your number of abortions would correspond to the birth month of the girl next to you. Let us not befriend December babies!
What books are on your nightstand?
The Ask by Sam Lipsyte, The Elegance of the Hedgehog by Muriel Barbery, Blood's A Rover by James Ellroy, a galley of Freedom by Jonathan Franzen and The Dud Avocado by Elaine Dundy.
Finish the sentence, someone everyone should be following on Twitter is…
Taylor Swift.
New York is…
to be left better than you found it.
A great website is…
http://www.whatthefuckshouldimakefordinner.com/
An under appreciated writer is…
Jim Shepard.
An over appreciated writer is…
Dickens. Hack.
2010 is the year of…
The Tiger.