Taylor Swift is country sassy following a career of crossover pop fame. Look at her now all grown up and strutting her stuff down the catwalk of the famous Victoria's Secret Fashion Show. VS might want to think about hiring the 24 year old pop star next year considering how well she looked as she slipped into two sexy ensembles in London on Tuesday night, proving she's ready to take her career and her style to the next level.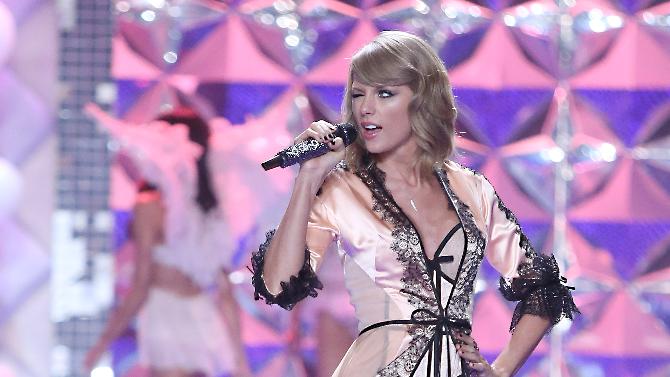 1. Taylor Swift's Bronzy Body Glow
Taylor Swift looked like an angelic bronzed goddess with a faux tan on Tuesday with her body shimmered from head to literally her toes. We usually spot her in tabloids with ivory pale skin, but VC would never allow such a thing. They opted for Taylor's body to be a sun healthy glow bronzed goddess like the VC models in their lingerie magazines for those risqué looks. The Victoria's Secret Glam Make-up team used an all over self tanner first, then powdered her from head to toe with bronze shimmer, like a body by Victoria model! Simply take your favorite self tanner apply evenly all over the body let it set for 20 minutes. Take a bronzer with high shimmer and brush it on the chest, shoulders, stomach (if applicable), drench legs in bronzer powder, apply hair spray to set.
2. Highlighting and Contouring
In magazines we see Taylor Swift as an innocent fresh-faced country girl, but for the VC fashion show the make-up application was over the top contour bronze glam. While she still looked like herself she had some serious highlighting to accentuate her Swift features. First they applied a full coverage foundation followed by a dark concealer under her cheekbones to add definition to her not so prominent facial features. A super light shimmer highlighter on top of the cheekbones, along the nose, in the inner corners of the eye, under the eyes, and atop the cupid's bow. A dark shimmery bronzer applied all over the face to finish it off.
3. Dramatic Lashes
This 24-year old beauty has mastered her sexy style opting for a dramatic smoky eye for the occasion. Even if only you choose to try this modern trend for a Saturday night out (rather than a meeting with your boss), it's okay to draw beauty inspiration from Taylor. You start with dramatic false eyelashes, while they may be faux, it's the flirty flutter that's appealing and makes the eyes the focal point and the standout feature for any night out.
4. Smoky Eye
For Taylor Swift's smoldering smoky eye look, layer on the gray, brown, and bronze colors with the darkest shades in the crease extending out in a cat-eye shape.
5. Bold Eyeliner
Taylor's eyeliner is thick and lively extending up towards the brow for an ultra dramatic smoky eye look.
6. Star Power Lips
Part of Taylor's allure is her gorgeous shape and that includes her shapely lips. Swift wore two different shades with each ensemble, crimson red with a black lingerie gown and a starlight coral pink with a nude pink and black nightgown, topped off with a super shiny gloss. Even if you weren't born with a pouty pucker, enhance what you've got. Try outlining your mouth with a lip liner before filling it in with color. This will accentuate your shape. A dab of lip gloss in the center of the bottom lip will always make it appear fuller, too.
7. Glossy Waves
You may be keeping up with Taylor Swift, but that doesn't mean it's easy to follow Taylor's hairstyles and color changes. In the past year alone she's gone from red to blonde to honey and highlighted, straight, short and curly. If you desire long or short, shiny hair like Taylor's make sure you're using a hydrating hair strengthener at least once a week.