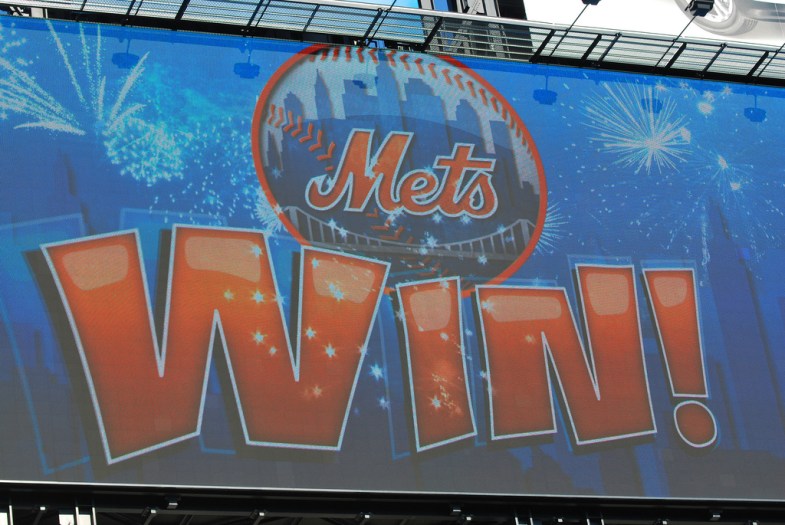 During the Mets 11-game win streak in April, The New York Times ran some pictures from photographer Piotr Redlinski, who commented, "The Yankees belong to the world, but the Mets belong to New York."
I mention this not as a shot against the crosstown rival Yankees (okay, maybe a little bit of a shot), but because it perfectly captures the provincial, often anguishing experience of rooting for the eternal little brother of New York baseball. There's a reason the most famous Mets fans are comedians – Jerry Seinfeld, Adam Sandler, Jimmy Kimmel, Amy Schumer, Ben Stiller, Ray Romano, Kevin James, Chris Rock, and Jon Stewart just to name a few. To watch this team, particularly in the past decade, you need to be able to find humor in misery.
After all, to support the Mets is to willfully scorn baseball royalty and suffer the consequences of cheering on an underdog that rarely experiences the triumphant win so commonplace in sports movies. It's for the kids who liked Luigi better than Mario, thought Raphael's flaws were still way cooler than Leonardo's basic-bitch leadership style, and who ate Hydrox instead of Oreos. Being a Mets fan is for left-handers, second-guessers, and all-around contrarians.
And finally, for the first time in nine years, those fans are being rewarded with a playoff series. As a lifelong fan, I'm more excited than Lastings Milledge after a walk-off home run.
My origins as a Mets fan aren't uncommon. I was raised on Long Island, but my dad, an old school Brooklyn native born in 1940, grew up obsessing over the Brooklyn Dodgers and detesting the ever-victorious Yankees. The Dodgers lost in the World Series to the Yankees four times from 1947 to 1953 alone – their rivalry was like a particularly bleak retelling of David and Goliath in which Goliath repeatedly beat David to death with a big ass club. The Dodgers' dramatic defeats and perennial bridesmaid status make Mets fandom seem like a relatively mild torture.
When the Dodgers finally vanquished the Yankees in 1955 and subsequently moved across the country to Los Angeles (ironically, the Mets upcoming opponent in the National League Division Series) a few seasons later, my heartbroken dad gave up baseball – except his hatred for the Yankees. And so I was destined to be a Mets fan.
Whether or not they make it out of the NLDS, I'm honestly just so overjoyed at the prospect of devoting an entire evening to watching my team play October baseball – the nail-biting tension, frenzied highs, and catastrophic lows we know all too well. Getting to watch bona fide aces like Jacob deGrom, Matt Harvey, and Noah Syndergaard is a baseball blessing, and they are backed by a likeable cast of experienced veterans (David Wright, Curtis Granderson), homegrown favorites (Dan Murphy, Lucas Duda), and, of course, the one and only Yoenis Cespedes. Plus there's manager Terry Collins, who constantly looks like he's about to have a nervous breakdown at any given second, even during the regular season. There's like a 75% chance he will actually levitate at some point during Game 1.
I'm not just "happy to be here," however. I want the Mets to win the World Series, and I've been around long enough to know that what looks like the first year of a great run could just as easily be a one-and-done fleeting opportunity (cough 2006 cough). Mets fans, although conscious of their inferior status, don't want to be lovable losers.
Yes, we support a team that has nearly always been second-rate in its own city. But unlike fans of the Cubs or the pre-2004 Red Sox, who held a victim mentality that almost fetishized their perpetual failures, rooting for the Mets has never been about the irony of deliberately choosing the worst team. Rather, it's about not forsaking integrity or personality just to cheer for the best team (and let's be honest, the better the Yankees are, the more boring and bland they get).
Of course, I'm biased as hell, hyperventilating with giddy excitement, and in the mood for extravagant hyperbole. Ten years adrift in a nightmarish sea of Ponzi schemes, September collapses, and Oliver Perez will do that to a guy. Regardless of how it all pans out, 2015 has reminded Mets fans about why they fell in love with the blue and orange in the first place.