1. Grizzly Man (2005)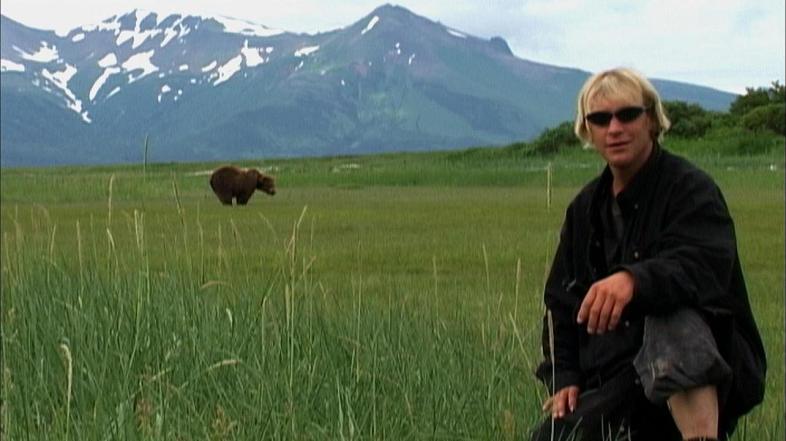 10 Words or Fewer Summary: Man devotes entire life to bears, gets mauled by bear
This documentary from legendary German director Werner Herzog follows Timothy Treadwell, a grizzly bear activist who devoted years of his life to living with the creatures in the wild despite the enormous danger and considerable criticism. As the doc reveals right from the get-go, Treadwell and his girlfriend were ultimately mauled and eaten by the very bears he was trying to protect. What makes Grizzly Man so incredibly powerful is the hundreds of hours of footage Treadwell recorded over the years, unnerving clips that feature him interacting with the bears as if they were golden retrievers. The recordings are amazing from a wildlife perspective, but even more so for the way they depict Treadwell's descent into mental illness, depression, and paranoia. This is often grim, disturbing stuff, but Herzog manages to balance it with a healthy dose of almost absurdist humor – there are some bizarre supporting players (including a macho pilot and an extremely odd coroner), and it's impossible not to laugh in bewilderment when an overjoyed Treadwell comes across some grizzly poop and starts squealing with glee. But the cherry on the sundae is Herzog's narration, insightful and candid, compassionate yet nihilistic. I mean, in what other documentary does the narrator toss off casually existential non-sequiturs like, "I believe the common denominator of the universe is not harmony, but chaos, hostility, and murder."
2. The American (2010)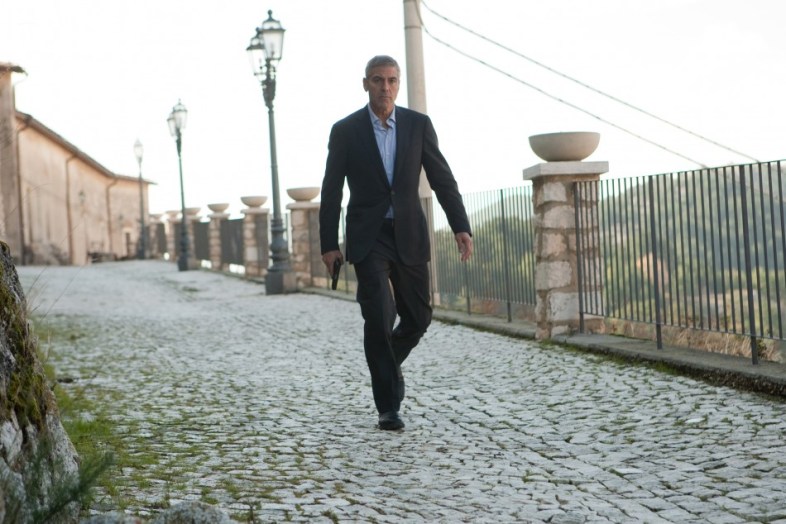 10 Words or Fewer Summary: Clooney, existential hitman, builds guns and bonds with Italian prostitutes
The American is an understated, mysterious throwback to the Euro-influenced, sleek thrillers of the 70s. So, of course, modern audiences were all like "tl;dr" and used the film primarily as mood lighting for checking Instagram. Following a burnt-out assassin (George Clooney) holed up for the obligatory "one last job" in a picturesque Italian village (the cinematography is gorgeous here), The American's plotting is leaner than a prizefighter. Fortunately, director Anton Corbijn uses the minimalism to his advantage, generating plenty of tension. Clooney goes for brooding rather than charming, and his excellent performance is as enigmatic and alluring as the film itself. The American ends with some nagging questions, but these are small gripes against an intelligent, gripping thriller.
3. A Girl Walks Home Alone at Night (2014)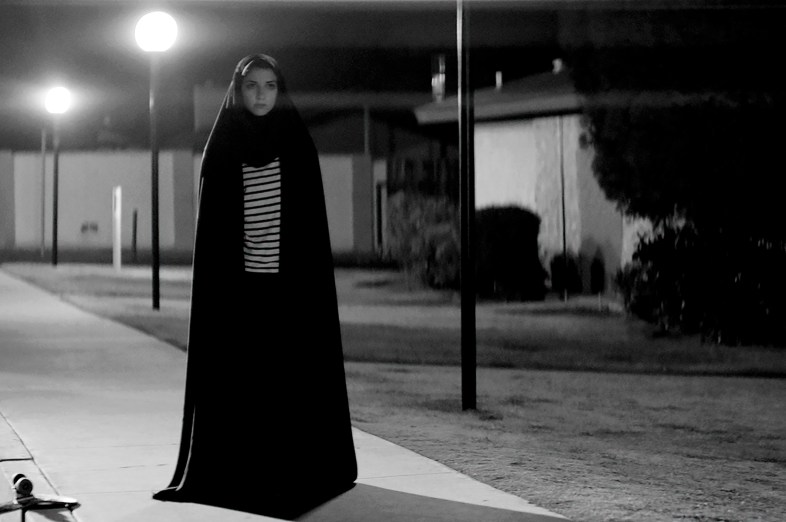 10 Words or Fewer Summary: Iranian female skateboarding vampire…ah, screw it just read below
A Girl Walks Home Alone at Night, an Iranian-American arthouse horror stunner, is Ana Lily Amirpour's debut film of desperate people, skateboarding vampires, and scene-stealing cats. Despite A Girl…'s originality, its hard not to compare Amirpour's astonishing film to the idiosyncratic work of other auteurs like David Lynch and Jim Jarmusch. A Girl… takes place in the wonderfully named Bad City, a hermetically sealed world of afflicted oddballs. We know little about it: the hillsides are ravaged with oil drills, a ditch overflows with a consistently replenished supply of dead bodies, and many of the residents appear to be drug addicts. Arash (Arash Marandi) is a landscaper with a destitute father; The Girl (Sheila Vand) is a vampire at least somewhat judicious in her selection of meals. The two characters, both forced into immoral behavior because of their conditions, are inexorably drawn together. The film wonderfully employs diegetic music (particularly a jaw-dropping scene set to White Lies' "Death" that ranks amongst the best I've seen in the past decade) and evocative black and white cinematography. A Girl… is beautiful, exciting, and, most of all, just ridiculously cool – don't wait to jump on Amirpour's bandwagon.
4. Dead Man (1995)
10 Words or Fewer Summary: Depp takes psychedelic journey across 19th century western frontier
Speak of the devil, Dead Man is my favorite work of auteur Jim Jarmusch – a "psychedelic western" (as Jarmusch termed it), it follows William Blake (no, not that William Blake – this one's an accountant, played by Johnny Depp) who is duped into traveling to the rugged western frontier of the America 1800s, and who, for the sake of brevity, then suffers a series of increasingly horrible and bizarre calamities. Dead Man is beautifully shot in Jarmusch's typically sumptuous black and white, boasts an all-star cast of eccentrics (Depp! Billy Bob Thornton! Crispin Glover! John Hurt! Robert Mitchum! Iggy Pop! Lance Henriksen! Gabriel Byrne! Alfred Molina!), and features an unsettling improvised (!!) score from Neil Young. Poetic and lyrical, yet crudely funny, it's a series of spectacular contradictions. Dead Man is the kind of movie that you can't help but suspect contains more within it than you'll ever manage to uncover.
5. Harold and Maude (1971)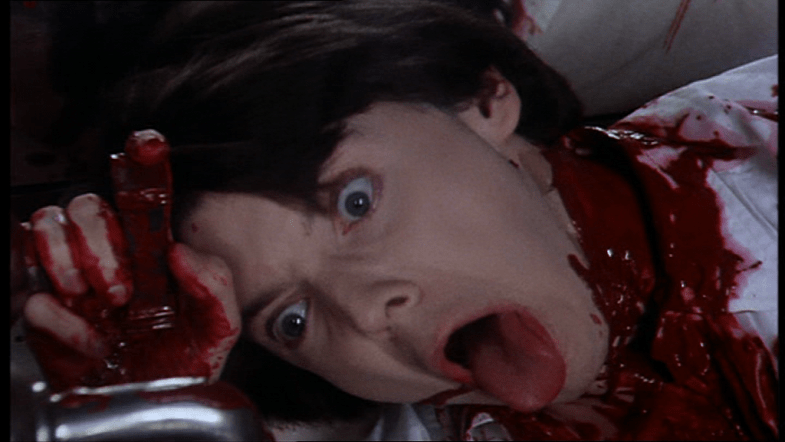 10 Words or Fewer Summary: Death-obsessed twentysomething falls in love with life-obsessed octogenarian
I somehow put off watching 1971's Harold and Maude until now – as a teenage film buff, when I began immersing myself in the dark and grimy world of 70s cinema, I just couldn't muster interest for a lighthearted romance between a man in his early 20s and a woman on the verge of 80. This was apparently just another in a series of retrospectively atrocious decisions I made in my teens (the Limp Bizkit years, as I call them) because Harold and Maude really blew me away. I had no idea how subversive the film was (and remains) in its empathy towards the anti-social behavior of wayward youths and complete dismissal of the traditional values of conventional adulthood. Harold (Bud Cort), a socially disturbed fellow so obsessed with death that he repeatedly stages his own suicide, embodies an indelible character type. It's also one more relevant now than ever – potentially dark to the point of discomfort, director Hal Ashby and writer Colin Higgins handle his angst with deft touches of humor and sincerity. With a terrific era-conjuring soundtrack of Cat Stevens songs, beautiful cinematography, and plenty of unforgettable scenes, Harold and Maude is one of film's finest dark comedies.
6. Point Blank (2010)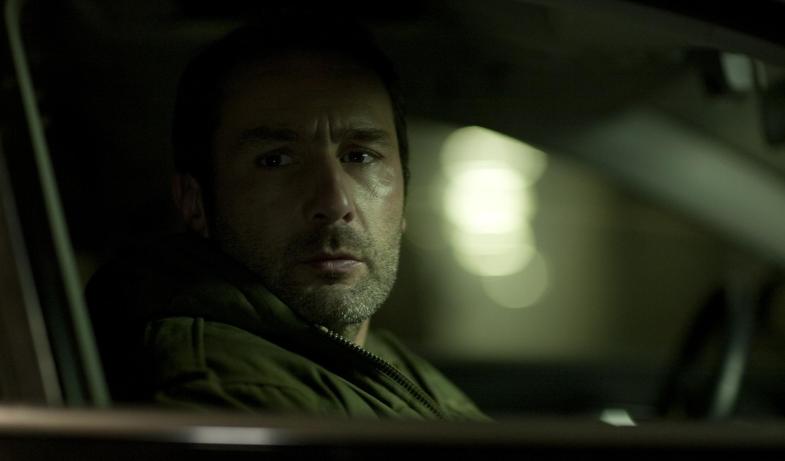 10 Words or Fewer Summary: French guy must battle cops, crooks to save pregnant wife
Packing the force and shock of a vicious pistol-whip, Point Blank is a sleek French thriller that outperforms just about any recent American counterpart. Opening with a footchase that culminates with one of the participants getting run over by a motorcycle, Point Blank hits the ground running and never lets character development or plot holes get in the way of momentum and excitement. That said, the film does just enough to get us involved in these characters and give the action a necessary sense of substance. Following a man whose pregnant wife is kidnapped after he becomes entangled with a shadowy group of criminals and corrupt cops, Point Blank certainly doesn't rethink Hitchcock's old "innocent man on the run" formula; it also features its share of the genre's standard farfetched plot twists. But what it lacks in originality, it makes up for in skill and sheer velocity.
7. Something Wild (1986)
10 Words or Fewer Summary: Yuppie runs off with crazy chick, terrorized by Ray Liotta
Something Wild is a colorful, offbeat dark comedy from director Jonathan Demme that delivers on the promise of its title. What starts off as a goofy 80s rom-com depicting a fanciful weekend tryst between a soon-to-be Wall Street VP (Jeff Daniels) and an edgy and mysterious woman (Melanie Griffith) soon turns genuinely nightmarish when her homicidal ex-husband (Ray Liotta, never better) shows up. Full of weird, little flourishes and a spectacular soundtrack (The Feelies show up to play like an entire set at a high school reunion!), Something Wild is vivid piece of unconventional filmmaking. It's also cleverly conceived, with Daniels' Charlie Driggs as the prototypical American charging blindly into disaster – heading west, making very bad decisions, and buying everything on credit. In Demme's American landscape, as well as in Charlie himself, something unexpectedly primal and frightening lurks just under the surface. This one would make a great double feature with Scorsese's After Hours.