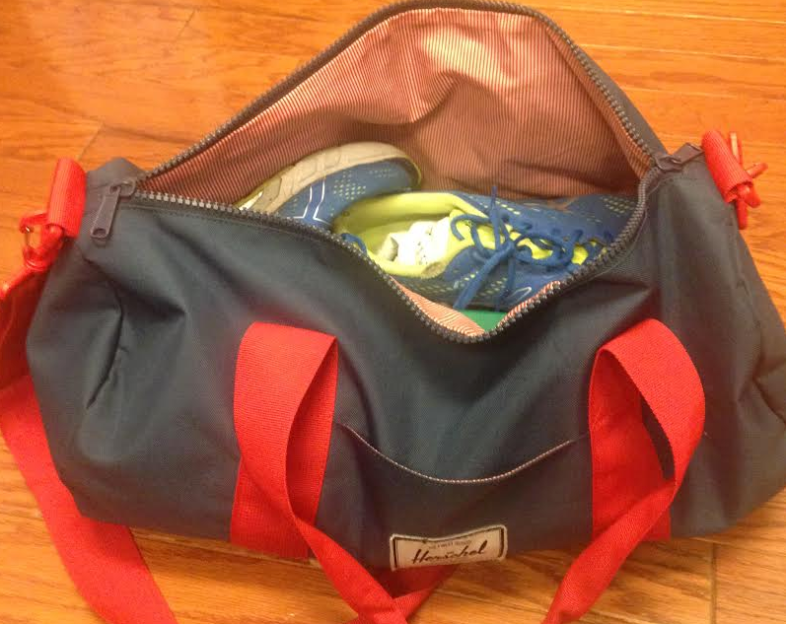 Today I present you, in Seussian verse,
a list, comprehensive–no lies interspersed.
It's a catalog of all the stuff that I placed
in my gym bag around April 7th or 8th.
I know, I know–blah, who would bother to read
such a fun-crushing dud of a post, guaranteed?
But I am the godmother, this list my Ella,
encased in both cinder and dreams of a fella.
To enliven these ho-hum, pedestrian things
I rhymed them together, gave a misfit its wings.
Without further ado, with no more evasion,
I give you my gym bag, oh joyous occasion!
*
To start: of the bag, this most glorious bride,
with its thinly striped candy cane red-white inside.
The bag is dull blue, like a cloudy sky sea,
and made up of canvas, way most bags would be.
A cylinder stuffed, a glass jar filled with jelly,
it has sturdy handles that wrap 'round its belly.
A shoulder strap, too, like the handles–in red,
clips on in two places. What's left to be said?
I guess that it's Herschel, and has sundry pockets,
where I keep my possessions, just like Davy Crockett.
Unzip the two zippers as I do each day,
and waiting for you is this lovely bouquet:
*
An IPA bottle cap left from a time
We snuck beer to the movies in Fort Greene. One dime.
Green hardcover Moleskine with elastic strap.
Electric blue headphones. Turquoise baseball hat.
Pair of lime running shoes that I bought for a race
last summer in Brooklyn. Got a medal, no place.
A Geoffrey Beene wallet from 2006,
brown leather, quite faded, with a badly snagged stitch.
Pack of wintermint gum with 10 pieces for sharing.
Grey tank top from Target I feel sexy wearing.
Three tabs of ten milligram loratadine
for visiting loved ones who have cats felines.
*
A bottle of fragrance by Yves Saint Laurent,
the travelling size of their classic L'Homme.
A FedEx receipt, $33.48.
Can of ultra-shine Göt2B citrus pomade.
Container for formula—faux-milk for kids—
filled up to the top with raw protein instead.
Two books, both half-finished, that I read on the subway
L. Wright's Going Clear and Joan D.'s After Henry.
3 crumpled up wrappers. An essay I'm sketching.
Black athletic shorts with a waistband that's stretching.
A handwritten draft of an email that took
over six weeks to write. Countless edits—look look!
*
White ankle socks, balled and stuffed in my sneakers,
there's a hole in the left one, a sock's sad grim reaper.
Brick red Masterlock, the second I've had
lost the first after one week, same color. My bad.
There's a yellowing liquid that's festering inside
a tumbler I cannot get washed. Swear, I've tried.
A deodorant stick that's aluminum-free,
"Intense Sport", nice smelling, made and sold by Degree.
A quintet of keys, three of gold to my office
(Including the square one that opens God knows what)
and two for my home, peacock and zebra print
he gave me years back to a house once just his.
*
Alas, my dear reader, you knew this was coming,
was destined, the same as the Drummer Boy's drumming.
All dressed up in rhythm and given a cadence
these things really danced! Got their moment of radiance.
Oh gym bag, my gym bag, I hope you did cherish,
your debut at the ball, your one night in Paris.
But that time is passing, slip slipping away.
We've all seen enough of this sordid ballet.
The clock has struck midnight, the list is fast ending:
a ticket from Feb 8 for Jupiter Ascending.
And just as it started it finished, it's through.
I listed all that could be listed for you.
*
But if you would let me for one second more
Draw out this bizarre and rough-hewn metaphor:
I'd say that my bag is a stand in for life,
unspangled, oft boring, a dulled carving knife.
It's loans with high interest, leftover lo mein,
it's bowls of dried oatmeal: unholy, mundane.
We make our own meaning, demand that it matter.
We're doomed if we don't. We're swallowed. We'll shatter.