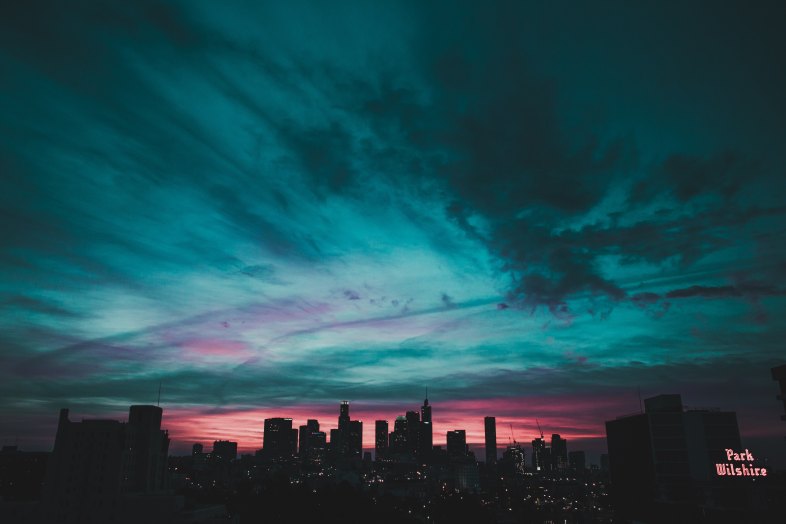 A comforting midnight haze had temporarily settled between us. Stars shot out the trombone we had smoked lavender from; we sat in the car my parents had bought for me after my first had been totaled, in a No Parking Anytime zone, waiting for the signal that we had made guest list.
Moments of silence had permeated the ignorance of our youth, and we waxed introspective, we experienced a deep necessity to relate to one another in the most obscure ways, yet, we shared obvious characteristics. We had seen the sun rise for days at a time, forged the "right" connections, and marked the scene with the unwavering glow of artists. My curiosity remained in the mystery of how the others afforded their city lifestyles, though honesty would have defeated the purpose of these personas, anyway.
---
We waited in front of a club on La Cienega for seven minutes. My friends, S and J, looked unconcerned.
I repeatedly phoned the man who had invited us – he was an Australian musician who had "made it" by supporting several EDM festivals, and had texted me an invitation to his label-mate's birthday party hours before.
S had played music at Burning Man with the host of the party, who also happened to be a Billboard Hot 100 favorite. Earlier in the night, S, J, and I had been invited backstage at the host's DJ set in Downtown, and I approached his Australian friend, who had also been alone, in an attempt to not look so out of place.
A tall, slim woman, in a crimson leather jacket, waltzed out of the club – Taylor? – to bring us in. She smiled as we thanked her, but did not offer conversation in return.
I greeted the Australian, who eagerly fist-pumped to the host's trembling beat – the others danced feet from the star, who was clutching an iPhone, not vinyl, while posting videos of the rented-out club – he paused to change the song, and the girls shoved one another to observe. The modern DJ, chart-topping extraordinaire, caressed a rainbow of buttons, and in their scarlet delusion, the crowd began to applaud.
It took several drinks to realize that I ended up on the wrong side of city, whereas the contentedness I had felt in Downtown, blending into the anonymity of an audience, dissipated after I left for the after-party. The allure of Los Angeles came from an insatiable appetite to bask in the presence of god-like celebrities; the pretentiousness of the guests around me led them to meet everywhere but my gaze – they encircled the digital musician; a Mississippi-born, middle-aged man, with a cult-like devotion.
And when the star looked up, the boys grinned, and the girls screamed out with desire. In his casual clothing, he glanced at them, with their best faces, and their most provocative moves, to catch his attention for two to three, distracted seconds. That was all they needed, they swore. But he ignored them for the other micro-celebrities that had made his acquaintance prior to the after-party, and I began to question how intimately he knew the other fifty "close friends."
The club was opaque with sweat, and liquor, and decadence; infinite shots of tequila fell into their mouths and onto the floor, haphazardly mixed with an off-brand orange juice, by the host's entourage, who had unquestionably invited prospective lays.
You're drunk. Come home with me. I looked up from my feet as the Australian sat next to me on the couch, holding another Tequila Sunrise.
Maybe another time. I'm fine. He questioned my ability to think – You can't do that, he declared, and palmed my cheek. I looked away, and politely declined his advances, while watching S and J laugh at a stumbling girl, falling onto the lap of another musician.
You Americans are the worst, he spat. Within moments, I watched him kiss the woman in the crimson jacket, who had been waiting for the host by his laptop, while he thumbed some simple functions on Ableton – or was it iTunes? – The clock did not stop for anyone except for the man behind the laptop; the night would surely become day before the club closed down.
---
4 am, 5 am, a phone-call from my concerned mother. I silently left my friends, and speedily walked down La Cienega Boulevard in search of my car. A cop stopped me after I had shook some old, traveling Englishmen off of my trail, who had followed me out of the club and begged me to take them back to the Beverly Hills Hotel.
To see a girl like you out here – It's late. He pulled-over on his motorcycle, though did not bother to turn his lights on.
I'm fine, officer. Just ready to go home.
He smiled at me, watching my silhouette grow as I backed away, pretending to order a taxi.
I don't give a f– if you've had anything to drink. Would you like to stay with me for awhile?
The richness of his statement! Homeless people sauntered on; some slept outside of empty bars, shivering; barefoot girls ran to their luxury vehicles, with empty bottles of liquor littering their backseats, I stood in my short dress and hand-me-down high heels, and he was concerned about me! – No, I'm fine, really. He waved, pulled away, and as he turned the corner, I sprinted to my car.
---
The openness of Laurel Canyon was a welcome change from the claustrophobia I had began to experience. I passed the Chateau Marmont, realized I was lost, and remembered that Crescent Heights Boulevard would lead me to the 101.
The little-girl fearfulness of the dark had not left me as I drove on; hell, I still slept with the covers over my head at night. Yet this fear I felt was not dissimilar to the anxiety on flatland, in my Los Angeles craze, among the people who had decided that they were the new leaders of the city's golden age.
The men and women still got drunk like adolescents at their first house party, in posh locations; the most popular were the best connected, and the richest – I had observed this, I knew this – they were a bunch of adults behaving like children, though now, they had no one to correct our actions; there was no clear figure to look to for guidance – so they worshipped Los Angeles, and crafted their disparate personas – artists, musicians, producers, film-stars, socialites.
It was inevitable, they all understood, and so did I – the moment they left the city, they would be nothing.
So they would stay, the sovereigns of the new world, until they slowly faded away.