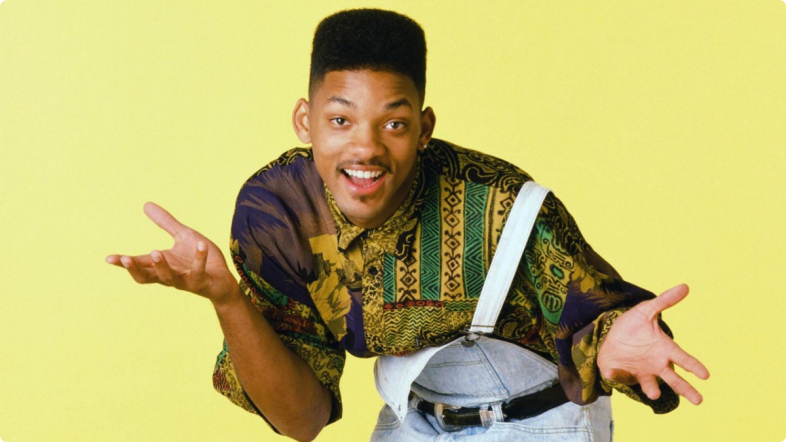 1. Smith had no idea how to act until day one of shooting the show.
In a TIME Magazine interview from September, The Fresh Prince's executive producer, Quincy Jones, confirmed that "Will had never acted before Fresh Prince, but after a 15-minute read through, we knew he was our guy."
2. Like, he straight up learned how to act on set.
Smith never had any formal acting training. He recalls memorizing his costars' lines in an effort to remember his own. "I would memorize the entire script," Smith reminisced, "then I'd be lipping everybody's lines while they were talking."
3. …And today, he's mortified by his initial performances.
Now a seasoned actor, Smith cringes when watching reruns of his debut days. "When I watch those episodes," he said, "it's disgusting. My performances were horrible."
4. Before The Fresh Prince made Smith a wildly successful actor, he was a dope MC.
When he was 16, Smith met DJ Jazzy Jeff at a party. The pair became fast friends and enjoyed huge commercial success as the rapping duo DJ Jazzy Jeff & The Fresh Prince in the late 80s.
5. Smith owed the government $2.8 million (DOLLARS) prior to filming.
Having mismanaged his rapping cash flow, Smith owed the government almost three million dollars (whoa) before starring in The Fresh Prince. "There's nothing more sobering than having six cars and a mansion one day and you can't even buy gas for the cars the next," Will said of his money troubles.
6. Luckily, the show dug Smith out of his debt.
The IRS seized 70% of every paycheck Smith earned on The Fresh Prince for the first three years.
7. Smith's real life wifey wanted to play his on set gf!
In 1995, Jada Pinkett auditioned for the role of Smith's on-screen girlfriend. She didn't get the part, but a real life romance ensued. Smith and Jada wed two years later and, despite countless divorce rumors, have been together ever since.
8. Smith wasn't just cast in the show; The Fresh Prince was created for him.
According to Andy Borowitz, one of the show's creators, NBC wanted to develop a comedy specifically for Smith. "I was under contract to create comedies for NBC," Borowitz said, "and the network wanted to develop a show for Will."
9. Smith was the first rapper ever to star in a network show.
At first, though, executives were skeptical to run a show starring a hip-hop artist, since The Fresh Prince was the first of its kind.
10. The show gave him a powerful fan base.
NBC cancelled The Fresh Prince after its fourth season. Smith's fans were so outraged, however, that the network revived the show for two more seasons. Appropriately, Season 5 opens with Smith—who'd headed back to his hometown, Philadelphia, during the previous season's finale—getting pulled into a California-bound van by an NBC exec.