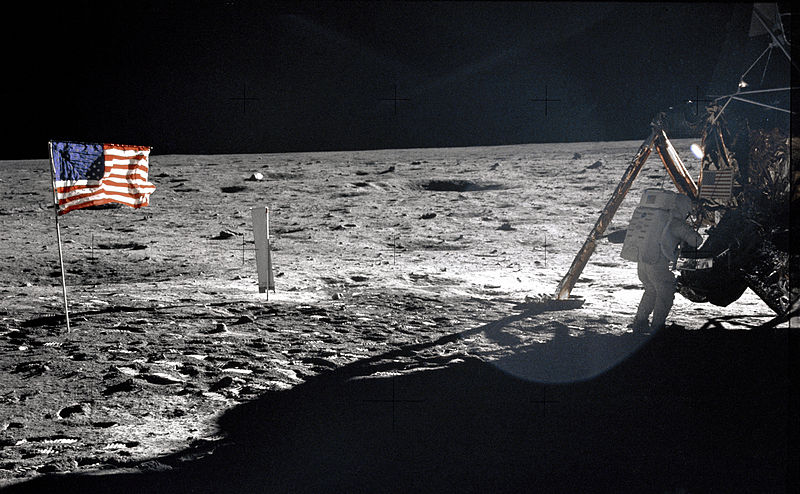 Nearly all the heroes and, certainly anyone who ever did anything noteworthy or highly intellectual in human history are all white men— according to Hollywood. In the midst of the perennial #OscarSoWhite outrage against the myopic industry, Fox 2000 has announced it will develop a biographical film starring Taraji P. Henson as history-making genius, Katherine Johnson. Johnson, the third African-American to earn a PhD in mathematics, crossed more racial and gender lines when she helped the United States become the first nation to put a man on the moon. By portraying the pioneering mathematician, Taraji P. Henson will be also smashing long-standing molds in American cinema.
School children learn the names John Glenn and Neil Armstrong, but few people ever hear about the remarkable women — several of whom were black — that crunched the numbers for the early U.S. space missions. Katherine Johnson was one of these amazing women. Because computers in the middle of the 20th century were not as powerful as they are now, astronauts and NASA scientists relied on Katherine to calculate "the trajectories of America's first manned mission into orbit and the first Moon landing". For decades, her contributions to American history remained a well-kept secret. President Obama changed this when he awarded her the Presidential Medal of Freedom. Now a book and a movie, Hidden Figures, starring Taraji P. Henson, about Johnson's life are scheduled for release next year.
We can count on one hand the number of major Hollywood films (fictional or autobiographical) featuring women of any ethnicity in a lead role as a mathematician. Someone made a film about the life journey of '70s porn star Linda Lovelace; yet, sadly there is nothing on celluloid dedicated to the legendary Ada Lovelace, the world's first computer programmer. The Imitation Game, The Theory of Everything, and A Beautiful Mind prove that people can be entertained by sundry details of the lives of real life number nerds. We also somehow bought Matt Damon as a janitor and a genius and believed Jeff Goldblum could wrangle aliens and dinosaurs with his math mojo. So, why can't we get more films like Proof and Agora?
Taraji P. Henson's star power is one of the many exciting things about Hidden Figures. Her complex and invigoratingly authentic character "Cookie" on Fox's Empire is no doubt responsible for a substantial part of the show's popularity with viewers. With the help of Henson's talent and appeal, the series demonstrates that media centered on African-American characters, and originally aimed at black audiences, could appeal to a broader demographic. This reality, and the fact that Empire was conceived and produced by black visionary Lee Daniels, should be compelling support for more diversity in Hollywood, in front of and behind the camera.
Taraji P. Henson started amassing her adoring public long before the streetwise "Cookie" became a household name. The formally trained entertainer was initially an engineering student in college before switching to theatre arts. One of Henson's early television projects, Taken from Me: The Tiffany Rubin Story earned her an Emmy nomination for outstanding lead actress in a mini-series. She obtained parts in diverse and popular cinema projects such as Hustle & Flow alongside Terrence Howard, and The Curious Case of Benjamin Button, which earned her an Oscar nomination. Henson went on to develop a loyal base of tech/sci-fi fans from her small screen time as "Detective Carter" in the series "Person of Interest".
Fox is therefore likely banking on both talent and Henson's astounding popularity to make this movie about a black woman mathematician a success. Taraji P. Henson will be joined in "Hidden Figures" by Octavia Spencer, an actress with a similar combination of visibility and acting chops to tell this important American story. Spencer, who appeared in small roles in the science fiction films Insurgent and Snowpiercer, won an Oscar, Golden Globe, a SAG and a BAFTA award for her supporting work in the commercially successful The Help. Regardless of its ultimate reception by the public, this planned biopic about a mathematically gifted black woman and her compatriots will be groundbreaking.
Historical movies featuring non-white main subjects offer the rare promise— but not a guarantee (the plague of whitewashing endures) — an actor of color can expect to claim a major role in the film project. Unfortunately for black actresses, Hollywood rarely produces biopics featuring black women. And, most of these are based on women in entertainment or sports. Less than a handful of other movies have been made about black female civil rights icons.
Black women have always been busy being phenomenal and fascinating in every facet of life, including the medical and STEM fields. Despite this abundance of diverse stories to inspire filmmakers, acting parts substantial enough to garner the attention of critics and propel black actresses to the awards podiums tend to be women in crisis, destitution, or servitude. Hidden Figures could be the movie to break this curse. We could witness a Golden Globe or Oscar nod for a black woman we didn't have to watch endure enslavement, servitude, abuse, rape, or abjection on the big screen.
Some BioPics Featuring Black Women (*Available on Netflix Streaming)
Bessie (feat. Queen Latifah as Bessie Smith)
Betty & Coretta (Mary J. Blige and Angela Basset as Betty Shabazz and Coretta Scott King)
Cadillac Records (Beyonce as Etta James)
From the Rough (feat. Taraji P. Henson)**
I Know Why the Caged Bird Sings (Maya Angelou's early life)
Introducing Dorothy Dandridge (Halle Berry in her breakthrough film)
Lady Singes the Blues (Diana Ross as Billy Holiday)
What Happened Miss Simone? (documentary)**
What's Love Got to Do With It