Do you remember Purple Rain? Prince's 1984 rock musical that came out a month after the album of the same title? Okay, I was born in '92 myself, but still. My mother always vaguely told me it was a must-see and I passively liked Prince so it's been on my to-do list for years. It wasn't until I was with two friends in San Francisco on a cozy Sunday night last week that I finally saw it. Without a doubt, it is one of the worst, most hilarious films I've ever seen. The three of us couldn't stop laughing. Let me go ahead and tell you why.
1. Prince's motorcycle is like the purple Batmobile. He rides that thing everywhere and you can tell he's feeling himself so heavy every time he's on it. There's even a scene where the antagonist is making a move on Prince's love interest (named Apollonia, of all things — in real life, I kid you not) in some alley or whatever, and Prince rides in on his motorcycle and hits the guy? Without getting off? He does a few donuts (pretty sure it's a stunt double), and dramatically tells Apollonia to, "Get on!"
2. Prince's character doesn't have a name. It actually took me almost half the movie to realize that he legitimately doesn't have a name in the movie. Everyone refers to him simply as "The Kid," which for Prince is, I'm sure, some type of humble brag nod to his beginnings. Implying, thinly, a young upstart with a revolutionary vision. (Prince and The Revolution is actually the full artist credit for the Purple Rain album.)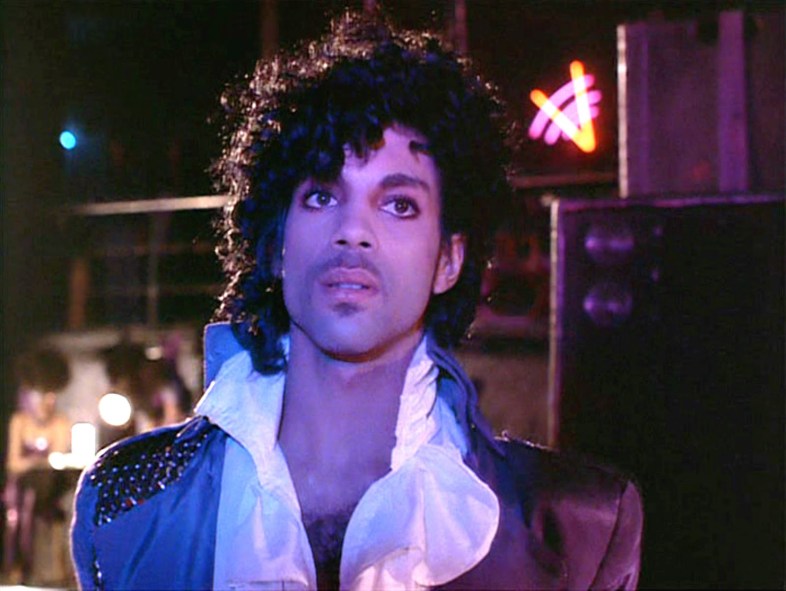 3. Prince and Apollonia's courtship makes no sense. It's almost the archetype of a Bad Romance. When Prince first "meets" Apollonia, he's just finished a show (which she, of course, thought was amazing), and he stands behind her. No lie. She's watching the next band perform and he simply stands behind her. She senses his presence and is, for some reason, turned on? Intrigued? He does this for like 30 seconds or so. When she finally turns around to say, "You were really great," he's disappeared. Why she was saying anything other than, "Why are you so fucking close to me?" is beyond my comprehension.
Later, almost out of a 12-year-old's wet dream, they go on a bike ride to some lake. At this unknown lake, our two soon-to-be lovers engage in the most strained conversation you can see on film. At one point, she asks if he'll help her get on stage (as she's an aspiring performer), and he says, "No. You haven't passed initiation. You have to purify yourself in the waters of Lake Minnetonka." So, she immediately strips down to her underwear (she's not wearing a bra). Prince watches her the entire time wordlessly. As she's about to dive in he gives a half-hearted, "Wait a minute!" but it's too late. She climbs out of the lake and he says, "That's not Lake Minnetonka," and GETS ON HIS MOTORCYCLE AND RIDES AWAY.
AND FOR SOME REASON SHE SMILES TO HERSELF AS THOUGH THIS IS OKAY.
4. His tortured family life is presented with extreme camp. It might just be that Prince can't act, but when we first meet his parents, he stands dramatically at his door as he listens to them argue. (It's vicious arguing, considering they're the only two who can actually act in the entire film.) The height is when he brings Apollonia home. He prompts her to peek in through the window. She sees his parents are just making out on their couch. Which, I'd think, as an adult married couple paying the mortgage, is not that weird. Especially when you expect your kid to be out all night. Apollonia says, "So, those your folks?" to which Prince replies, bafflingly, "Yeah. Freak show." Your parents are showing each other affection for once and you.. think that's weird? What?
5. He plays a sound recording for Apollonia of his ex-lover crying in reverse. Not kidding. It sounds like moaning, but he mixed it to play over some drum machine beats he recorded. He starts playing the "track" and Apollonia says, "So, who's the lucky girl? Sounds like she's having a good time." "She's crying. It's backwards. Sort of makes me sad when I hear it. It sounds like she's laughing, doesn't it?" ACTUAL DIALOGUE. She seems to find it sexy? As opposed to really creepy?? That's some rapist/serial killer shit. I've seen documentaries — I know the signs.
6. Prince can't kiss. He really can't. It's like a dog trying to not lick your face. You'd think a man with his stage bravado would be able to hold the drool, but alas.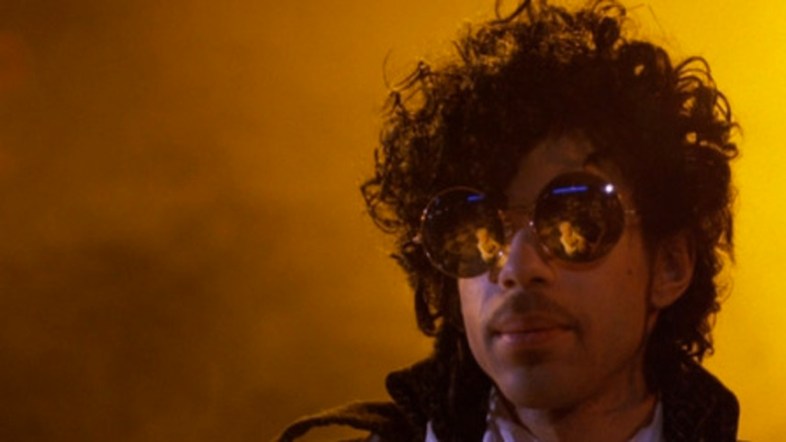 7. Prince is a complete asshole. He runs his band like a Gestapo officer, is possessive of Apollonia, and has a constant air of arrogance and condescension. It's not even charming. No one in the movie likes him. I can't even figure out why his band has survived as long as it has. They only play his music. In fact, one a couple of the ladies in his group suggest a track, he laughs. "Next you'll want to ride my motorcycle, too." Greatest of all, he full on slaps Apollonia in the face when she says she's going to join a singing group. As she's cowering on the ground at his place, he says, "Don't I make you happy? Don't you like the way we are?"
8. Morris Day's character is a funny piece of shit. Full on, king of shit. He has his lackey, Jerome, pull out a large gold framed mirror while he's on stage so that he can check his reflection. He refers to women as bitches and thinks rather highly of himself for a man who hits on Apollonia with such lines as, "Your lips would make a lollipop too happy," and, "Would you require anything else, besides my company, to make you happy?" "I wish you could see my home. It's so exciting. In my bedroom… I have a brass… waterbed.."
His greatest moment is when he's walking down the street with his lackey and some woman pops out and starts screaming at him about how he never called her or something. Morris says, "Jerome." His lackey Jerome literally picks her up and tosses her in an alleyway dumpster. IN THE MIDDLE OF THE DAY.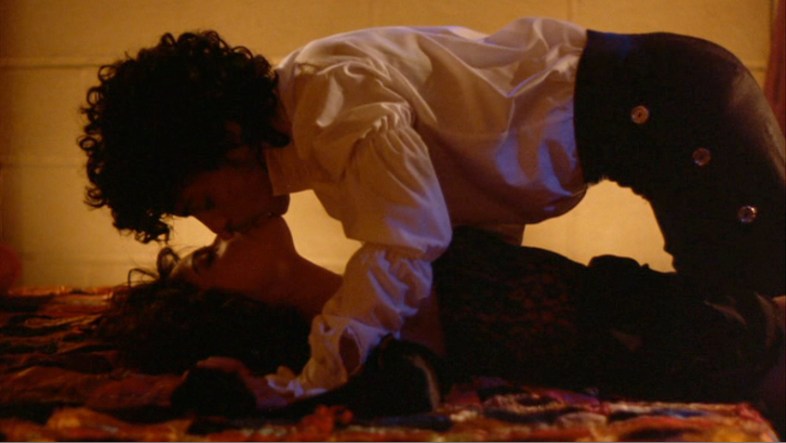 9. There's a softcore porn scene. It's so.. awkward. Again, Prince can't kiss. They're both facing the camera on his bed and he's behind her, grabbing tity. That's all he does. She's in some type of lingerie situation, and he's, well, fully clothed. He does some light fingering, to his credit. Mostly though? Prince grabs tity.
10. The title track "Purple Rain" is hinted at all throughout the movie. This element is pretty genius. Prince's bandmates, Lisa and Wendy, want him to listen to a song they're working on. He's derisive and only later in the movie does he, out of boredom, listen to it. We hear the beginnings of the now iconic "Purple Rain," which Prince seems to, begrudgingly, enjoy. A few times throughout the film, during moments of intense personal reflection, he plays the recording. What a tease.
11. There's no actual resolution in the film. They don't even try. Prince's band is on the verge of being kicked out of playing the club around which the entire film centers in favor of Apollonia's new group, Apollonia 6, which was put together by Morris to get The Kid (Prince) out of the club. His father had just beaten his mother again and attempted suicide afterward. He and Apollonia are on the rocks. The stakes are high! And they all hinge on this final performance. The club owner makes it clear that if Prince and The Revolution don't kill it tonight.. then that's it. With all this weighing on them, the band takes the stage. Prince, surprisingly, cues his members to play, YOU GUESSED IT, Purple Rain. The creators of the film would have us believe that Prince's trials and tribulations has humbled his genius character. The sign of this newfound humility is the greatest act of all: playing your bandmates' song — with his own lyrics, of course. At least that's what they want us to think. They get into it and it is, without a doubt, almost nine minutes of magic. Their performance is a resounding success and solves all of their problems — IMPLICITLY. There's no dialogue afterward. It's just everyone looking really moved about the performance. It's almost as if, while making the movie, Prince told the director, "What's there to say after that? I mean, have you heard "Purple Rain"? Whose problems wouldn't be solved?"
12. The club owner's face during "Purple Rain":