Over time, you hear some stories about some of the wild shit that dudes say in bed. I'm sure I've said a few out of pocket things myself in the heat of the moment. Here are some real bedroom stories.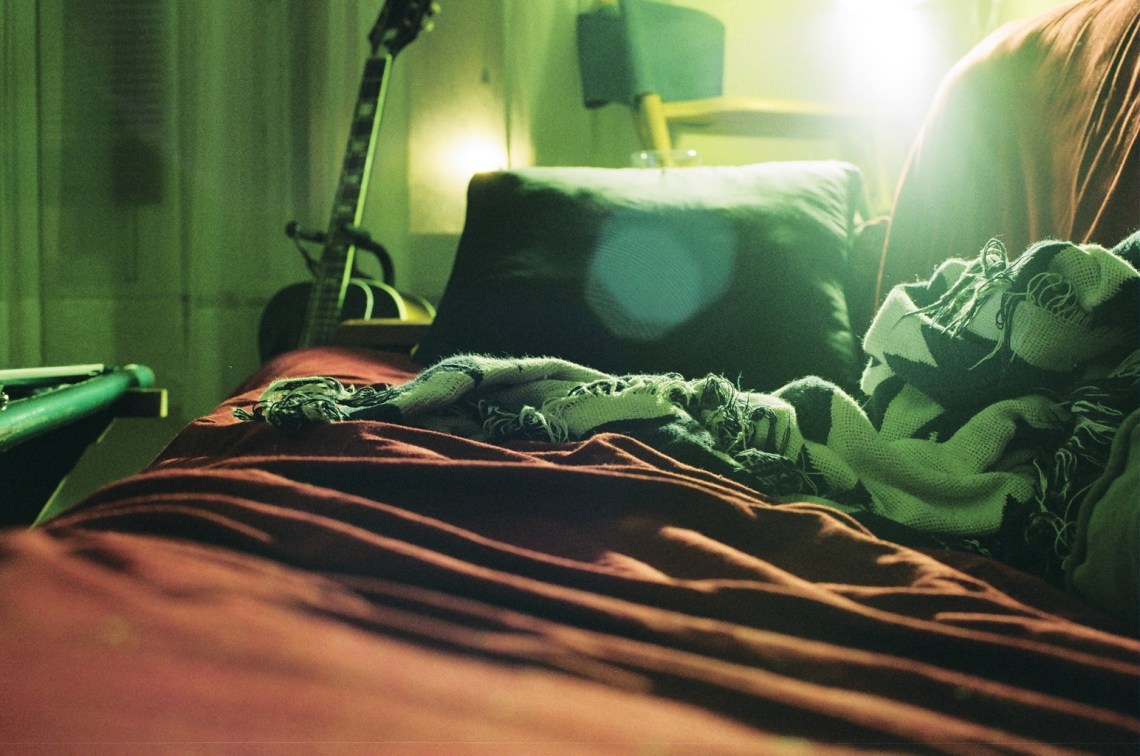 1.
There was a comedian I used to hook up with and he would always say something random to make me laugh. One time he said my vagina could teach an etiquette class.
– Alexis, 22
______
2.
He said he wanted to live in my vagina. Like, pay rent and everything.
– Erin, 22
______
3.
There was this pretty boy I used to fuck and he told me not to touch his hair. He wrapped his dreads with one of my tank tops and told me not to touch them. I was like, okay?
– Stephanie, 23
______
4.
One time I hit up my ex for a booty call. I didn't know he was still in love with me at the time. Anyway, he came over and he couldn't keep it up. So I asked what was wrong. He tells me he doesn't know how to fuck me. I said, 'What?' He was like, 'You're not my girlfriend but you're not some hoe.'
– Sarah, 23
______
5.
I would put a playlist on whenever we would fuck, and he'd get so excited when a song he liked came on. He would say, 'YESSSSS, this is my jam right here,' and do a little dance. While he was inside me.
– Claire, 23
______
6.
Okay, it wasn't sex-sex but I was hooking up with this guy I was seeing for the first time, and while I was giving him head, he blurted out, 'I love you.' I looked up at him and his face was pure shock. I just kept going and we pretended it never happened.
– Lauren, 23
______
7.
Honestly, guys shouldn't say SHIT unless I do first. And even when I do, it's fucking PG rated.
– Jade, 24
______
8.
We were, well, doing it, and he was about pop. So, we stopped and I went down on him and he said, 'Yeah, you like the taste of your pussy,' which was weird of him to say because he hadn't gone down on me at all. How would he know?
– Tara, 21
______
9.
I have no idea why guys insist on telling me to choke on their dick.
– Grace, 20
______
10.
He was so persistent about wanting me, it was almost annoying. But one night, I was horny, and I thought, why not? So, I invited him over. We got naked and he said, 'Where do I put it?' I didn't even know what to do. Turns out I was going to be his first time. At least, that was his plan. I sent him home.
– Mimi, 22
______
11.
What he said wasn't weird but the situation was? We were having sex and he stopped, without a word. I thought something was wrong, but he just changed the playlist. He got back in bed and said, 'Sorry about that.' When he slid back inside me he paused and said, 'Much better.' I just.. blocked it out.
– Olivia, 20
______
12.
A guy asked me something while I was going down on him. 'How did you get so good at sucking dick?' Guys always like to be graphic. I thought it was rhetorical so I kept going. But a few seconds later, he tapped me on the shoulder and asked, 'Did you hear me? How did you get so good?' He seriously stopped me for that. So, I stopped altogether and went home.
– Monica, 21
______
13.
He asked me about my day. Straight up. 'How was your day?' We were friends, so I just laughed and told him about work and going to the bank.
– Olivia, 21
______
14.
He was about to cum, so he started naming presidents in reverse. People always think I'm kidding, but UCLA kids are weird.
– Anna, 23
______
15.
I dunno, some guy said he wanted to get me pregnant. Is that weird?
– Jackie, 21
______
16.
Hmm.. 'I feel really good.' He was French and English was his second language but, yeah. It was so matter-of-fact. Like, thanks.
– Katie, 22
______
17.
It's actually not that weird in retrospect, but at the time I was like what? He said, 'This sunrise is beautiful.' I looked back and said, 'What?' He pointed out of the window and the sun was rising. It was beautiful. I said, 'Yeah,' and we just kinda watched it together until we finished.
– Julie, 26
______
18.
Well, he answered the phone. It wasn't even his mom, it was his fucking friend. He actually tried to finish, like it wasn't happening. Nope.
– Jennifer, 19
______
19.
It's not weird that he wanted to, I guess, but like, the way that he asked. 'So, can I cum on your face? I have really good aim.' Great selling point, but no thanks.
– Anastasia, 23
______
20.
Like, 'Put your finger in my ass,' I guess.
– Cara, 24
______
21.
I was hooking up with this guy I had been seeing, and I had decided this was going to be the night we finally have sex. We were getting naked and right before what I thought would be having sex, he rolls over and starts jacking off. When I tried to have sex, he said, 'No, just watch,' and then he jerked off for like 25 minutes while I just sat there.. The worst part is I dated him for another month after that.
– Bailey, 22