1. Eat food off each other's naked bodies. You can get really dirty with hot fudge or honey, or you can avoid teh gooey mess and stick a raspberry in your partner's belly button. Either way, it's fun not to mention delicious to incorporate food into your lovemaking.
2. Masturbate Together. Jerking off is an entirely different act from the sex you have with each other. That's what makes letting your partner get a glimpse of how you touch yourself so incredibly sensual and special. It's sexy as hell to get a glimpse into your lover's secret solo sex routine. Plus, if you want to give someone mind-blowing pleasure, it's incredibly helpful to know what they do to get themselves off.
3. Blindfold each other. Silk scarves and bandanas were pretty much designed to be repurposed as blindfolds. The next time you feel like taking things up a notch, grab one from the closet and tie it around your significant other's face. Then push them onto the bed and let them wonder where you'll touch them next.
4. Do it in front of an audience. If you're too bashful to have sex in public, all you have to do is leave the curtains wide open or the door slightly ajar to give the impression that someone can see you in the act or walk in at any moment. It's thrilling to add that element of uncertainty to your regular routine.
5. Play with a his-and-hers vibrator. Battery operated toys aren't just for female pleasure. There are plenty of little gizmos that will delight a man just as much as a woman. The only way to find out if he'll enjoy the sensation of a vibrator against his balls is to hold one up to his testicles. It's up to you as a couple to determine how the marriage of sex and technology figures into your relationship.
6. Strip for each other. You don't have to be a professional dancer to execute an effective strip tease or lap dance. In fact, being an amateur can work to your advantage. Channel your inner Showgirl or Magic Mike and put on a little show for your significant other as you peel each layer of your clothes off.
7. Invite a "third" to join you in bed. A threesome doesn't have to lead to jealousy if everyone plays by the rules. So sit down with your partner and figure out what his or her boundaries are. Then find yourselves a third and get busy with an extra set of limbs in the mix.
8. Handcuff each other. Don't bother investing in an actual pair of handcuffs. Just use a leather belt or a pair of socks to tie each other up. It's somewhat less intimidating but equally rewarding. The sensation of being at your lover's mercy always proves hot AF.
9. Go crazy spanking. All you need to spank is the palm of your hand. Sure, you can use a crop or a whip or a ping pong paddle. But there's something about flesh to flesh contact that is so simple and yet so impactful. Spank your partner without warning and watch their expression melt from shock to delight. A little spanking makes things wonderful naughty and it requires little to no forethought.
10. Role play. Aching for those early days when you were so horny for each other that you'd rip your clothes off the second you met up? One way to revisit that lustful phase is to play pretend. You can go the route of teacher / student, doctor / patient, or prisoner / guard. Alternatively, you can get creative and draft your very own scrip specific to your individual fantasies.
11. Dirty talk. There is so much power in auditory stimulation? Don't believe me. Starting exaggerating your moans during sex and see how your partner responds. Then step it up and declare that you're a cock hungry slut. If you're on the more bashful side, just follow this magic naughty talking formula: say what you're going to do, do it, then describe what you just did.
12. Make your own porno. Filming yourself having sex has never been easier, thanks to the fact that we're all toting around amazing video cameras. Just prop that thing up, hit record, and do your thing. You'll be surprised how aroused you get later, just watching yourselves get busy. Plus, when you make your own sex tape, you don't have to rely on porn for visual stimulation the next time you want to masturbate.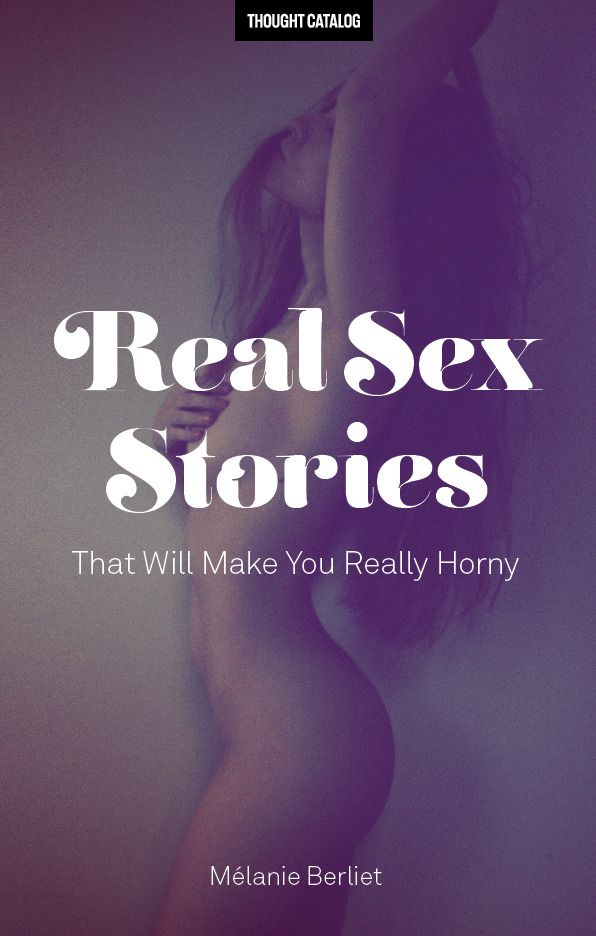 Read more writing like this in Mélanie Berliet's book Real Sex Stories That Will Make You Really Horny here.