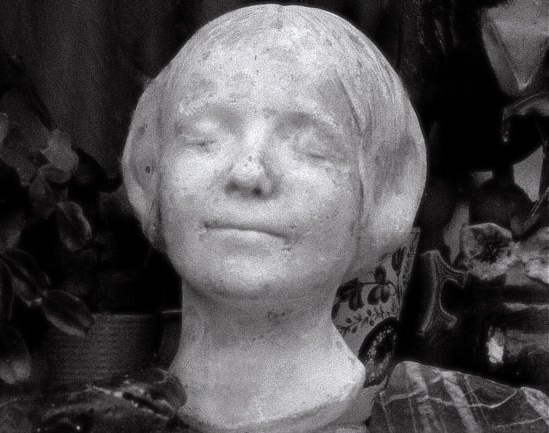 Typical home decor includes leafy houseplants and some tacky figurines – unless you lived in France at the turn of the 20th century. In that case, it was highly likely that the enchanting death mask of an enigmatic woman hung in your home.
The mask goes by the name L'Inconnue de la Seine ("the unknown woman of the Seine"), and her origins are still veiled in mystery.
The story goes that sometime in the late 1800s, a woman's body was pulled from the River Seine in Paris, near to the Louvre Palace. Her death was deemed a suicide, since there was no evidence of foul play or disease.
Just who was this young woman?
No one knew, but even in death she was strikingly beautiful. The pathologist handling the body was so taken by her elegant features, that he cast her face in wax plaster – and with that, she was immortalized.
The expression on the woman's face is peaceful and calm. Her eyes are closed as if she is asleep, and her mouth, slightly upturned, indicates perhaps her dreams are as beautiful as her face. Some people interpret L'Inconnue de la Seine's expression as the face of someone slipping into tranquil death.
Ernst Benkard, a German who compiled death mask illustrations, made the first mention of her in Das Ewige Antlitz, published in 1926. He spoke of her poetically:
"To us she is a tender butterfly, who—
winged and lightheartedly—
had her tender wings prematurely singed."
Numerous replicas were created in the years after the first casting of L'Inconnue de la Seine. Her peaceful disposition became a fixture in the Bohemian world of Paris. The existentialist writer Albert Camus even noted that her smile was that of a modern-day Mona Lisa. She sparked conversation, inspired creativity, and reminded people of the realness of life and death.
Her influence spread far beyond the borders of France, as well. Young women in Germany and Russia sought to replicate her supple visage. She was the it girl of the times – inspiring works of art and literature across the Western world. Vladimir Nabokov wrote a poem in 1934 titled "L'Inconnue de la Seine" in which he ponders the mysterious woman:
"Urging on life's denouement,
loving nothing upon this earth,
I keep staring at the white mask,
of your lifeless face."
Ironically, the first CPR model was made in the image of L'Inconnue. Norwegian toymaker Asmund Laerdal and Austro-Czech physician Peter Safar based their "Rescue Anne" doll off of the famous death mask in 1958. The doll was designed to assist with CPR training, and remains in use to this day. As a result, L'Inconnue came to be known as the woman with "the most kissed face" in history.
And so, one woman slipped into the Seine and drowned. When she was pulled ashore, her captivating visage served as a reminder of life's fragility. Little did she know, that she would achieve immortality in death.