1. JULES VERNE
MADELEINE CEMETERY, SAINT-MAURICE, AMIENS, FRANCE
Considered the grandfather of science fiction, Jules Vern's grave – and accompanying sculpture – are as impressive as the man himself. The artwork created by Albert Roze depicts Verne breaking out of his tomb and reaching heavenward. Roze used a plaster mask of Vern's post-mortem face to exact the author's likeness.
2. PRINCESS DIANA
ALTHORP HOUSE, NORTHAMPTON, ENGLAND
The world mourned Lady Diana after her Paris car crash in 1997. And her resting place continues to draw visitors — except you can't actually visit it. In fitting royal fashion, she is buried on an island in the middle of a lake on Spencer's longtime family estate. The decision to bury her away from the public was that so her sons could visit in private, but tourists are still able to pay respects at a nearby pillared memorial set up in her name.
3. MARILYN MONROE
WESTWOOD VILLAGE MEMORIAL PARK CEMETERY, 1218 GLENDON AVENUE, LOS ANGELES, CALIFORNIA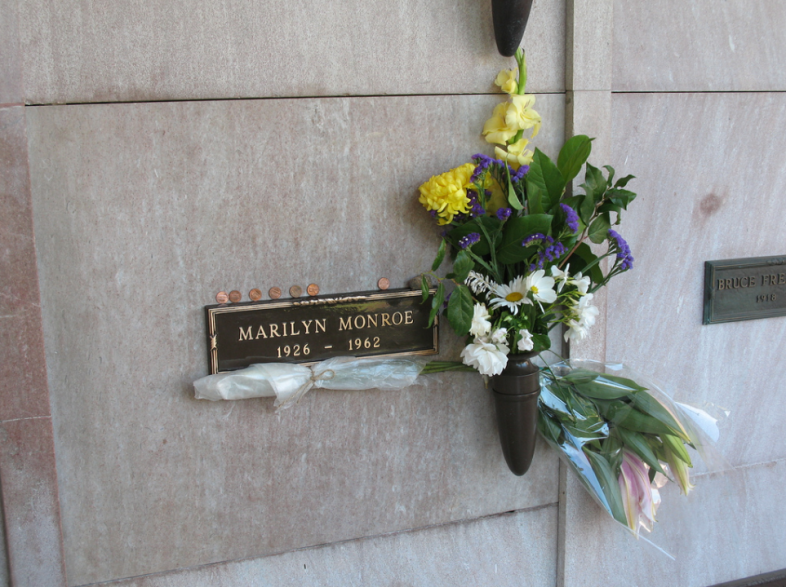 For a woman with such a complicated and full life, Marilyn Monroe's gravesite at the two and a half-acre cemetery near UCLA attempts to tell another story — one of simplicity and minimalism. Surrounded by high-rise buildings, the marker has no inscription other than Monroe's name. Perhaps because she wanted to end the conversation herself.
4. ELVIS PRESLEY
GRACELAND, 3734 ELVIS PRESLEY BOULEVARD, MEMPHIS, TENNESSEE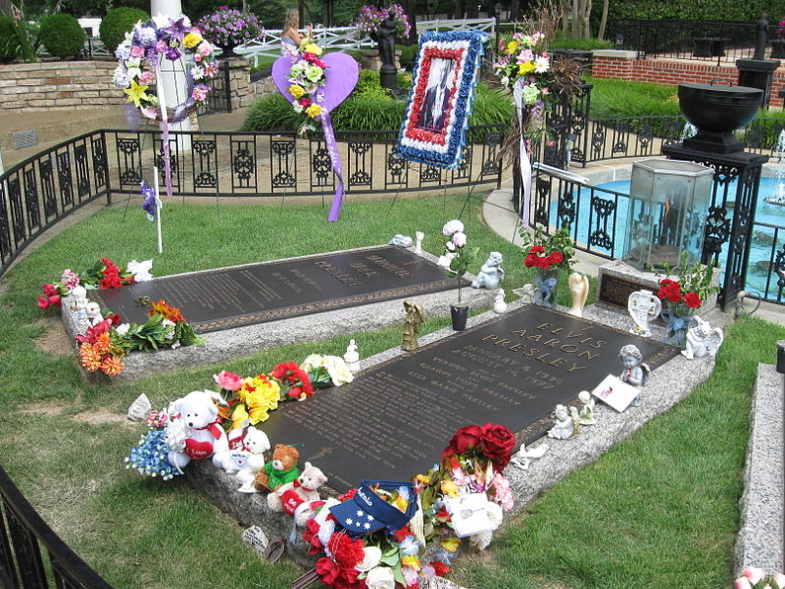 The king's first gravesite was so riddled with vandalism from his fans that his body was moved to Graceland. A visit to his over-the-top former estate includes a tour of his grave. Some 600,000 people have laid eyes on his (hopefully) final resting spot. Even in death, Presley has proven that it's wholly possible to live on.
5. BUDDY HOLLY
BUDDY HOLLY PLACE, CLEAR LAKE, IOWA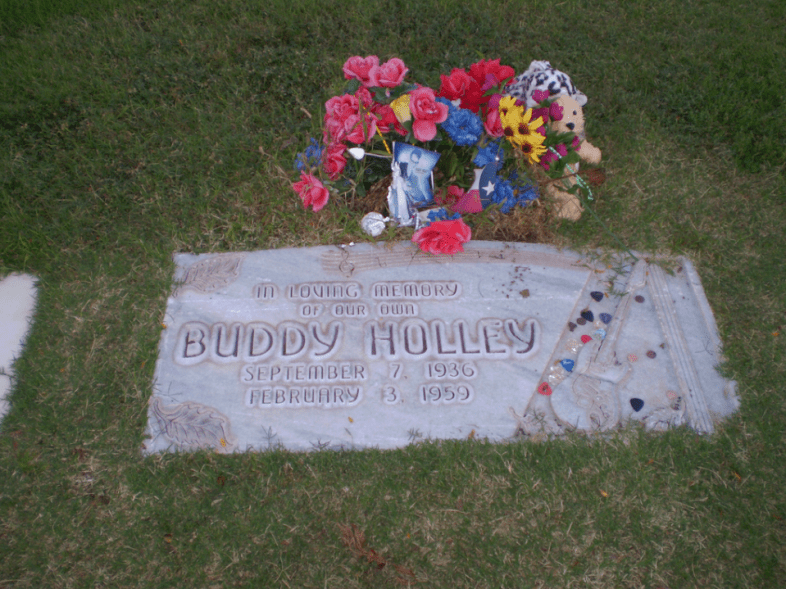 Rock 'n' Roll pioneer Buddy Holly was tragically killed in a plane crash near Clear Lake, Iowa. Although he was laid to rest in his hometown of Lubbock, Texas, a marker remains at the cornfield crash site. At the start of the trail: None other than a larger-than-life version of Holly's iconic black-framed glasses looking across the field.
6. JEAN-MICHEL BASQUIAT
GREEN-WOOD CEMETERY, 500 25TH STREET, BROOKLYN, NEW YORK
Andy Warhol protege and native Brooklynite, Jean-Michel Basquiat's grave is a bit of an underground attraction in New York City's Green-Wood Cemetery. Basquiat died of a heroin overdose in 1988, but his art (full of African, graffiti, and abstract influence) continues to live on today. His headstone simply reads "Artist" and is frequently adorned with scraps of poetry and pieces of art.
7. JIM MORRISON
PÈRE LACHAISE CEMETERY, 16 RUE DU REPOS, PARIS, FRANCE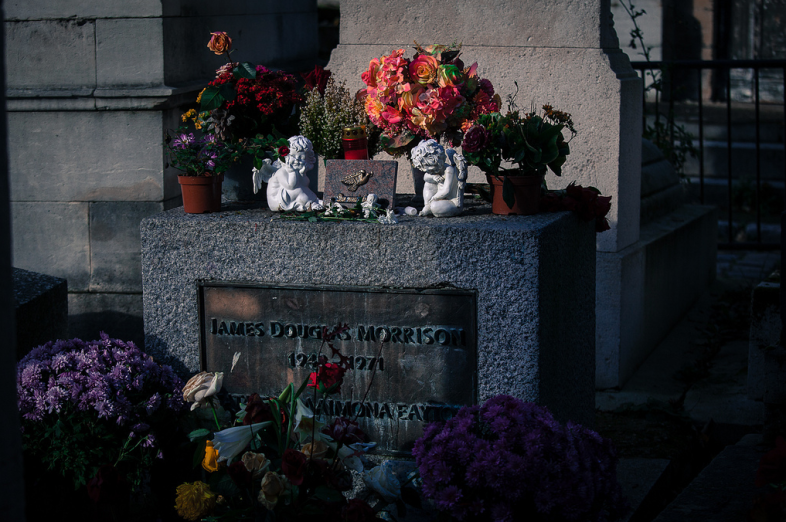 The sprawling French cemetery is home to plenty of big names (Victor Hugo, Oscar Wilde), but one American in particular continues to draw crowds. The Doors frontman died in Paris at age 27, and although no autopsy was done, most believe he died of heart arrest associated with drug use. When Morrison's most recent grave marker was made, his father requested the Greek inscription: ΚΑΤΑ ΤΟΝ ΔΑΙΜΟΝΑ ΕΑΥΤΟΥ. The phrase translates to "according to his own demon," although the intended meaning was "faithful to his own spirit."
8. TUPAC SHAKUR
TUPAC AMARU SHAKUR CENTER FOR THE ARTS, 5616 MEMORIAL DRIVE, STONE MOUNTAIN, GEORGIA
Whether you believe rapper Tupac Sakur died in a 1997 Las Vegas shooting, his memorial site is a monumental one. The bronze statue in his likeness, surrounded by a pool of water, lives at the Tupac Amaru Shakur Center for the Arts Peace Garden. The plaque reads: "I'm not saying I'm gonna change the world, but I guarantee that I will spark the brain that will change the world."
9. FRANK SINATRA
DESERT MEMORIAL PARK, CATHEDRAL CITY, CALIFORNIA
In 1998, legendary crooner Frank Sinatra died of a heart attack and went out with the words, "I'm losing." The New Jersey native is buried far from home in Palm Springs, California, under a marker that reads "The Best is Yet to Come." And with a bottle of Jack Daniels and a pack of camel cigarettes in his coffin, maybe the afterlife isn't so bad.