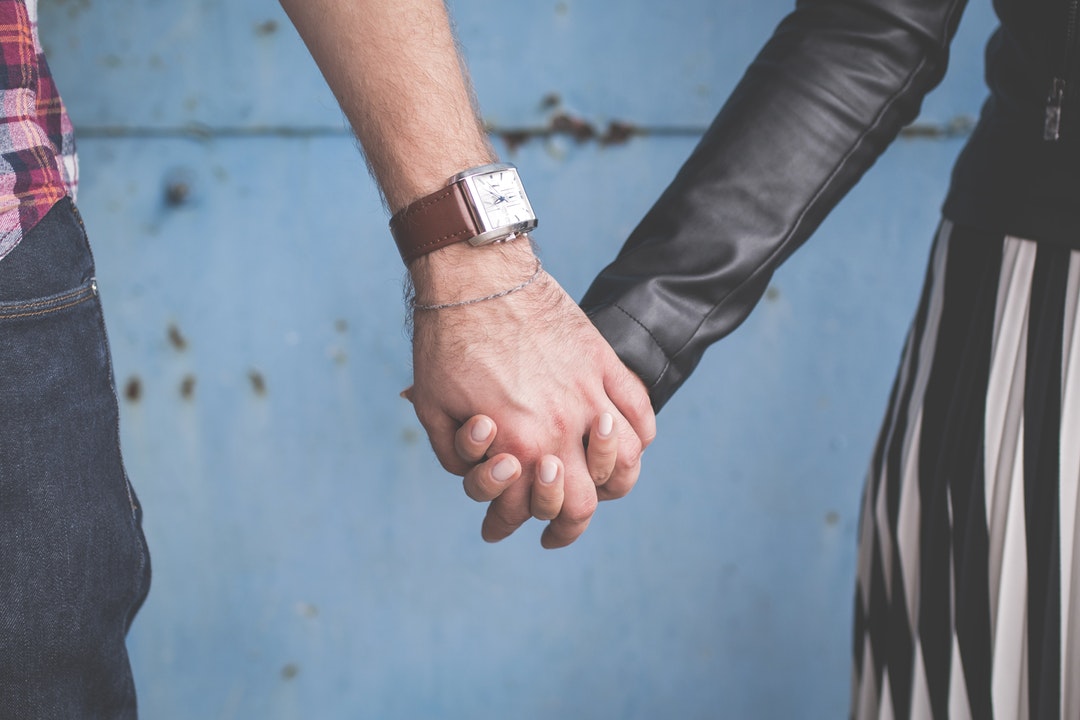 We met at an 80s party. I was decked out in hot pink leg warmers, lace leggings, and a Madonna-esque black tutu. I was supposed to meet a friend there, but he was on a Bumble date and running late. So I sat to the side of the dance floor while I waited for him, sipping a cocktail while the DJ spun Cyndi Lauper, Michael Jackson, and Prince.
He was also sitting by himself, and it was only a matter of time before he sauntered over, introduced himself (we'll call him Greg), and asked if I'd like to dance. I accepted his offer.
While we danced, I noticed that he was being incredibly gentlemanly, which, sadly, made me suspicious. My experience dancing with strangers is that they tend to get a bit grabby. But not Greg. He held me close but not too close. When he went in to kiss me after an hour or so of dancing, it was soft and sweet and brief. Something had to be off – guys aren't this nice, especially when there's killer music and cocktails involved! And then it dawned on me . . .
"How old are you?" I asked him.
"I'm 50," he said, after a somewhat protracted pause.
(Full disclosure: I'm 35.)
I hid my surprise as best I could in hopes of not offending him. Fifty. I'd been on dates with men in their 40s before, but 50 was definitely on the high end for me. But I shrugged it off and continued dancing until my feet hurt, and he, again being quite the gentleman, helped me into an Uber and asked me to text him to let him know I'd made it home safe and sound.
The next evening, he texted me and asked if I'd like to meet for dinner and drinks. Dinner and drinks! Again, not something I'm used to in my experiences with guys around my own age on Tinder and Bumble. It's usually, "Hey, I'm watching football. Wanna' come over and have a beer (eggplant and water splash emojis)?" Or, "Hey, let's meet up for a drink and some fun (smiley devil emoji)." So an actual date was highly appealing.
I met up with him and we did indeed have dinner and drinks and ended the night at a karaoke bar. And what ensued after that night was a confusing, two-month sort-of almost-relationship.
I wasn't, and am still not, looking for something serious at the moment, and I could tell that he was gunning for exclusivity. His chivalry continued and he would have spent every night with me if I'd wanted to. We went to dinner and concerts. We took a weekend trip together. I enjoyed his company and we had a lot of fun, but in the end, I had to cut things off because I could tell he wanted more than I was able to give him, and I didn't want to lead him on.
Even though the experience ended poorly, I'm glad I had it, because I learned several lessons – good, bad, and ugly – about dating older men:
1. Older Men Aren't (Always) Just Looking for a Hot Piece of Ass
While yes, I'm certain that having a younger girl on his arm held a certain appeal for Greg, and he did enjoy keeping his hand on my leg or the small of my back at all times while we were in public, he mostly enjoyed my company. Genuinely. We spent hours upon hours talking about our life stories, books and movies we love, and introducing each other to music. There are certainly the stereotypical older men who are just looking for some young hot thing to play with – a few of Greg's friends whom I met fit that bill – but there are truly good older guys who've had life experiences that they're eager to share. And they're eager to listen to yours.
2. Older Men Are Secure in Themselves
I'm not suggesting that guys in their 20s and 30s are insecure. But it's a simple fact that we all grow increasingly comfortable in our own skin with the passing of time. During our time together, Greg revealed himself to be one of the most even-tempered, easy-going men I've ever been with. He had a divorce under his belt but it was long in the past, and he had a great relationship with his teenaged children, something that I really liked about him. He was successful in his career and financially secure. And even when I broke things off, he was upset but he accepted it calmly and rationally. An older man, I learned, can possess a very attractive kind of maturity.
3. Real Talk: What's It Like in the Bedroom with an Older Man?
Despite what those two-bathtubs-in-a-field commercials would lead us to believe (and, side note, why the hell are those bathtubs in a field, and how did they get there?!), older men do not suffer from erectile dysfunction. At least, not all of them do (I have encountered that experience, but I'll save the discussion of the tiny pink elephant in the room for another time). On the contrary, in this particular relationship, our sexual appetites were on a par and, without getting too graphic, he never had any trouble rising to the occasion sans a little blue pill. Oh, and the other great thing? Older guys have had experience in the bedroom – in a good way – and they know their way around your body.
4. Dating an Older Man Forces You to Confront Your Priorities
Greg was at a much different place in his life than I was. I'm coming off of a long-term relationship that ended badly. I thought I'd found my "happily ever after," but that dream was dashed. Dating Greg was a welcome respite from sitting at home, alone, night after night just licking my wounds. But I had to consider: Could I really have a future with him? Could I spend my life with someone who would be geriatric, if not dead, by the time I'm ready to retire and really start seeing the world? And I don't have children yet, but what if I wake up one day and decide I do want to have a family? All of those factors, as well as his increasing clinginess, played into my decision to end it with Greg. But I'm grateful for the experience because it helped me think long and hard about what I want in life.
5. Older Men Aren't De Facto Sugar Daddies
Just to clear the air, no, Greg was not a sugar daddy and I was not his sugar baby. Yes, those arrangements are very much real. And, sadly, I could tell sometimes when we were in public that people were making that assumption about us. But that wasn't the case for us. We respected each other and the relationship was equal in every sense of the word.
All in all, I don't have any regrets about dating Greg or going on the dates I've been on with other older men. It makes me appreciate my youth, and I enjoy learning from their experiences (and yes, enjoying the benefits of their sexual experiences . . .). I still fall prey to those pesky "WYD?" and "Hey, u up?" texts at 3 a.m. from time to time. Let's be honest – those boys can be fun too. But it sure is nice to be treated like a lady and go on a good old-fashioned date sometimes – even if he's got 50 shades of gray hair.