You've probably heard that if you love adventure you need to get out there and see the Grand Canyon, Yosemite, and Yellowstone National Parks. While these are gorgeous parks, there are actually 56 other National Parks that don't have as much of a following but are absolutely must-see wonders.
1. Carlsbad Caverns National Park – New Mexico

Are you ready for all the stalactites and stalagmites you can handle? Carlsbad is THE park for cave lovers. Make sure you set up a guided tour before you arrive so you can explore deep into parts of the caverns you can't see without a ranger. You can do an easy walk, a spooky lantern guided tour, or for the adventurous at heart, a more strenuous hike that will have you crawling through tight spots and climbing down ropes. Whichever path you choose, you're bound to be amazed by the wonder of it all.
2. Sequoia and Kings Canyon National Parks – California

Two parks in one! This is a must see for all tree lovers and huggers alike. Surrounded by gorgeous, giant redwoods, you will fall in love at every turn. These trees are beyond huge. Known as "The Land of Giants", Sequioa and Kings Canyon is the home to the worlds largest trees. Make sure you get yourself into some back country camping while you're here. I recommend the Twin Lakes trail. It's a fairly strenuous hike through a vast and stunning forest with a steady incline but the beautiful meadows full of wildflowers and the gorgeous lakeside camping spot at the top makes it all worth it.
3. Zion National Park – Utah

Zion totally rocks! My personal favorite. Zion is an amazing park marked by enchanting, colorful sandstone cliffs. This park contains TWO of the most memorable hikes I have ever done. The Narrows hike is a unique and adventurous trek through the Virgin River with some of the most breathtaking views in the park. You'll be traveling through rocky and at times rough water that can reach as high as your neck in some spots so be sure to have a waterproof case for your phone or camera. You'll definitely get some fantastic photos in the canyon. If you aren't afraid of heights, you'll also want to do the famous Angel's Landing Hike. This adventurous hike will have you climbing up narrow rock fins with steep drop offs on each side. Don't worry, there are chains you can hold onto for support so you don't fall off. For a relaxing treat, bring a hammock and hangout between the trees at the summit while you take in the amazing scenery. I like to bring a book and a rewarding pb&j to enjoy at the peak!
4. Glacier National Park – Montana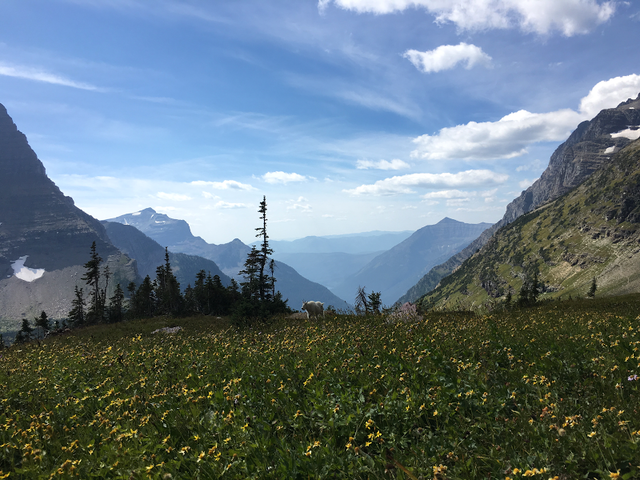 You've seen The Shining, right? The opening scene where still sane Jack is driving on that long and winding road with fantastic views? You'll be driving on that same path Jack Nicholson took when you visit Glacier. Known as the "Going to the Sun Road",  this scenic 50 mile path will take you through the park and be your gateway to most of the hikes in the park. Take the scenic 2 hour drive while listening to some of your favorite tunes and set up your GoPro to catch it all! Check out the Hidden Lake trail for a fun day hike. You'll see tons of adorable mountain goats and endless beautiful wildflowers on your way down to the lake known for it's unique colorful stones.
5. Big Bend – Texas

Big and beautiful, Big Bend has it all  – from mountains and rivers to vast and open desert lands. This isolated park in the far West side of Texas is perfect for those looking to get away from the big city and spend some time in the great outdoors. Being so far away from a city, Big Bend is known for it's magical night skies perfect for stargazing. There's even a natural hot spring you can hike to and relax in after a long day of hiking.
6. Olympic National Park – Washington

Did you know there is a rain forest in the United States? I had no idea until my brother planned a Pacific Northwest a trip for us and I was pleasantly surprised to find myself surrounded by so much green. Olympic National Park is truly unforgettable. If you're into getting lost among endless trees, moss, and meadows, this is the park for you. Think Edward and Bella cuddling in a field. You will literally be in the hometown of the Cullen's, Forks, Washington. Remember, it is the rain forest so prepare for rain by bringing ponchos and waterproof hiking boots.