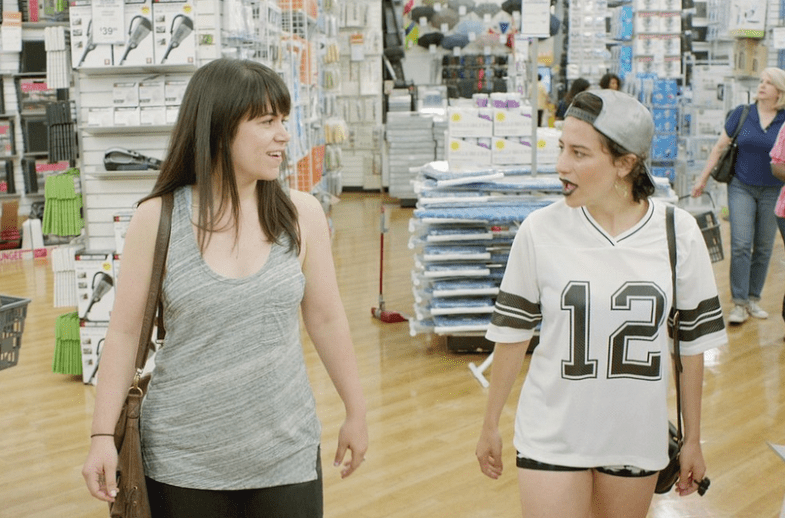 Comedy Central's Broad City has officially risen from obscurity and has cult-fans drinking their Kool-Aid in droves. In its second season, this outlandish sitcom is the Nestea-Plunge-kind-of-refreshing, featuring two twenty-something single girls living in New York City.
I know what you're thinking. But trust me, this is so much better. You'd never hear Carrie, Miranda or even Samantha say, "I'm gonna teach you boys about the dangers of ripping underaged bongs."
Abbi Jacobson and Ilana Glazer play themselves in the show, and are best friends "IRL" (in real life), hence their comic chemistry. The duo created the Web series in 2009, which was eventually shepherded to television by Amy Poehler – so you know it's good.
The premise of Broad City isn't that original. It captures characters' hijinks as they navigate NYC trying to accomplish basic things, like buying an air conditioner or locating a stolen iPhone. However, the view into the girls' dead-end jobs and experimental sex lives is far from vanilla. Think Seinfeld's shenanigan-based structure…but jack up the shock value about 90%.
Some of the show's tremendous lines include the following:
"All my senses are heightened, even my ethnic ambiguity. I was catcalled today in what I believe was Creole."
"I'm not putting weed up inside of me because I'm an adult and I'm responsible."
Broad City includes hilarious cameos from the likes of Seth Rogen (Male Stacey), Kelly Ripa (an aggressive drunk) and Amy Poehler (the neurotic realtor). Although these are headline celebrities, the show somehow maintains its low-budget, gritty vibe. At the risk of sounding like a hipster, that's what makes it cool.
Enter Feminism
Although Broad City has a strong feminist undertone, there are no tirades about equal rights or emphasis on "girl power." Honestly, it's just two hilarious women acting like dudes, pioneering a kind of "everyday feminism." I like this – unchecked and unapologetic.
Abbi and Illana place very little emphasis on physical appearance and remain indifferent to traditional female molds. The fact that they don't stop to ponder the ramifications of their actions is powerful, even though the episodes are incredibly light. The show doesn't reject feminism, but it does encourage us to shake it up and explore new meanings of the concept.
Broad City is an important little piece of pop culture in the 21st century. Women are legitimately celebrated for occupying super raunchy spaces, and acting in what has traditionally been a male role. This show reminds us feminism can be applied in many ways – and if that means Skyping your best friend while having sex with a dentist, then okay, that's cool with me.