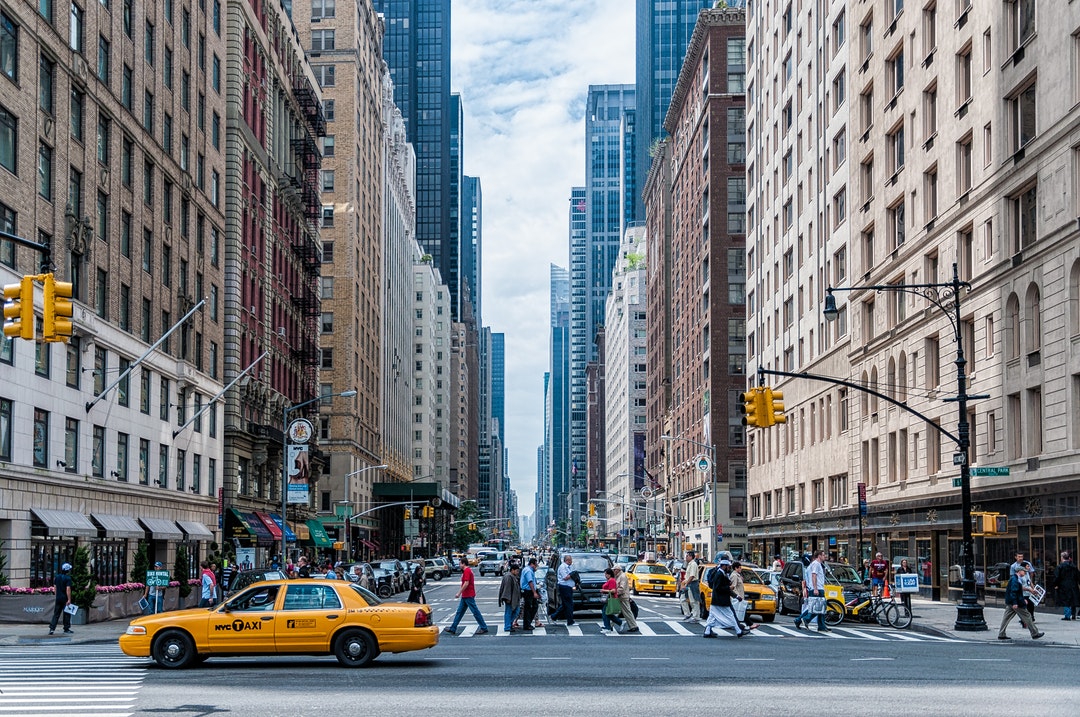 Have you ever wondered what heartbreak feels like in New York City?
It's like your hand getting stuck in the subway door when you think you have enough time to save yourself but you're just too late.
It's like laughing at a text your friend just sent you with a ridiculous story from Thursday night and some angry person pushes you on the sidewalk.
It's like checking the forecast, leaving your umbrella at home, and then being in Downtown when you live in Midtown and it starts pouring.
It's like looking forward to your cheat day and ordering the perfect bagel, and then realizing it's the wrong order after Seamless is already gone.
It's like wearing your brand new shoes that you got at a sample sale on your way to some rooftop and then stepping in God knows what before getting in a cab.
It's like waking up early to catch the ferry to the beach, getting a somewhat decent spot in line, and then being just four people away from making the cut.
It's like meeting your friend for a spontaneous, casual drink and you go where they're at but it turns out that bar is cash only and you don't have your debit card.
It's like seeing 50 apartments, dodging brokers fees, and finally finding one that you love, and finding out someone else signed for it an hour after you applied.
It's like going to an interview and leaving with double the time you normally do, and then the subway gets stuck underground with no service to be found.
It's like getting a $6 latte, window shopping in SoHo, going to a hot yoga class, and then canceling on brunch because you realize you're not actually that rich.
It's like being excited about all the opportunities for jobs in the city and all the descriptions that fit you to a tee and then realizing that also means more competition.
It's like deciding to go to your favorite grocery store just a bit further away and then hauling all the bags and then they rip and then your avocado is on the sidewalk.
It's like living in the Upper West with your friends in the East Village and their friends are in Williamsburg and then you have to calculate your weekend Ubers.
It's like being a dog lover walking in Central Park and cooing after all the cute freaking puppies and knowing you can't have one because your apartment isn't pet-friendly.
It's like leveraging your neighbor's really great Wi-Fi for your "Netflix and Chill" nights and then finding out that the neighbors are moving out.
So that's what heartbreak feels like in New York City.
Call me Carrie Bradshaw, but don't call him Mr. Big. I've got a tutu in the closet, he's been to Paris, but he's never gotten me blue Manolo Blahniks.
This is what it feels like to date in the city, go on 32,987,392 Bumble dates, 23,232 Tinder dates, and 23 The League dates until you finally find someone to fall for.
And then you fall for them. And then life happens. And then suddenly it's like spilling coffee on your shirt and needing to buy a new one at the nearest Century21.
You finally think you've made it, like all your other friends you know. But really, you're just broke, single, and alone.
Well, the bright side is: there's always more love after heartbreak. There's always something else and something new. Whether you want to believe it's true.
And you know what? Heartbreak in New York City may be a bitch, but… damn, falling in love in New York City doesn't compare.
It's like hailing a cab and being the chosen one.
It's like being told to skip the line at the newest spot in town.
It's like having a friend visit and being the perfect tour guide in a city you adore.
It's like winning a free happy hour from the card you filled out once.
It's like scoring your dream job because of someone you met at a bar.
It's like laying on a blanket when it's 70 degrees in Central Park.
It's like sipping on champagne while you watch the sun fall over the Hudson.
It's like struggling to pay for the life that other people only dream of.
It's like finding a speak easy before anyone else does.
It's like wandering into a street fair you didn't know was happening and making a day of it.
It's like doing something new all the time and never taking the city for granted.
It's like the first day of summer when you can finally wear flip flops.
It's like when Thanksgiving is nearing, and the city turns into a Winter Wonderland.
So, yeah, heartbreak in NYC isn't a walk in Central Park, but if I have to go through heartbreak to get to fall in love again… I'll certainly take that pain.