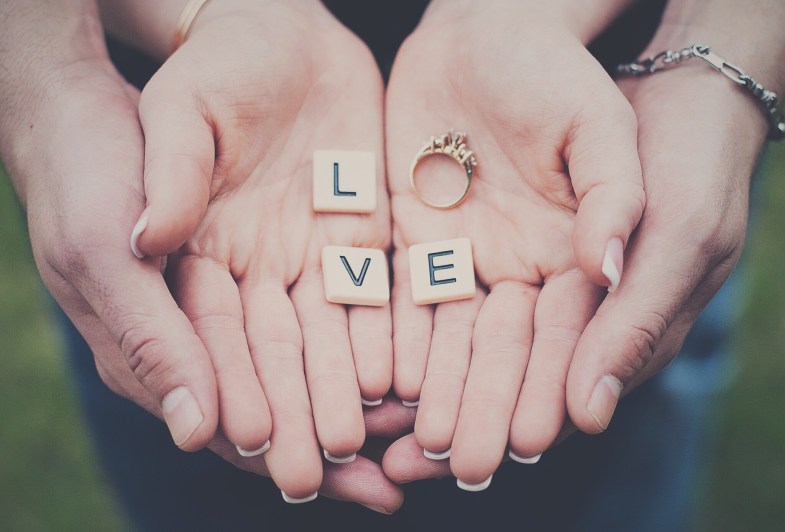 I was worried about what would happen when it came time to pop the question. Should I give my boyfriend at the time clues? Should I let him go for it however he wanted? He came up with the perfect solution I think we can all appreciate and I loved!
Step 1: Guys, don't freak out.
You may have already gone to a jewelry store. Maybe the staff threw words at you like yellow gold, white gold, bezel set, prong set, and sizing, but you were standing there thinking, back up how much will this cost me? I know how you feel, I work in jewelry retail and I see guys struggle with this all the time. I mean come on, do you really want to commit that much money on a ring you're not sure she'll fall in love with?
Step 2: Backup.
Take a deep breath. It's all going to work out. If you found a good girl she'll want you more than the ring, well—I'd hope anyway.
Step 3: Make the ring yourself.
What? You're probably thinking. I can't make that! No, you can't, but here's how it works. You put your blood, sweat, and tears into a personal ring and then propose a date to pick out the ring she wants later. Think about it. How cool is it for her to wear a ring that you made? She gets her diamond after the proposal and this cancels all the stress of you picking the right one.
You can make it out of anything—get creative. My husband made me a ring from copper. It was bronze colored and had a thin band soldered to the outside like a wave. Simple, but a safe bet. I loved it! He made it and then I got to pick out my perfect diamond.
Step 4: Make sure the ring is adjustable.
Maybe you're making it from wood or wire, either way have a way to adjust it to her finger.
Step 5: Pick out the perfect proposal spot.
My husband walked me down the beach. I was scared because I could tell something was off. He pointed at to the water's edge.
"What's that?" he said.
I inspected the native Michigan stone and the colorful box attached to it.
"Pick it up," he said.
I picked up the box and inside was the copper ring he'd made.
He said his speech.
I said, "Yes."
And he slipped the ring on my finger.
What's your girls vision? Maybe you have it all planned out. Either way you can eliminate the stress of not getting the right ring by making your own.
Step 6: Bring her on a shopping date.
Tell her your budget and go look for rings. This way she gets what she wants and you both get to be a part of the process. When the sales clerk asks what the occasion is she can proudly show off the ring that you made yourself. Take her out to lunch and make a day of it. In the end, she gets a nice diamond and you get the satisfaction of getting the perfect ring.
Step 7: Do something special with the handmade ring.
Buy a chain she can wear the ring you made her on. She doesn't have to wear it for the wedding, but it's a nice keepsake. I wear mine with a Petoskey Stone—the stone that the box was attached to in the water.
So, guys, what do you think? It's not too hard and there's almost a guaranteed bet that we will be delighted. If you're nervous about not presenting her with a diamond you can always purchase the stone and have it placed in the setting of her choosing later. That would work much the same way. She still gets to be included in the design of her ring.
I was delighted to see my boyfriend at the time had put time and effort into the proposal. I loved that he made the ring and I still cherish it.
Girl's, be honest, would you like your boyfriend to propose with a handmade ring?