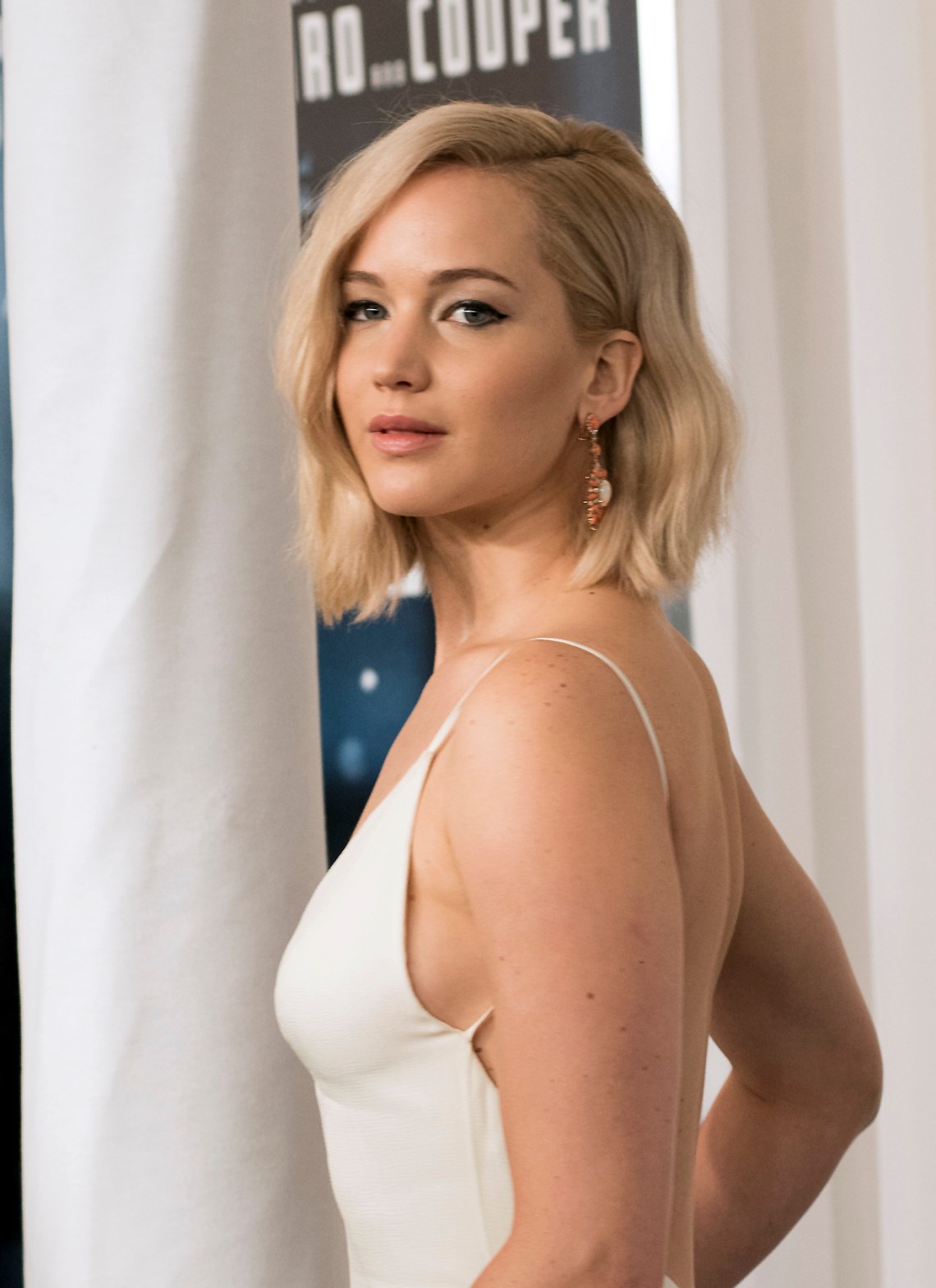 On August 15, Jennifer Lawrence turned 26-years-old. If you look at this not-quite milestone birthday through the lens of all she's achieved since "Winter's Bone" catapulted the then-19-year-old to fame back in 2010, her youth — homegirl is younger than Taylor Swift — is astonishing.
But even more impressive is that, at an age when most American women don't even own a home or have an inkling of what a real hangover feels like, Lawrence has been through a ringer that 99.9 percent of us could never even imagine: She's been Hollywood's number one Cool Girl, delicately fallen from grace, and emerged virtually unscathed.
In fact, now that Brie Larson has definitively replaced Lawrence as the public's internet-friendly Cool Girl Du Jour, the erstwhile "Hunger Games" star is more powerful than ever. Free from the Cool Girl burden, she is finally free to fuck up.
Gillian Flynn's "Gone Girl," via its blonde-haired, blue-eyed anti-hero Amy, brought Cool Girl-isms into sharp focus back in 2012.
Said Amy: "Being the Cool Girl means I am a hot, brilliant, funny woman who adores football, poker, dirty jokes, and burping, who plays video games, drinks cheap beer, loves threesomes and anal sex, and jams hot dogs and hamburgers into her mouth like she's hosting the world's biggest culinary gang bang while somehow maintaining a size 2, because Cool Girls are above all hot. Hot and understanding. Cool Girls never get angry; they only smile in a chagrined, loving manner and let their men do whatever they want."
In case you had any doubts that this applies to Lawrence, in the years following the book's release she joked about her butt plug supply, claimed to prefer Budweiser to craft beer, pooped her pants, and ordered McDonalds at the Oscars. All while — of course — remaining undeniably, ridiculously hot.
But Lawrence isn't alone — she's just the latest and greatest example. In a 2014 essay for Buzzfeed, Anne Helen Petersen argued that Cool Girls have been a staple in Hollywood since Clara Bow was a football-loving flapper in the 1920s.
From Bow to Carole Lombard (who died young in a plane crash, thus preserving her eternal Cool) to Jane Fonda to recent CGs like Olivia Wilde, Olivia Munn, and Mila Kunis, Petersen wrote that America loves to dote on hot chicks who prove that women can be "liberated and progressive and yet pleasing to men, both in appearance and in action."
However, Lawrence's Coolness is ephemeral — because A) no one can please everyone forever, B) the internet loves backlash, C) there is always a younger, just-as-hot actress around the corner, and D) being that cool sounds really fucking exhausting. Especially for someone as seemingly smart and savvy as Lawrence.
"Cool Girls don't have the hang-ups of normal girls: They don't get bogged down by the patriarchy, or worrying about their weight," Peterson wrote. "They're basically dudes masquerading in beautiful women's bodies, reaping the privileges of both. But let's be clear: It's a performance. It might not be a conscious one, but it's the way our society implicitly instructs young women on how to be awesome: Be chill and don't be a downer, act like a dude but look like a supermodel … But is this persona truly "cool," or is it a reflection of society's unreasonable and contradictory expectations of women?"
To JLaw's credit, she was a near-perfect Cool Girl for a really long time — especially given the insane amount of access we get to her compared to past Cool Girls like Fonda. But in 2014, her stolen nude photos began a series of events that would eventually reveal some cracks in this facade.
To be clear, I'm not arguing that Lawrence's bold, progressive Vanity Fair interview — in which she called the theft a "sex crime" and said anyone who viewed her photos "should cower with shame" — kicked off the JLaw backlash. She was rightfully lauded for coming out swinging, but I will argue that this event, coupled with the Sony hack reveal that she was paid significantly less for "American Hustle" than her male co-stars Christian Bale, Bradley Cooper, and Jeremy Renner, led to the less bro-dude and Middle America-friendly JLaw we know today. The one who traded interviews about Dorito dust for essays about wage inequality in Lena Dunham's feminist newsletter. The one who is publicly BFFs with the most popular feminist comedian working today.
It's this version of JLaw who noticeably began to annoy people late in 2015; the JLaw who the conservative media and internet trolls labeled "bratty," ungrateful, spoiled, and worse, all for acknowledging her own sexist treatment in the industry.
And of course, it's this JLaw who was riding a wave of positive publicity based on her friendship with Amy Schumer and her words on the wage gap when the real backlash began at the 2016 Golden Globes. A poorly thought-out joke at a foreign reporter's expense — Lawrence sarcastically teased the man for using his phone, which he may or may not have been (but almost definitely wasn't) using for translation purposes — led to headlines like "Is This the End of Our Amy Schumer-Jennifer Lawrence Love-In?", "Are you over Jennifer Lawrence, too?", and "We Have Reached Peak Jennifer Lawrence."
Suddenly, the same brassy, goofy sense of humor that once made Lawrence America's BFF came off privileged, haughty, and unforgivingly rude. If a "get off your phone" joke at a reporter's expense is all it takes for America's Sweetheart to be labeled a jerk, America deserves Donald Trump.
Press about Lawrence has been noticeably quiet since her Golden Globes gaffe. And in the meantime, an even MORE down-to-earth Cool Girl has emerged to squeeze Lawrence out of Buzzfeed listicles — and at least one major role.
A year after Petersen wrote her Cool Girl essay, in a feature about the "Room" star she wondered if Larson could "survive becoming the next Jennifer Lawrence without losing her balance."
"If Lawrence is a Cool Girl, then Larson's her low-key alternative: She doesn't talk about farts or pizza, and although she's incredibly warm — she gave me three hugs — she lacks Lawrence's potent combination of clumsiness, sheepishness, and ballsiness," Peterson wrote, adding that Larson's name is now next to or even ahead of Lawrence's for Hollywood's most desirable roles, like HBO's Billie Jean King biopic (which went to Emma Stone after Larson had a scheduling conflict) or the lead role in the adaptation of "The Glass Castle," which she nabbed after Lawrence dropped out.
As of now, Larson seems to be benefitting from not only her raw, incredible talent, but from Lawrence being "outed" as rude and/or inauthentic. And she'll never have to worry about bros finding out she's a living, breathing woman with thoughts and feelings, because Larson has given off feminist vibes (and rallied for onscreen diversity) for years.
But being dethroned by such a worthy contender for the crown doesn't have to be a bad thing for Lawrence. Instead, I'd argue that this totally surmountable, essentially meaningless backlash could be the best thing for her career since Katniss.
Lawrence's might not be the hottest name in the biz right now, with Larson and Alicia Vikander snatching up high-profile roles left and right. But she's still the highest paid actress in Hollywood … and if there's anything we love more than backlash, it's a fallen star reclaiming her narrative. Lawrence taking time to let the bad vibes fade will allow her to do just that.
Lawrence is by no means a fallen star in need of a comeback like Britney Spears was a few years ago, or like Lindsay Lohan is to this very day. Instead, she's more like post-"Les Misérables" Anne Hathaway — a slightly humbled woman who flew a little too close to the sun, spent a few months quietly rubbing aloe on her burns while the internet talked shit, then kept on doing great work without the massive burden of being Hollywood's Coolest Person.
In this era of celebrity where identifying and "exposing" a supposedly phony starlet is greeted with gleeful "Twitter parties," retreating from the public eye for a few months after a bout of bad press to wrap a movie with Chris Pratt, write a comedy screenplay with Amy Schumer, book an untitled Darren Aronofsky film and a Steven Spielberg biopic, and give $2 million to fund the Jennifer Lawrence Foundation Cardiac Intensive Care Unit in her hometown of Louisville isn't exactly on the same level as a drug-addled meltdown, or convincing a boyfriend to wear a horrifying T-shirt.
Lawrence isn't Hollywood's (or the internet's) untouchable Cool Girl anymore, but she is still an A-list starlet with international appeal and massive financial power … and better yet, she's now allowed to be the most powerful thing today's A-lister can be: human.
When Lawrence does come out of hiding to promote "Passengers" with Pratt, it will be as a woman who lived as a bro-dude's untouchable, number one jerk-off fantasy, came out as an outspoken feminist, stumbled slightly in the public eye, then lived to tell the tale as a real flesh-and-blood human, and not some impossible fantasy of who we all wanted Jennifer Lawrence to be.
If JLaw allows this feminist ally and REAL FUCKING HUMAN BEING to coexist with the burping, farting, burger-loving, craft-beer-hating (which, come on, try an IPA) charm-machine the world first fell in love with, she could be unstoppable — and better yet, make a real difference.
Sure, conservatives didn't like her comments on the wage gap, men's rights bros didn't like her comments on feminism, and everyone had something to say about whether or not she was mean to that grown man reporter. But the version of Lawrence who doesn't kowtow to patriarchal douchebags is the Lawrence who started much-needed conversations about sexual power and wage inequality in Hollywood and beyond, and the world needs that Lawrence more than it does the chick with the butt plugs and Doritos.
Not that there's anything wrong with butt plugs or Doritos.