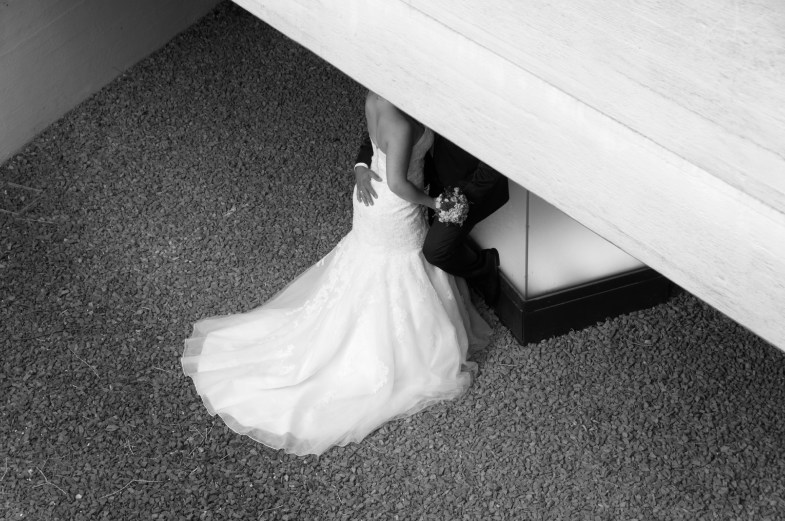 In the morning, I'll fumble out of the bedroom and try to catch a glimpse of her putting on her makeup in the bathroom, the crackle and hiss of the baby monitor the only real sound in her whole damn house. I try to be sly about it but I know my slyness has worn away over time. Plus, f*ck it. What do I have to lose now?
I met Monica one sweaty August night more than a decade ago and married her like a freight train six weeks later. She was a western girl, born into the madness of a land called Utah.
We were like a goddamn magnificent cowboy movie from the start.
There wasn't all that much thought involved the wedding. We didn't sit around her mama's kitchen table looking at catalogs of wedding gowns or catering menus or any of that sh*t. We spotted each other as the sun went down on a crazy desert town and we started firing at each other right away.
Close to the bone, that's how I like my love affairs.

I know that now, because I was lucky enough to live through, to survive, our marriage — and divorce 10 years later — to come riding back up over the mesa of our years together with one badass sunset sinking down behind me. Most people spend their lifetimes in the back lots of their imagination wishing away what they have for something bigger to come along and sweep them away.
Most people simply dream of falling in love hard and fast and for real. But most people never even get a taste of it.
I'm not saying they don't fall in love for real, that would be a stupid thing to say. I'd say I'm way more of a dreamer than a thinker, but even so: I never ever dreamed I could fall in love quite the way that Monica and I did. We found each other in a hail of bullets and arrows and we never once thought twice about jumping off that Butch Cassidy and the Sundance Kid cliff together.
Fact is, we were probably always the kind of people just looking for the damn cliff; we just needed a partner to take the leap alongside us.

Now, three kids and a divorce later — and with so much anger/laughter/sadness/joy/trash talk/dirty talk/Friday night couch pizza/HBO binge-watching/dog love/dog loss/money trouble/personality-crushing/soul-sucking/daily heart reincarnating/Sunday sunshine/bring me a beer-ness — behind us, I find myself watching her getting ready for work in the morning and I whisper to myself, "Dude. That's your girlfriend. She's a f*ckin' hoot, too. Lucky bastard you are, bro."
And it means more to me than anything I can tell you.
For me it's purely gravitational, this natural pull to be with my ex-wife. I believe it took us killing something 'legal and official' in order to be able to stumble upon this reincarnated version of ourselves, of our thing together.
Love — or even the possibility of love — is fickle. And even when we were divorcing, I never wanted to be apart from her. She means too much to me. We click. And we've learned a lot about the art of staying clicked when the sh*t hits the fans.
These days, we keep two separate homes, two different economies, and we specialize in our three kids.

We've carved out a more satisfying scenario for ourselves this time around; in so many ways, we're dating the person we lost long ago in the muddled confusion of a failed marriage. That's pretty cool … and pretty damn rare.
Listen, all of this is like a supernova blowing up in my face and I dig it. I dig it because I don't even have a sliver of the intelligence or the sage-like qualities that it would take for me to comprehend why my heart wants what it wants when the only thing it ever seems to want is the same thing that the signed divorce documents show that I didn't really want anymore.
But divorce be damned, to hell with the formalities.
We are two cliff-jumping sons-of-bitches. And listen to me: there is real magic buried deep down inside the electrifying awkwardness that slams into us whenever we roll down the road in my Honda, some Radiohead CD going off, our kids rubbing snot into the seats like Roman blood into the ruins of something wonderful and real that will take time to appreciate.
Monica rolls her fingers up on mine and I look over at her and she holds back the teenager smile that she always holds back and I'm good, dude.
I could date a bunch of women, for the rest of my days, but I don't suppose I'd ever wander back onto the set of a Western quite like this one.

Even when we tried to quit it, we couldn't quit it. Even when we tried to roll the credits, the credits refused to roll. Look, no one in their right minds would ever give us a fighting chance at this point. But that's why they ain't us. Me and Monica, we'll be fine. We were fine, we got un-fine, we found the fine again. True love, she rolls that way. I have to believe that; I do believe that.
Cue scene.
While the rest of the world dreams up another love story, we'll be sitting there up on a rocky crop watching another payroll train all splayed out across another sunset valley.
There will be awkward silence for a sec and then we'll find our way.
"Let's rob it, yo," my girlfriend will say as the rough warm wind kicks up hard across her pretty little knees. And I'll just toss my cigarette like a badass and it'll land on the back of a six-foot curled-up rattlesnake sleeping by a cactus. Then I'll kind of say what needs to be said, what we've been saying all along, really.
"Oh yeah, baby," I'll tell her. "Let's go rob us a train."

This post originally appeared at YourTango.