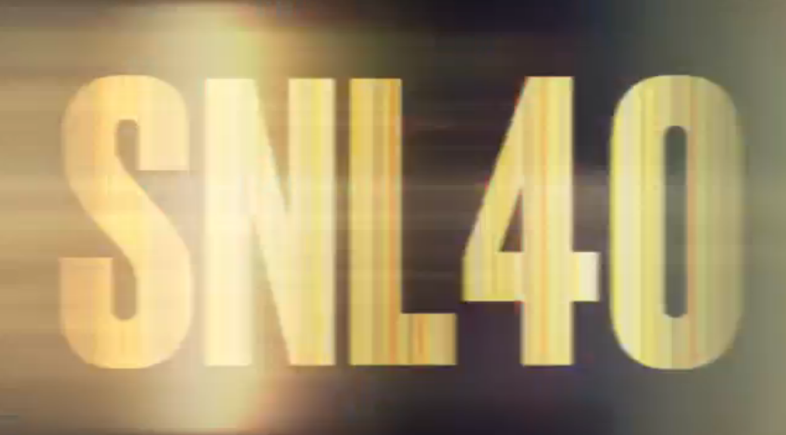 This past Saturday, SNL turned 40 years old. On Sunday night, NBC aired a three-hour live special in its honor, including a pre-show red carpet broadcast. Some of the skits fell flat (like Kenan Thompson impersonating Cosby) and others soared (like Jerry Seinfeld and Larry David chatting about Seinfeld). Lorne Michaels received, as always, high praise while the (strange but still funny) joke of Jon Lovitz being dead kept running.
Meanwhile, everyone was there.
Jane Curtin was there. As the first woman behind the Weekend Update desk (and the First Lady of the Coneheads), Tina Fey and Amy Poehler joined her. They welcomed Emma Stone who tried on her Rosanna Rosanna Danna, Edward Norton did his best as Bill Hader's Stefon (and was later joined by Hader), and Melissa McCarthy played Chris Farley's unforgettable character of Matt Foley who lived in the Van Down By The River. 
Will Ferrell was there. He broke out his Alex Trebek (I wish we could've seen some Spartan Spirit, though) and Darrell Hammond was Sean Connery again.   
A number of musical guests were there. Paul McCartney sang "Maybe I'm Amazed." His voice maybe suggested he should've warmed up first. Miley Cyrus outdid herself and sang an excellent cover of Paul Simon's "50 Ways To Leave Your Lover." And Kanye West did a medley of "Jesus Walks", "Only One", and his new track, "Wolves" with Sia and Vic Mensa. 
Betty White and Bradley Cooper shared a smooch during The Californians; Dan Aykroyd revived his Bass-O-Matic spoof; and yes, of course Bill Murray was there – to sing the theme of Jaws (with Paul Shaffer on piano).
But I have to say my favorite moment of the night came at the very end. Phil Hartman's voice came on with a card of Cable 10: "You are watching cable 10, Aurora, Illinois, community access channel." And there they were: Mike Myers AND Dana Carvey and they did Wayne's World.
As soon as Myers said, "Party on Garth," and Carvey replied, "Party on, Wayne" I knew everything was going to be OK. The three hour live broadcast was worth it because Wayne's World was there. 
They did their Lorne Michaels impressions, "Shwing!" made an appearance, and to close out #SNL40, Wayne and Garth did SNL's Top Ten. They also made sure Kanye stayed in his seat three times. Kanye played along (people often forget his sense of humor and that there are two Will Ferrell clips in "Niggas In Paris") and it was perfect. (I'm officially casting my vote that Kanye hosts the show.) 
It was so good to see my alter ego, Garth Algar, on TV as he is always, with Wayne Campbell – two of the greatest American comedy characters by two of the greatest Canadians. After being absent from SNL for decades, both actors slipped into character like they never left. It was a classy end to the long show giving thanks and honor to the people who make it all possible. It had me shouting, "We're not worthy! We're not worthy!"
The #SNL40 special was, well, special. We saw a montage of great performers and musical acts past, an in memoriam of people who worked on stage and behind the scenes at SNL, and don't forget we saw Chevy Chase and Eddie Murphy be really, really awkward. So yeah, not every sketch landed but how often do we get to watch a live show (with digital shorts) with all of the most famous comedians, actors, musicians, and makers of television in one spot? It was a broadcast never to be forgotten. Until they probably do it ten years later for the 50th Anniversary special.