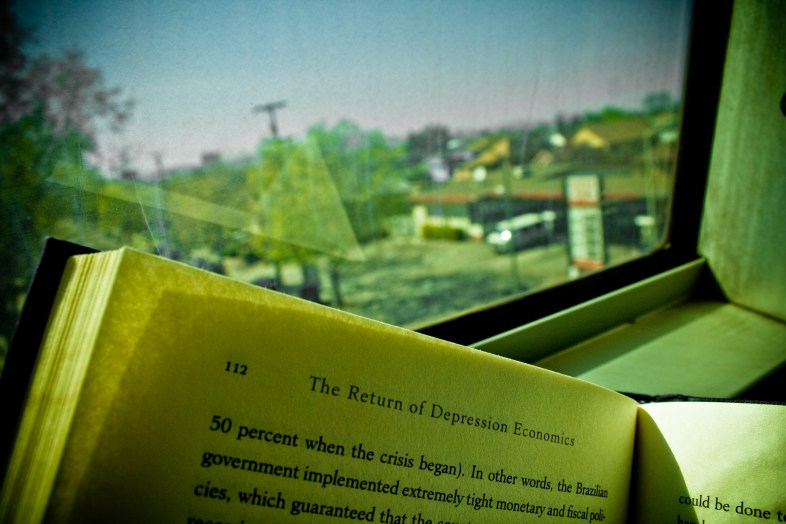 The best way to get your brain moving on your morning commute is to read. (It's also a nice way to wind down on your way home.) 
But it's hard to get engrossed on a crowded train car or bus. Which is why we have experimental writers: writers who work in between the lines of poetry, prose, memoir, short stories, and fiction. They write about their own obsessions – colors, a sandwich, past and current lovers, childhood memories, or other peoples' lives – in rare form.
 1. Bluets by Maggie Nelson is written in two hundred and forty numbered paragraphs of varied size showing every crack and crevice of Nelson's life through the same lens: the color blue. She loves blue everywhere – from shrink-wrap to collected antiques to Joni Mitchell. It will have you noticing blue in your life where you never thought to look.
 2. Each history in Aurelie Sheehan's Jewelry Box: A Collection of Histories is just a page or two (or three). Some people won't call them poems, but they could be. Others will insist the pieces aren't short stories, but they can be. Also, it's memoir, but it's in the first person and in the third. Sheehan takes something that isn't real and puts it in your hands.
 3. Joe Wenderoth's Letters To Wendy's is a square, pocket-sized book of Letters originally written on Wendy's (yes, the fast food chain) comment cards. It's stated on the copyright page as "100% fiction" but each "Letter" is a dated paragraph (between '96 and '97) and many are in the first person. Some are funny and others will shove you into an existential crisis, but all of them will change your mind on what a comment card can really be.
4. Listed as a memoir (because it is one), Nick Flynn's Another Bullshit Night In Suck City is a collection of poems the author converted into full paragraphs. Some are about his girlfriends, past and present, and many are about alcoholism (his and his father's). It's also about the loss of his mother, of his mind, and of his control. Then, Flynn finds himself. He starts working in a Boston homeless shelter where his father is a frequent guest. Flynn is the master of vignettes and if this doesn't sell you on it, the title damn well should.
5. Citizen: An American Lyric by Claudia Rankine was nominated for the National Book Award in criticism and in poetry. (It was also the first time the awards had ever done that in its sixty-five year existence.) Citizen is lyrical, graceful, and blunt social commentary. Discussing race in America, Rankine's art (because there is no other way to put it) is more relevant now than ever. Its white space will thrust you into the depths of your imagination and her photographs will jog your memory. You'll probably miss your stop.
6. Structurally, Jo Ann Beard's The Boys of My Youth is the most conventional but the writing is the most unique: brilliant and vivid. Including Beard's most famous essay, The Fourth State Of Matter, (which will change your mind about what an essay is) The Boys Of My Youth will have you tasting Beard's memories like they're your own.
7. And if all else fails, just read Frank O'Hara's Lunch Poems. Between 1953 and 1964 the New York City poet wrote on his lunch breaks while working at the Museum of Modern Art. It's a perfect peek in to New York City's past, especially if you live there in the present.