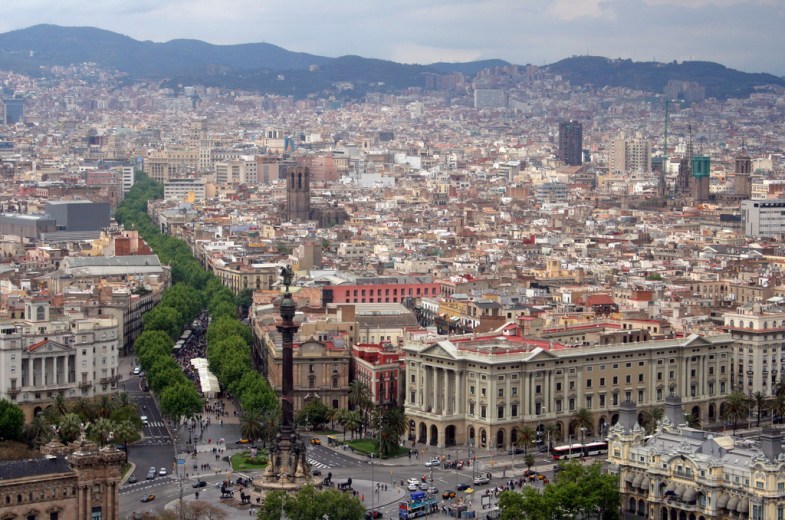 I'll never forget the conversation I had with a cab driver on my first day in Barcelona.
"I prefer the Spanish philosophy of life," he said.
"Why do you say that?" I asked both fascinated and mildly offended.
"Americans need to slow down. They focus so much on work that they forget to enjoy life. We have tiny homes, so we prefer to stay outside. We have less money but are happier people."
Later that night, I had the pleasure of enjoying a 3-hour long meal with my host Carolina (whom I met through Couchsurfing) and her family. I lost track of time somewhere between my third glass of wine and second course, fully engaged in the sparkling conversation between my hosts and I. Not once had one of us glanced at our phones, an absolute impossibility for me stateside. Next to us were tables of people enjoying similar 6-course meals with little intention of a "quick bite to eat." Eventually we were the last people in the restaurant. We even had coffee with the chefs after they closed the kitchen.
After, we took a digestion walk down Las Ramblas. It was 2 AM by the time we reached my host's apartment.
"Do you usually have long meals like this or is this a special occasion because you have a guest?" I asked.
"Dinner is a very special time for us. It should never be rushed," Carolina explained.
Dinner with Carolina's family had been such a rich experience, and at this moment I had fully understood exactly what my cab driver was trying to tell me.
The rest of my trip would result in numerous hour-long cigarette breaks and countless hours spent at the same bar. It became clear to me that Spanish people liked being both out and together, for long periods of time.
Before this, the notion of a siesta had seemed so alien to me. Why would you take a break in the middle of the day when you could just get the work day over with? How are Spanish people happier living in 200 square foot apartments with bathrooms the size of a standard American pantry?
Then it hit me.
In Barcelona, days aren't just things to get over with and life isn't just something to be neatly scheduled into an agenda. Success isn't measured in square footage, but in the quality of your day-to-day experience. The entire concept of time is vastly different.
Time is less rigid in Spain, with emphasis on here and now versus future dates and deadlines. In the United States, time is more structured and the notion of "wasting it" equivalent to whenever you aren't doing something deemed productive. To the American, a 3-hour long meal could easily be considered a waste of time.
Au contraire, the 3-hour long meal is time well spent in Barcelona. It is time devoted to the tenacious Latin sociability that might constitute what my cab driver referred to as "happier people."
What exactly does slowing down entail? Through my anthropological fieldwork of the Spanish people, I can conclude that slowing down means to enjoy life consciously and deliberately. It means to use our senses to absorb as much pleasure as we can from each waking moment. It means to find a healthy balance between our personal and professional lives, seldom letting the latter take the reins.
Slowing down means to stop and smell the proverbial roses before you raise your blood pressure from work-related stress. It means to cease living in our heads in order to live in the moment, even if for only a limited time.
I believe that somewhere between our Anglo-Saxon time is of the essence sensibility and the Latin concept of time lays a healthy medium where people are both productive and able to thoroughly enjoy living—and this is my "philosophy of life."