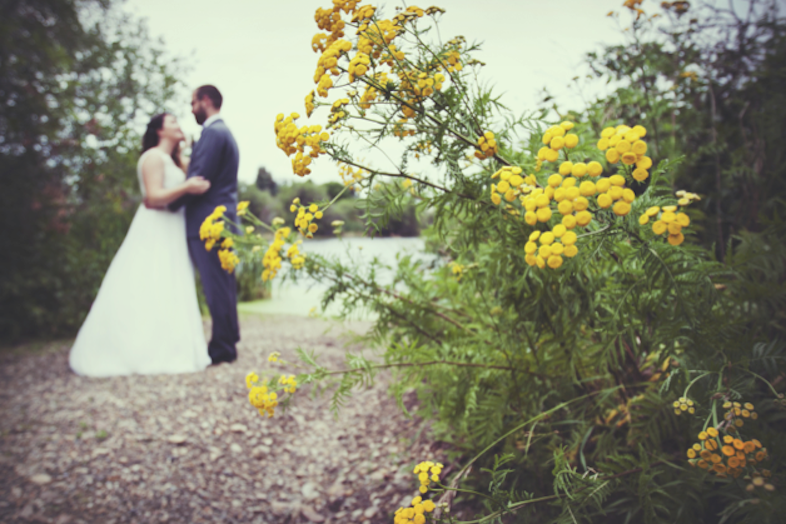 1. Get plenty of sleep: don't stay up all night with your friends or family. Go to bed at a reasonable hour! No one looks good with bags under their eyes.
2. Get up several hours before you need to start getting ready: today is not the day to be sleeping in. You'll be surprised at how much shit there is to get done the morning of, so be sure to give yourself plenty of time.
3. Have a backup plan: our wedding was outside, and of course it poured the day before and the morning of. I refused to believe that rain was a possibility, and as such, had no backup plan. Very luckily, the rain stopped; otherwise we would have had 100 very wet guests. Instead, my incredible family spent the morning toweling off the grass and all of the chairs. Definitely, definitely have a backup plan.
4. Do not drink in excess the night before: seriously. Hangovers suck, smelling like booze is gross, and bloodshot eyes ruin photos.
5. Be prepared for last minute changes: specifically, guests who show up without an RSVP. Yes it's rude, yes it's a pain in the ass, and yes it's going to happen. Have an "overflow" table and a few extra meals available.
6. Have a travel bag: fill it with deodorant, makeup, hairspray, mints, toothpicks, Kleenex, ibuprofen, a pair of cozy shoes, and whatever else you think you could possibly need. Designate someone in the wedding party to be the official travel bag keeper so that you aren't stressing out about it the whole time.
7. Have an open bar: I know it's not always possible, but if you can swing it, do it. We considered long and hard about this one, and in the end we opted for open. It only cost us an extra $2,500, we had a ton of booze left over, and our guests were much happier. It was a great trade.
8. Spend as much time with your photographer pre-wedding as possible: I came across our photographer at a friend's wedding, and absolutely fell in love with her style. Luckily for us, she had a very hands-on approach to the day, and was very involved in the planning of the photoshoot. She became a fast friend, and it made the whole process fun, relaxed, and really exciting. We also wound up with a finished product that was everything we'd ever envisioned.
9. Eat: just do it. I know you're going to be busy and you're going to be stressed out. Maybe you'll even lose your appetite. But trust me, it never, ever looks good when one of the betrothed passes out during the ceremony, or drinks way too much on an empty stomach. Even if all you can muster is a piece of bread, do it. You'll thank me later.
10. Make an itinerary: yes, it seems completely anal-retentive, I know. I made an itinerary that spanned nearly 12 hours and was planned down to the minute. It wasn't always accurate but at least everyone knew who was going to be where and at what time. It saved our asses more than once.
11. Make a list of phone numbers: make sure your entire wedding party, your photographer, and your parents or hosts of the wedding have everyone's phone numbers. Include it in your itinerary, if it's easier! Just make sure that everyone knows how to contact everyone in case an emergency comes up. Or incase you all want to stop at McDonald's on the way to the photoshoot and you're travelling in separate vehicles. Whatever.
12. Do some creative scheduling with your photos: My husband and I had a dress reveal photoshoot pre-ceremony, and we did the photos of just the two of us then, as well. It was such a time saver! The wedding party had more time to get ready while we were having our photos done, some pressure was taken off of us for the ceremony because we had already seen each other, and the gap between the ceremony and the reception was much shorter.
13. Include as many of your loved ones as possible: Our wedding was held in my mom's backyard, my nieces were our flower girls, one of my brothers put together all of the slideshows and videos. Another brother served as an usher, and another married us. It was so special to have everyone so involved, and it was also so relieving to know that they were people we could count on to have our best interests at heart.
14. Have a designated point-of-contact for the vendors: someone you can trust to handle all of the details (that isn't in the wedding party) is essential. It may be an official wedding planner; for us, it was my mother. She was available for all of the vendors and venue providers. We also included her phone number on the map to the reception venue incase guests needed directions or had any questions. She was a show-saver that day, let me tell ya!
15. Get all of your DIY stuff done early: if you're making your own centerpieces or wedding favors, get it done as early as possible. We had our centerpieces (minus flowers) done nearly four months in advance. This gave us a ton of time for touch-ups where necessary, and also just saved us the stress of having everything piled on at the last second. Plus, the crafting weekend was a lot of fun.
16. Provide your guests with a list of hotels and cab companies: especially for those folks who come in from out of town. Almost 50% of our guests were coming in from out-of-country, and I know that they appreciated the list of places to stay and ways to get around. It also saves you from having to answer the same questions a thousand times.
17. Have a photobooth: if you can't afford to rent a full-service one with photographer and props and everything, make your own! We just found an empty room, hung up a patterned sheet and a string of lights, and filled the room with dollar store props. People fucking loved it. It was probably one of the biggest highlights of the evening, and we wound up with some hilarious photos.
18. Don't expect to please everyone: not everyone is going to love your country wedding, or your extravagant hotel ballroom wedding, or your backyard wedding. Who fucking cares? I cared way too much during the planning, and it stressed me out. In the end, the people that mattered had a great time because they were there to celebrate, not to judge.
19. Pick a wedding party you want: don't pick one that you're obligated to. These people are helping you run this massive day, and you want them to have your best interest at heart. You won't have time for their egos, their agendas, or their complaints. Choose people you know you can count on and your day will be a much happier occasion.
20. Enjoy it: it's only going to happen once, and you're not going to remember the small shit in the long run. Or even the next day, if I'm being honest. It's going to fly by and you're going to be so surprised when it's time to head out. Soak it up, bask in the love, and know that it will be a perfect day.