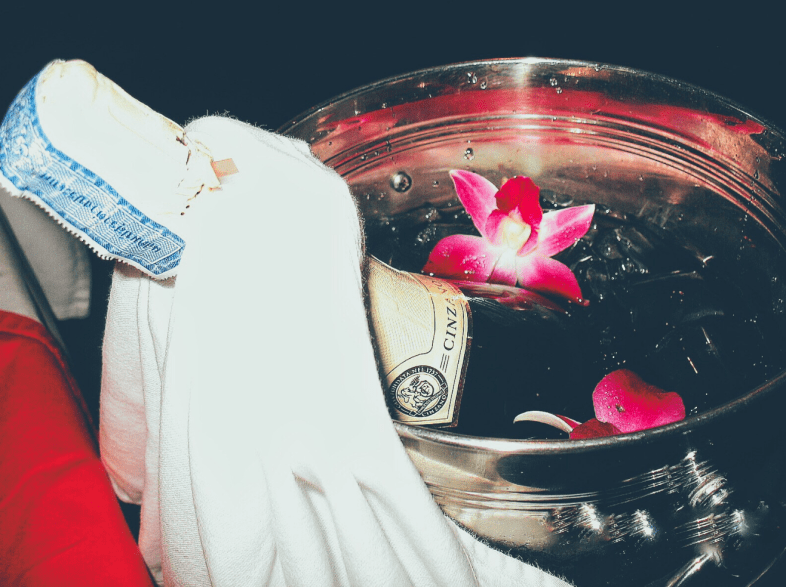 How often have I babbled on about the importance of keeping the romance alive in your relationship? I'm not trying to be annoying or repetitive, but it is important! I am a firm believer that religiously practicing date night on a regular basis is crucial to relationship health. Let me be mores specific. I'm not talking about a double or triple date where the conversation is flying six different ways. I do love those group dates with my favorite couples, but I am talking about the importance of one-on-one dates with your boo. Setting aside quality time to spend with your hubby with no distractions is like an "apple a day" for your relationship.
To keep these date nights interesting, you'll want to mix it up and try new things. Obviously, date night has the potential of becoming a very expensive activity. Try hitting up Groupon and Living Social for not only cheap dates, but dates you would have never thought of yourself, like flying trapeze classes or a painting class at a local bar. But for those of us that aren't rolling in the dough, these internet deals can still be a splurge. Don't worry, I am here to tell you that you can still have a date night every two weeks (or once a month, whichever you fancy) at home and on a budget. Here are some creative ways to make your date night romantic, entertaining, and low cost.
1. Living Room Camping
This is one has sentimental value to me. When my fiancé and I first started dating I was going through a rough time in generally and the bad days at work didn't help. When I'd had a particularly crappy day, I would come home to find a good old fashioned fort in the living room. The outside was made with sheets and furniture; inside he made a comfortable cushioned floor using pillows and comforters. We would take refuge inside the fort and forget about all of our problems. Don't knock it until you try it! Use your fireplace or some candles as a mock campfire, roast some marshmallows and tell ghost stories. How does that not sound like a good time?
2. Outdoor Dining
If you've got a nice or even just a clean backyard, use it! Set up a small table for two outside complete with candles and a bottle of wine. Put on some nice background music and have a good old fashioned backyard dinner. It's very romantic. Unlike eating on patio of a restaurant with twenty other couples sharing your moment, this makes for a very private and intimate setting. Think your backyard or patio doesn't have the ambiance needed for outdoor dining? An easy fix is to hang cheap outdoor lights. It's amazing how one detail can work wonders on setting the mood.
3. Boudoir Photo Shoot
Okay, so if you are a little more on the reserved side (cough, prude, cough), this one may not be your cup of tea, but hear me out before you rule it out completely. Date night is supposed to be all out coming together with your significant other and getting intimate. I think this is pretty intimate, not to mention fun for all parties involved. Start by choosing a designated back drop like a free wall, a hanging sheet, the bed, etc. Pick a few different pieces of lingerie to change into. Give your guy a camera (prob best if it's not a camera phone, don't want these pictures accidentally getting posted on Facebook or Instagram), and let him take control of the photo shoot. You're the model, he is the director. Enjoy (insert winky face here).
4. Wine Tasting
If you and your guy are wine-os, you'll love this one. Use your kitchen table, bar, or coffee table. Set out a few different bottles of wine and glasses. Make sure to set out some food that pairs well with what you'll be drinking, think cheeses, veggies, bread, etc. No food equals getting drunk way too fast, passing out early, and a nasty hangover. That being said, take your time as you would if you were in Napa on a rustic vineyard. Swirl, sniff, sip, and then discuss your opinions on flavor and stuff. Obviously I am not well educated on wine specifics, but you don't have to be to enjoy this. It's just you and your boo, no wine snobs to make you feel dumb. If you are a wine snob, great! You'll have fun with this one too and there won't be any amateurs to slow down your night. Remember to light some candles and put on background music!
5. Game Night
Game night can go one of three ways and I'll leave it up to you to try one or all three. The first is nostalgia game night. Choose your favorite childhood board games (mine are Candy Land and Operation) and laugh at the memories over a bottle of wine or your favorite beer. The second is adult game night. This includes a more grown up version with games like Cards Against Humanity. The third is x-rated game night. Go to your local sex shop or search online for an intimate adult game. There are tons to choose from involving blind folds, melted chocolate, and roll of the body part dice. Whether you choose PG, x-rated, or all three, game night with your handsome babe is sure to be loads of fun.
6. Project/Craft Night
With all of the hours we spend pinning cool crafts on Pinterest, this option seems very appealing. But please, for the love of god, do not make your significant other do something he will hate like knitting or scrap-booking. Choose a house project you've been meaning to get around to or a fun project you can both be involved in. Make sure this is an activity that interests BOTH of you, not just you and not just him. You'll also make sure this is something that is more fun than it is hard work, remember you are doing this as a date. Order a pizza or take out and of course you can add alcohol to the mix if you fancy. Put on your favorite Pandora station and get to work. My man and I did this as a date night with a painting I had seen on Pinterest. It was a hand painting in which each family member's hand was in a different color and the prints were all over the canvas, overlapping each other. It looked really cool, so we tried it and of course included the dogs. It was interesting night to say the least, dogs and paint can get messy. No matter, now we have a somewhat decent piece of handmade art to hang in our home.
7. Karaoke
Yes, Blake and I have done this and it was so much fun! We didn't plan on it, it just happened. We started one night with tacos and margaritas, an hour later we were taking turns on the Play Station 3 mic and singing our little hearts out. A bit of heads up, this may not be the greatest idea if you have close proximity neighbors who don't like crappy singing and loud music. If you can, do this! Such a great way to let loose with the one you love. Not into singing? No problem, make it a dance party instead. I'm not a video game person, not in the slightest, but karaoke and dancing games are perfect for this. We have "Sing Star" and "Just Dance" for Play Station. If you don't have these games but want to try them, check your local rental store or RedBox. You won't regret this one!
8. Spa Session
I know what you're thinking, "my manly man won't even get in a bubble bath". First of all, that sucks for him. Second of all, he will end up truly enjoying this one if he approaches it with an open mind. Okay ladies, don't torture your men! No tweezing, waxing, or anything else that is painful and/or will change his appearance. That's how you'll send him running and screaming out of the bathroom. Instead, make this a relaxation effort, not a make over. Run a warm bubble bath with salts and scented oils. While you're waiting for the tub to fill, start with a face mask. I like the warming ones, they immediately send my mind into relaxation mode. Help your beau apply and rinse off his mask. Slip into the tub together and just relax and talk. For added romance, carefully place a few candles safely around the tub and bring a glass of wine for each of you. Just don't get so relaxed that you fall asleep, because after the tub you'll want to move it into the bedroom and take turns giving each other back massages. Stop by a body shop like Bath & Body Works for some aromatherapy massage oil. Best spa session ever.
9. Cooking Class
I know I said "in home" and I meant it. When I say "cooking class" I don't mean attending an actual cooking class, I mean doing your own cooking class with just the two of you. Find a recipe from a cooking magazine, book, or show that sounds delish to both of you but neither have any experience with cooking such a dish. You will work together, sharing the tasks at hand. And I mean for you to cook an actual gourmet meal, not Mac & Cheese from a box, no matter how much you crave it sometimes. This is your date night activity, so have some fun with it. Put on your aprons and help each other chop, season, and stir the ingredients. When you've completed your edible masterpiece, it's time to dig in. Sit down to a table set for two and cheers each other to your cooking accomplishment.
10. Star Gazing
It's back outside for this date night. Sometimes all you need is star-filled night sky to add that little extra bit of romance. If you have a cozy backyard (and ideally a fire pit to keep you warm), take a thermos filled with hot cocoa or spiked cider, a blanket, and your loved one to do some star gazing. Do some research before hand and make a game of trying to spot certain constellations. If you have a stable flat roof, set up some lawn chairs and enjoy the view from up there. Be careful getting on and off your roof! No back yard or accessible roof? Take a stroll down to your local park. Odds are, it will be deserted after dark and the jungle gym style toys make for great seats.
No matter what you choose to do on your date nights, make sure you are focused on each other. Make it about you two and nothing else. Hopefully I've inspired you to try something new with your partner in crime. Maybe one of these unique date nights will start a spark and you'll be truly glad you branched out. If nothing else, simply relish in the company of your loved one.