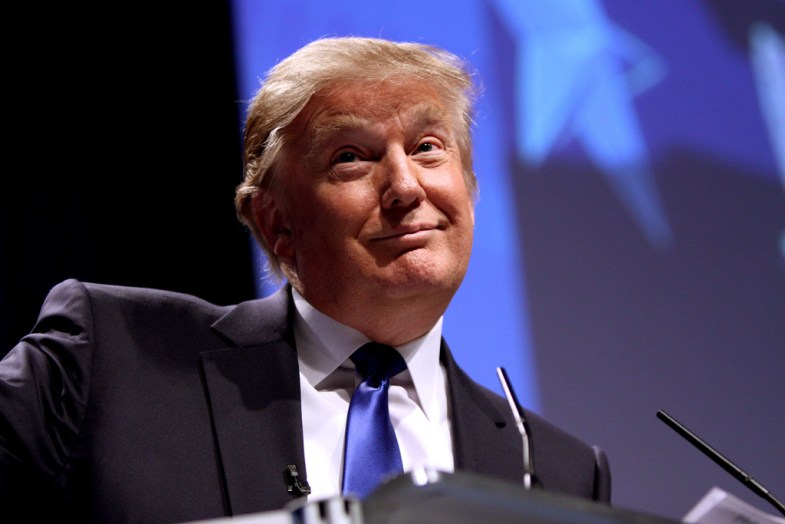 When it comes to his music, President 45 is decidedly VH-1 Classic Dad, with a pinch of Vegas schmaltz.
Among his acknowledged favorites are The Rolling Stones' world-weary, "You Can't Always Get What You Want," and Queen's as rococo as his solid-gold living room, "Bohemian Rhapsody." Trump professes a huge sonic boner for Twisted Sister's immature teenage bitch fest, "We're Not Going to Take It," as well as Peggy Lee's lounge lizardly woe ballad, "Is That All There Is?" And, of course, there's Neil Young's "Rockin' In the Free World." It's the tune that begat a much-publicized, cease-and-desist from its author, for both its inappropriate and unauthorized use at Trump's 2016 campaign rallies.
The above is just a slice of the Trumpian musical diet, one that is heavy on both the agro and depressive. And like his food staples – the family-sized buckets of KFC, the namesake steaks burnt to a hellish crisp – they can't be doing him, and thereby us, his dumbfounded minions, any good.
With sounds like these bouncing around his skull, is it any wonder he's on a hair trigger these days? And in the past few days, he's upped the ante – by blasting tweet missiles off to the equally high-strung North Korean dictator to bring us to a nuclear precipice not seen since the days of the Cuban Missile Crisis.
In 1697, William Congreve's play The Mourning Bride gave us the line, "Musick hath charm to soothe a savage beast." And as we're not going to get the proximity to put Thorazine in the presidential Ovaltine, we can only offer some musical selections, in hopes of dialing down his aggression and depression and, hopefully, our collective blood pressure.
So what can President 45 begin putting in the old Walkman to chill himself and the watching world out?
Marconi Union, "Weightless"
Manchester group teamed with British Academy of Sound Therapy to create the chillest track imaginable. According to scientists at the Mindlab Institution, the trance created by its manipulated synths, guitar and field recordings induced a 65% reduction in overall anxiety and brought their test subjects' resting pulse rates to 35% of their usual resting rates. The original 8 minute version, which has more than 27 million views, can be found here at YouTube. Those experiencing really high anxiety can also find a 10+ hour version.
Jackie Gleason Orchestra, "Music, Martinis and Memories"
In his acting role as the rage-prone bus driver on the classic TV sitcom "The Honeymooners," Gleason made Trump's current temperament seem like the Dalai Lama. But there was another side to Gleason, one he deployed between episodes in which he threatened his long-suffering wife Alice with a blow that would send her "to the moon." It was that of the leader of an orchestra that gave a honeyed, "you're in a doctor's office" spin to the classics of the Great American Songbook, nuggets by Irving Berlin, Hoagie Carmichael and the like. This 1954 disc is as good as any for Trump to start getting an Rx of music that strikes a Novocain chord.
Fripp & Eno, "No Pussyfooting"
The prog/proto-ambient classic from 1973 that turned Brian Eno's dreamy synth loops and his manipulations of Robert Fripp's infinitive sustain guitars into the ultimate in sonic hypnosis. While Trump might be turned off by the cover pic (Eno's mascaraed boho in a beret and Fripp's bearded Freud repeatedly reflected in a room full of mirrors), we know his curiosity will be piqued by the title of the side-long track, "Swastika Girls." For taste, check out this recording of Fripp live in 1978 at NYC's Kitchen.
Enya, "It's In the Rain"
Eithne Pádraigín Ní Bhraonáin, better known as Enya, is an Irish singer, songwriter, synthress who got her start in the Celtic band Clannad. She went on to become an early cornerstone in the genre that became known as "New Age" music with her second solo disc, 1988's "Watermark." That album's best-known track, the unlikely Top Ten hit, "Orinoco Flow," features all her trademarks – dozens of multi-tracked vocals swaddled in churchy-reverb and an army of orchestral synths. The vaguely military march of this makes it a "no" for the Trump chill list. He'd be better off cooling down with one of several atmospheric songs she did about the weather, like "It's In the Rain," from the 2005 album, "Amarantine."
George Winston, "December"
The king of "rural folk piano" and of Windham Hill Records, founded in the '70s to propagate a gentle style of largely instrumental music at odds with the high-energy punk, metal and disco ethos of the times. The always melodic piano stylings of Winston's best-selling 1982 offering "December" struck a chord with not only folk and jazz buffs but pretty much all music lovers and went triple-platinum.
Raymond Scott, "Soothing Sounds for Baby"
Big band leader turned early synth pioneer Raymond Scott set his sights on creating electronic music for sites and occasions long before Eno's created "Music for Airports." His three volumes of "Soothing Sounds for Baby" first debuted in 1962 at the height of the Baby Boom, with a collection meant for kinder ages 1 – 6 months. Scott utilized electronic instruments of his own design like the Electronium and Clavivox and primitive rhythmic sequences to create electronic sounds to calm colicky babes and lull them to sleep in tunes like " Sleepy Time" and "Tic Toc."