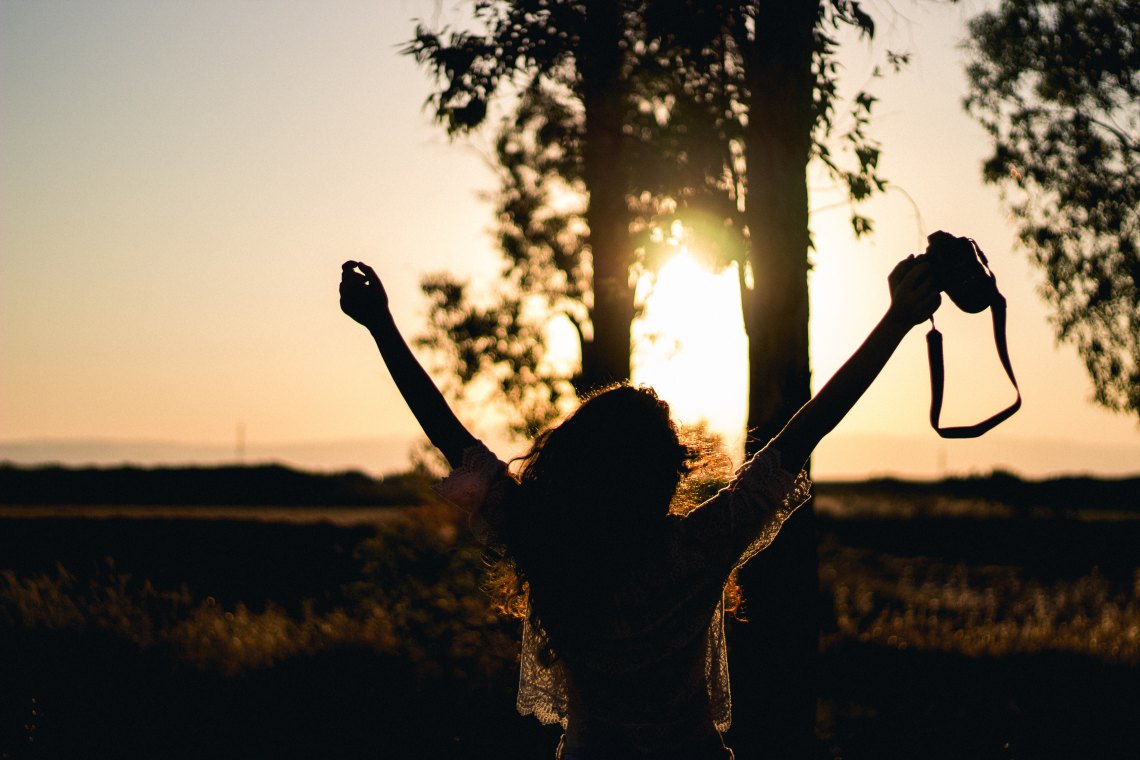 Daily
1. Hydrate, hydrate, hydrate
We've all heard the standard advice: drink at least eight ounces of water eight times a day. It sounds simple, but as we age, our bodies have a harder time retaining and properly using the water we drink. Kidney function decreases with age, requiring increased levels of water to properly flush toxins. So the standard advice might not cut it anymore.
Start carrying a refillable water bottle with you throughout the day. Have fun with it and pick a canteen in a bright color or add some personal touches with stickers. Do whatever you have to do to make it your own, and then be sure to use it! Adopt a BYOW attitude: bring your own water.
2. Reflect often
Don't worry, this doesn't require constantly posting inspirational quotes on your Facebook timeline. And you won't be struggling to calm your mind as you strive for quiet meditation. Instead, get into the habit of writing down one thing you're grateful for each day on a slip of paper and putting it into a jar.
We have a tendency to get so caught up in doing, achieving, and progressing that we forget to pause and be grateful for what we have and the work we put in each day. This practice is useful because it forces you to consistently acknowledge your achievements and blessings, no matter how small. Be proud of yourself and recognize the hard work it takes to get up and face the day every morning.
The next time you're feeling overwhelmed, you can reach into the jar and grab a slip of paper. Recalling positive events during hard times helps you keep perspective.
Monthly
3. Be social
Thanks to social media, it can seem like we already know what's going on with our friends and family. But scrolling through a news feed will never replace face-to-face interactions. Regular interactions with peer groups can increase confidence, give you a sense of belonging, and actually improve your overall health.
An easy way to maintain connections is to schedule and engage in regularly occurring events, like wine tastings or book clubs. If planning isn't your thing, join an already existing group. Sign up to volunteer at a community center, and let someone else take care of the logistics. Not only will you feel good about donating your time, but you might even make a few new friends.
4. Set goals
This practice goes a long way toward fostering feelings of accomplishment and does wonders for your confidence. Start by identifying an area of your life you want to improve. Maybe you've always wanted to try your hand at photography, or you're dying to brush up on a foreign language you haven't used since high school. Pick something to focus on, write down the goal, and then take action to make it happen. Setting a tangible goal and sketching out a reasonable timeline to complete that goal helps you create a sense of purpose.
Yearly
5. Treat yourself
We all have that one thing we love to indulge in. For some, it's a custom-tailored wardrobe. For others, a piece of fine art or a decadent meal really get their engine revving. Whatever it is, allow yourself to indulge every once in a while. Here are a few ideas to get you started:
Upgrade your old, worn out bathrobe with a heavenly soft cashmere robe from Williams Sonoma. Imagine how relaxing it would be to step out of a warm bath and into an even warmer bathrobe. You might never want to get dressed again!
Step up your dinner game with a new set of copper cookware and impress even the pickiest foodies. These pots and pans are so stylish that you'll have dinner guests fighting over who gets to help you with the dishes.
Reward yourself for the hard work and dedication it took to get you to where you are today. A gift that keeps on giving is a high-quality mattress. We spend about a third of our lives sleeping, so you're probably overdue for a new mattress. Invest in your health with a top-of-the-line mattress and start enjoying the best sleep of your life. You've earned it!
We'll all grow up eventually. Some of us just do it better than others. Taking time for reflection, pushing your limits, and rewarding yourself for hard work can go a long way toward creating a more fulfilling life. Remember: life is a marathon, not a sprint, so just aim to do a little bit at a time.