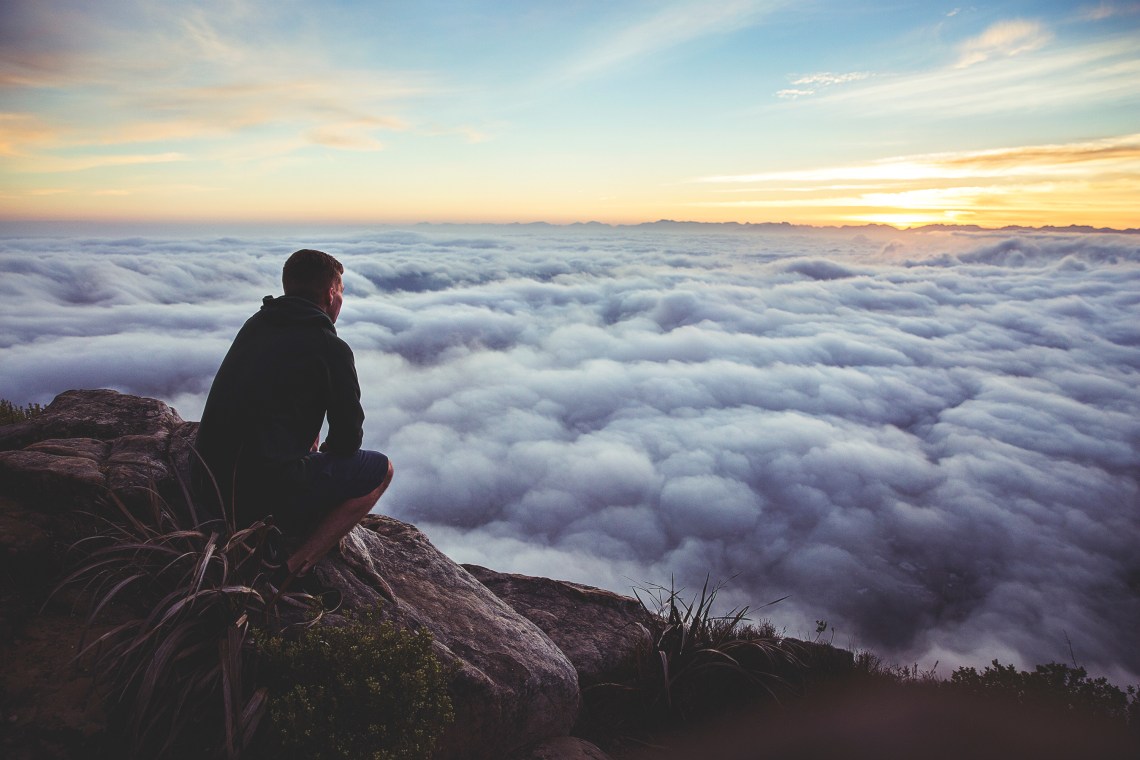 Have you ever been to a gorgeous place but did not appreciate its beauty? Have you ever been with the people you trust but did not feel any? Have you ever felt cold in summer? Have you ever stayed awake at night rewinding things back? Maybe, you were just being consumed by the world.
Remember when you were a kid? Everything seems nice, everything you can see were funny and beautiful at the same time. But now, everywhere you look at, there is responsibility, there is pain, there is worry. Yes, you are now an adult, congratulations! But don't be so doomed. There is life beyond your four-cornered work place.
Most of the times, I know, you think you lack something. And that something is not really something but someone. Someone to look over you, to talk about how your day was, to build dreams with, to achieve things with and to live life to the fullest with. Yes, you think you need someone. But I think that 'someone' is God.
You need more of Him for you to be able to cope up with life's course. You need to go back to 'life's manual' to figure out what to do when you've mess things up, and that manual is mostly known as bible. You need His words, you need His wisdom.
When you're feeling like you broke your most expensive vase, remember this verses:
"Consider it pure joy, my brothers and sisters, whenever you face trials of many kinds, because you know that the testing of your faith produces perseverance. Let perseverance finish its work so that you may be mature and complete, not lacking anything."
– James 1:2-4
Remember that trials are double-edged swords. It may hurt you but it could help you, too. Things that won't kill you would make you grow. The most expensive education is experience, only courageous people can afford it. Only consistent people graduates and got maturity as diploma. Maturity is when your mind speaks faster than your lips.
"Be strong and courageous. Do not be afraid or terrified because of them, for the LORD your God goes with you; he will never leave you nor forsake you."
– Deuteronomy 31:6
Whatever it is that concerns you, give it to God. Let Him fight the battle with you. You know you cannot do it alone, and if you have to choose a partner, always choose God. God is a God of promises. He is faithful with His words, just believe, trust Him with utmost trust, and you will see. As one of my favorite songs says, "If our God is for us, then who could ever stop us? And if our God is with us, then what could stand against?".
If you're battling a battle of Christ, then what could go against you? If your struggles are of Jesus, what would scare you? Just remember a boy named David who defeated a giant named Goliath. He doesn't even look like a mighty army of the king or doesn't even have the weapons the soldiers use, but he has God with him. And he won the battle. Do not let stress over anything eat you. Do not let worry destruct your faith. Do not let failures defeat hope and opportunities. Do not let fear interrupt your desires.
"Get rid of all bitterness, rage and anger, brawling and slander, along with every form of malice. Be kind and compassionate to one another, forgiving each other, just as in Christ God forgave you."
– Ephesians 4:31-32
Forgive. Do not hold on the negativity of the past. Open your palms and let go of it. Holding on to those mistakes that hurt you feels like pulling a rope of fire that burns your hands. If you let it go, less damage will cause you, your wounds will heal. You'll have no right to say that time heals if you keep on holding on, so let it out, let it go.
"So I say to you, ask, and it will be given to you; seek, and you will find; knock, and it will be opened to you."
– Luke 11:9
Whenever I hear this verse at the back of my mind, it feels like God wants me to do something. If you won't ask, the answer will always be no. If you won't open your eyes, you won't see anything. And most importantly, if you won't knock on that door, it will be forever closed for you.
Things are always up to you. If you want to have something, you can choose to go for it or let it just pass. The first step is always the crucial one and the hardest, it is to decide, to be willing, to be absolutely determined. It will always start with you. Your foundation of faith will define it.
He has plans, and when you feel like He's pushing you to it, go for it 'cause He's gonna get you through it. Trust is a big word. But you have a God bigger than words. If it's His will, it's His bill. Dear, God's plans are always supported by His grace. If others say, "to see is to believe", you have to stand with "believe and you will see".
"Love is patient, love is kind. It does not envy, it does not boast, it is not proud. It does not dishonor others, it is not self-seeking, it is not easily angered, it keeps no record of wrongs. Love does not delight in evil but rejoices with the truth. It always protects, always trusts, always hopes, always perseveres. Love never fails."
– 1 Corinthians 13:4-8
Lastly, you are loved. Sometimes we are losing hope, losing confidence and losing patience because we forget to feel something, it is that we are loved. The greatest feeling is to love and be loved in return, and this love has alot of form. If you think you do not have the love you deserve, it's fine, you have the love that you do not even deserve. The love that is willing to give anything up for you, the love that is willing to die for you. Not even a part of it is something you deserve, but it was fully given to you, simply because God is God.
If you ever feel alone, please bear in mind that there is Someone who loves you more than you could ever love yourself.