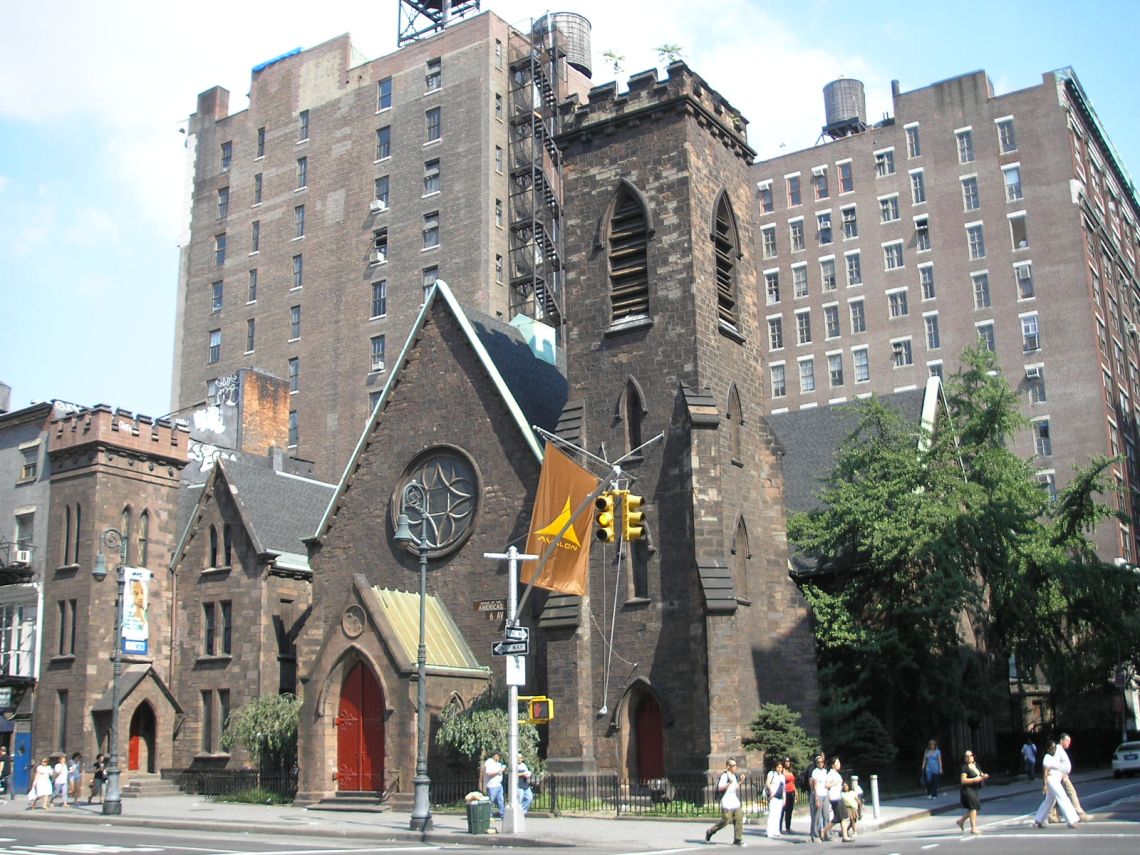 A gothic revival church that stands on 6th Ave and 20th Street has seen its fair share of change in New York City. This church, the Church of the Holy Communion, is a landmark from the mid-1800s, and survives as an old relic in Chelsea. While the fashionable stores of the Ladies Mile have closed, the elevated railroads torn down, the church still remains.
But…not as a church.
The building ceased to operate as a religious site in 1975, becoming first, a cultural center, and then a drug rehabilitation center.
It is perhaps most famous for its role as two nightclubs in the 80s, 90s, and early 2000s. The Limelight and Avalon were known for their party scenes, and a list of performances and celebrity parties included Andy Warhol, R.Kelly, Interpol, Guns N' Roses, and Yoko Ono. The history of the Limelight and Avalon is full of controversy and little secrets: offensive use of religious symbols inciting harsh criticism from Christian leadership, notorious drug use and underage drinking, and the drama of the Club Kids — including the club's association with party promoter-cum-murderer Michael Alig.
In the late spring of 2008, I was wandering around Chelsea with my camera, relatively new to the city and completely naïve where the more lurid aspects of its club scene was concerned. I found myself drawn to the open door of a church, beyond which I could see a decidedly unholy scene. I ventured through the labyrinthine halls of the former club, documenting what I found:
It was as if partygoers from the night before had simply left when the lights turned on – sticky pools of half-discarded drinks collected on the dance floors with torn streamers and lost trinkets of jewelry. Cups and straws littered the bar areas, and only the actual alcohol had been removed. The multiple levels of the main dance floor, complete with high church vaulted ceilings, had winding hallways, and private alcoves leading away to secret rooms and staircases into darkness.
Although the club had been officially closed for several months, it seemed as if it had only been hours. In the late 90s, the Limelight had repeated run-ins with the police, and was mired in controversy surrounding drug use, and the murder of Angel Melendez by party promoter Michael Alig. Eventually, the Limelight shut down for good, and the venue was re-opened as Avalon in 2003. Limelight patrons have often referred to Avalon as more of a young crowd, and lamented that the club scene in the city had been on the decline after 2000.
In 2007, the club was closed permanently.
Wandering the abandoned halls was an eerie experience: most of them were dimly lit – and it felt very much like I was being let in on a secret. I wondered how many people had ever gotten to see the clubs like this.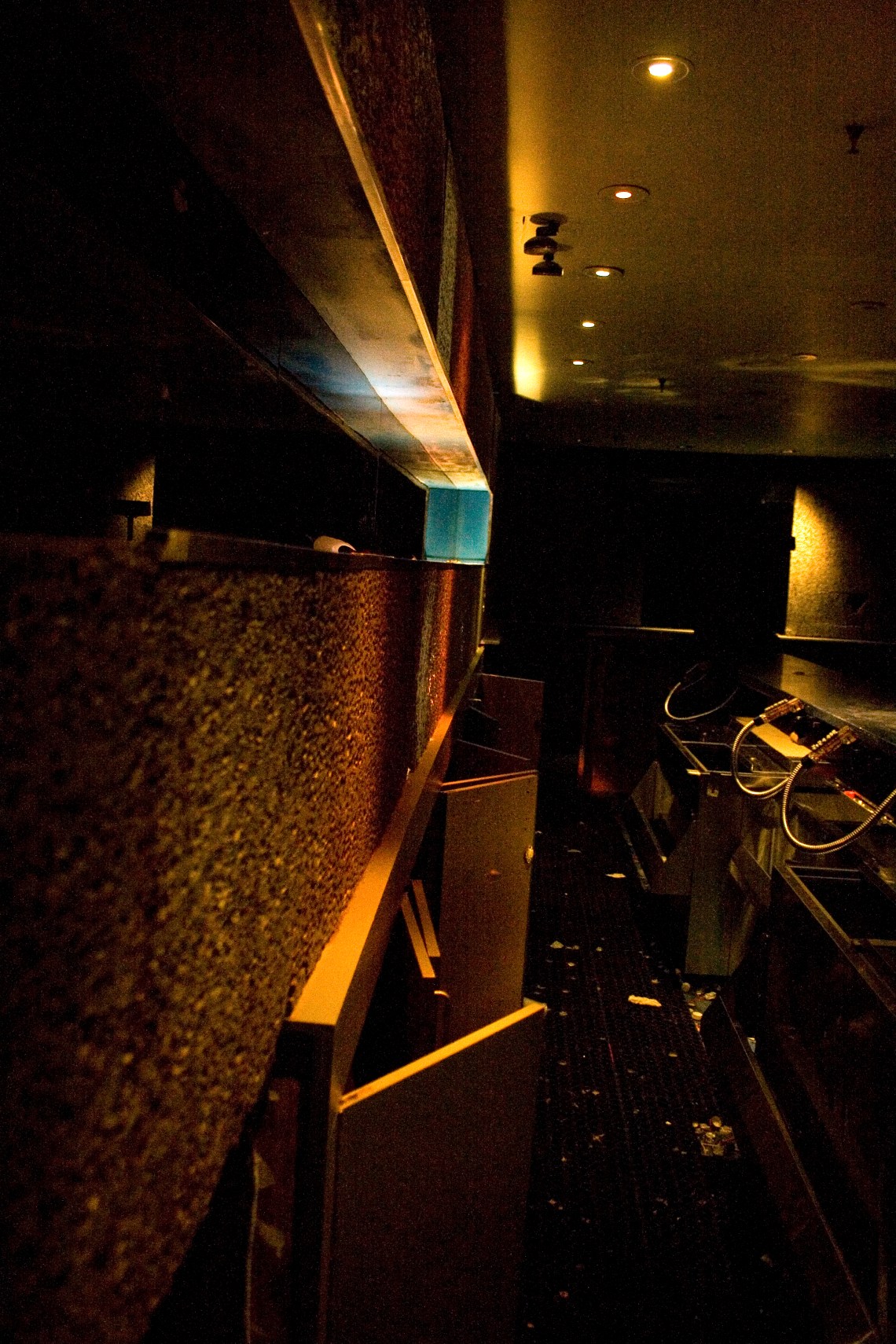 The NYC club scene has been extensively documented in films, interviews, and books like Clubland. During the 80s, 90s and early 2000s, venues like the Limelight and Avalon were groundbreaking as event spaces, and a place for experimental music like techno and grunge to tap into new audiences. The operation and attendance of clubs then was different from today – and while headlines and stories document rampant drug use and police activity in these spaces, stories of self-expression, experimentation, and community continue to offer an counterpoint to more mainstream discussions of club life.
The following stories, collected from attendees of both the Limelight and Avalon, paint a picture of the life that used to take shape in these spaces.
"My friend Ramon* had some kind of epileptic fit while in that club. Now, he claims he hadn't taken anything and he'd only had some beer. He knocked over a group of people and then fell to the floor…the club staff picked him up off the dance floor and whisked him away before we could even help him up. We spent the next half hour looking for him, asking staff, 'Our friend might be dying can you help us find him?' We finally got through some red-tape and this bouncer takes us through what amounted to a sliding-wall door…it was like a fucking secret passageway… and he takes us to this room…"
"The room was very dimly lit and lined with couches [and] sofa-chairs and there were people packed in there. It was a fucked up place: girls were sobbing, people were passed out on the couches covered in their own vomit, bros with shades were shouting at the bouncers about their missing girlfriends. It was like a battlefield infirmary for the war on drugs and drugs were clearly winning. My friend Ramon was socked away in the corner slumped on the couch. They thought that he was OD-ing on something so they were hesitant to let him go. Anyway, he was fine, it was a freak thing, we got the fuck out…
"People would ask me if I felt guilty drinking or dancing in a church, and I always said no. For me, dancing to electronic music was and still is an almost religious experience, I love the beat rattling my chest, and it feels good just to let go and dance. I often go to Berlin Germany, which now currently has a great scene like the old New York scene. There is a club there called Berghain…many people including myself…wake up early on Sunday and stay and dance all day. Many people thusly refer to Berghain as 'Church.'"
"It is one of the few places where I can feel as though anything goes again and I can dance for hours without having people act like its a meat market and hit on you non-stop. So many clubs in New York now are about being seen, and wearing the right thing, and play horrible music and it's just a miserable experience to go out."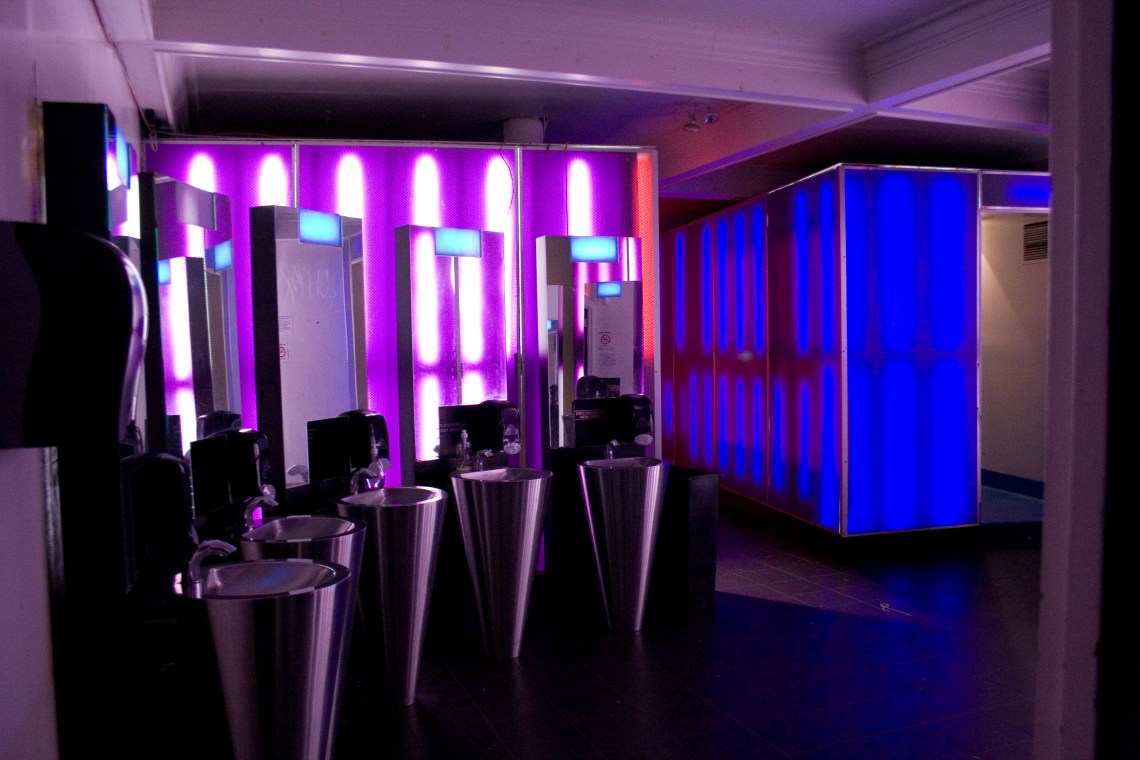 "What I liked about that scene — and what I still like about that scene in other cities, because it no longer exists in NY — was that there was a real strong current of self-expression and acceptance. People could dress and act however they wanted, and there were people of all ages in there…"
"There was a man who I regularly saw there, an old white man with white hair, white slacks, white shoes and a white polo-shirt. He looked about 70. He would just dance by himself in a corner, moonwalking and twirling and enjoying himself with no judgment. There were men in drag, gays, old people, young people, intoxicated people, sober people, ravers, and musclebound leather-daddies, it was where all the 'others' ended up."
After three years of renovation, the space re-opened as a boutique mall bearing the Limelight name. The shopping mall was not to last, however, and soon a gym franchise will be in operation.
A place of prayer and worship evolved into a place for expression and self-exploration or destruction, and its newest form will allow former patrons a place to sweat it all out. Since the building is a landmark, New York preservation laws will preserve the physical church for the years to come, and the flexibility of the building will likely necessitate other new and innovative uses of the space.
What do you think the coming years will bring?

*Name changed to protect identity.