1. If you're a writer, you need to go where the stories are, and Pittsburgh is a story.
My mother attended the University of Pittsburgh during the late 1960s when the steel mills were in full swing, and the air quality was so poor that students had to cover their noses and mouths with bandanas. If you hung laundry on a clothesline, it turned black. But after the steel industry collapsed, Pittsburgh became its own comeback story through its universities, technology, and a fair share of local ingenuity.
Every story needs good characters, and we have plenty: there's Vanessa German, a self-taught artist who came to the Homewood neighborhood of Pittsburgh by way of Los Angeles and creates sculptures from found objects that challenge Homewood's reputation as "One of America's Most Violent Neighborhoods."
Many recovering cities become copycats or downplay their own history to attract businesses, but giddy WQED producer Rick Sebak helps preserve local history and lore with documentaries such as Right Beside the River, A History of Pittsburgh in 17 Objects, and Things That Aren't There Anymore.
Our mayor Bill Peduto gambled big with the city's reputation when he appeared on Undercover Boss. After all, reality TV isn't always gentle or fair, but Peduto opened up and managed to charm viewers. In one segment, he donned the worst disguise ever to infiltrate a Public Works crew, mishandled a chainsaw, and got outed almost immediately. Aside from being a classic UB moment, the mayor was willing to sacrifice his dignity and privacy to showcase the city. Also, some of his decisions, such as insisting on filming during the fall instead of the bleak Pittsburgh winter, helped stack the deck in the city's favor. In other words, if Pittsburgh is a story, the characters here are making smart choices and getting things done.
2.The Pittsburgh comeback story is as complex as the city itself.
In the movie Groundhog Day, Bill Murray plays a Pittsburgh weatherman who is forced to relive the same day over and over. In the movie Internet Connection, everyone in Pittsburgh gets to relive the city being "discovered" every other week. It happens every home Steelers game, when we're treated once again to aerial footage of the rivers merging or a line cook piling French fries on top of a kielbasa sandwich. We were named "Most Liveable City" in 2005, 2009, 2010, and 2014. In 2012, Forbes declared us a "Comeback City," in celebration of our so-called Third Renaissance.
Apparently, America is constantly forgetting it's impressed by us. It's nice to be labeled as a plucky underdog, the "Comeback City," or other well-intentioned-but-kinda-condescending variations of the "Little Burgh that Could," although it is nice to be noticed.
Even before the outside validation, we were pretty confident in our identity. My favorite Pittsburgh moment came in 2002 during the flashmob craze, when some jagoff in NYC declared a national "No Pants Bus Ride Day." Three people in Pittsburgh participated, and when they realized that no one else was joining in—and that no one was filming them, since everyone had better things to do—they quickly pulled their pants back up in shame. Bottom line: we don't feel the need to do something just because it's trending in Manhattan. Occupy Pittsburgh consisted of about 10 people armed with bongos and drums, and it was just as effective as Occupy NYC. With all due respect, we're not interested in being the next Portland or Brooklyn because, well, those cities already exist. If you're an artist, it's nice to live in a place with a deep sense of history and pride and self-assuredness.
Just don't make fun of us in a comic strip, refer to us as "Shitsburgh" whilst filming a movie here, or beat us in a playoff game, or we'll turn into a shrieking, maniacally defensive horde. It's strange: somehow, we have something to prove, but we don't really care what you think of us. The thing is, both people and places are full of contradictions—that's what makes them interesting. Maybe we got a weird complex on the way from the blast furnace to Undercover Boss, but being part of a complicated, nuanced comeback story makes living here even more interesting.
3. Beer, pizza, and debauchery everywhere (but especially in the South Side).
"It's a classic pairing — beer and pizza. And Pittsburgh has both in abundance. In fact, the Steel City leads the country in cities with the most bars per person at 12 per 10,000 residents."
"When it comes to pizza — by the pie, slice or cone in the case of Pizza Cono in Squirrel Hill — Pittsburgh trails only Orlando, Fla., for the number of restaurants per resident at 10 per 10,000."- Stephanie Ritenbaugh, "In The Lead: Pittsburgh leads with the most bars per person," Pittsburgh Post-Gazette, 2014
While most cities have a decent bar scene, Pittsburgh has the South Side. Because of the steel industry, probably, the South Side has the most bars per block in the nation. Much like a frontier mining town, it's an interesting place to witness the fine line between civilization and savagery, and it's interesting to watch all forms of human pretense, politeness, and inhibitions fall away as the night wears on. The South Side is the place where you can watch men stumble down the sidewalk, sing, and urinate all at the same time.
One time in college, just before last call, I stumbled into a bar near the end of Carson Street. After finding a stool, I managed to lift my head enough to read a sign that said "Absolutely no motorcycle colors." Then, as if on cue, a group of bikers wearing colors walked in. Then a different group of bikers wearing different colors walked in. I would have fled, except I was so overserved that I was afraid to stand up. So I just kind of slumped down and hoped that when the riot broke out and I got stabbed, the blades wouldn't hit any major organs.
Another time, back when I was an awful human being, there was a bar in the South Side where, on a Wednesday or Saturday night, if someone paid the bartender $20, a little person who worked there would walk along the bar and pour shots into all the patron's mouths. Seriously, all the customers would line up at the bar like baby birds waiting to be fed. If you timed it right, you could get a shot when he started pouring, then run down to the other end of the bar to get another shot.
However, if you visit the South Side during the week, or during the day, it's an entirely different world. Carson Street has a number of great shops and restaurants, and the SouthSide Works is a decidedly family-friendly outdoor mall. In college, when I was trying to be less of an awful human being, I participated in StepTrek, which offers guided tours through the South Side Slopes, a steep residential neighborhood connected by hundreds of pedestrian stairways. Some stairways went right past back porches and through tight alleys, which afforded me a real up-close view of others' lives. It was one of my first authentic Pittsburgh experiences; I learned that there were entire places and cultures in my own backyard that I knew nothing about, and that long Escher-like journey did a lot to expand my world beyond its narrow scope of coursework, dive bars, and debauchery.
"I would always reserve a special place in my heart for Pittsburgh."- Willie Stargell
4. Literary heavyweights were inspired by Pittsburgh.
So many great writers were inspired by Pittsburgh. Did you know Gertrude Stein was born here? Annie Dillard grew up here and wrote about it in her Pulitzer Prize-winning book An American Childhood. Also from here: Pulitzer-winner David McCullough, Jan Beatty (who also hosts the wonderful literary radio program Prosody on 90.5 WESA), and renowned playwright August Wilson. Stewart O'Nan, Celeste Ng, John Edgar Wideman, Philip Beard, and Albert French grew up here. Novelist Thomas Bell was born and raised in Braddock.
A number of visitors and transplants were inspired here: the late great Hilary Masters, who arrived here from Kansas City and settled in the Mexican War Streets. Chuck Kinder moved here via West Virginia and stayed to teach and eventually direct the Writing Program at Pitt. Also Sharon G. Flake, Kathleen George, National Book Award-winner Terrance Hayes, Carl Kurlander (who regularly brings Hollywood screenwriters and producers to town as part of the Steeltown Entertainment project), Ellen Litman, and countless others.
"Pittsburgh was even more vital, more creative, more hungry for culture than New York. Pittsburgh was the birthplace of my writing."–Willa Cather, whose famous short story "Paul's Case" is set in the city's Oakland neighborhood.
5. Libraries funded by Andrew Carnegie's blood money.
I'm not sure how the subject came up, but I remember Stewart O'Nan saying that the Carnegie Library system, with its 19 branches, is one reason the city has produced so many great writers. You could just see him transported back to his childhood when he reminisced about the bookmobile. For what it's worth, it's easy to view Pittsburghers as rabid, over-the-top fans. And they are, but the truth is that Pittsburghers voted against using public money to build Heinz Field—Heinz Field!—and voted to increase their own property taxes to fund the city's libraries. When state lawmakers tried to defund the libraries, a number of signs popped up around the city and its suburbs. Here is what they said: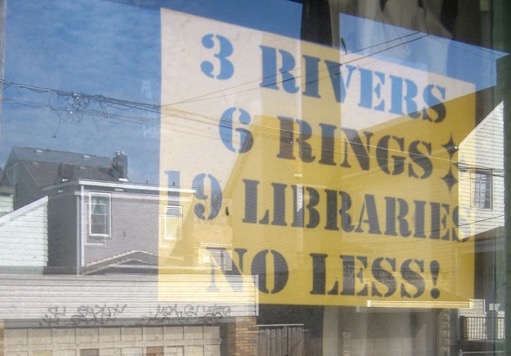 6. Universities with strong writing programs that are the perfect incubators for talent.
Li Young-Lee and Michael Chabon started writing at Pitt under the guidance of Gerald Stern and Chuck Kinder, respectively.
Because they're dedicated to expanding worldviews, the universities also act as accelerators for broader change: Toi Derricotte co-founded Cave Canem at Pitt, and Lee Gutkind started the nation's first Creative Nonfiction program there. Terrance Hayes taught for several years at Carnegie Mellon University before he was appointed to President Obama's National Student Poets Program. At Carlow University, Jan Beatty runs Madwomen in the Attic, which invites students from the university and women from the community to its intensive writing workshops. Chatham University's groundbreaking Words Without Walls program teaches writing to hundreds of people annually at the Allegheny County Jail and the Sojourner House, a residential drug and alcohol treatment center for mothers and their children.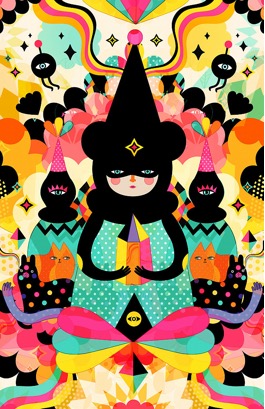 7. There are a lot of opportunities in publishing (Literary Journal edition).
One of the easiest ways to gain experience in the publishing industry is to find an entry-level position as a reader or assistant editor, and Pittsburgh is home to several literary journals which are often looking for new staffers. There's Weave Magazine (which is supported by The Sprout Fund, a Pittsburgh grant-giving nonprofit); The Fourth River, which features place-based writing; the groundbreaking Creative Nonfiction magazine; the beautiful and mind-bending journal Caketrain (founded by Pitt and Chatham alums); and Pitt's own Hot Metal Bridge. In addition, most universities here have at least one undergraduate journal students can work at. Pitt has four.
8. Places like the City of Asylum provide a cultural spark.
This organization located in the North Side, is an organization whose mission is to "provide sanctuary to endangered literary writers," many of whom teach classes and give talks about culture and literature around town. Huang Xiang, an exiled poet, even used his residency space as a canvas when he created his "House Poem." Now that's something you won't see in Cleveland. Or anywhere else, for that matter.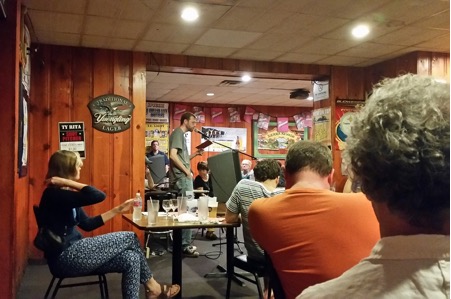 9. You can hear or share work at dozens of citywide reading series.
"When I first moved to Pittsburgh in 1998 I'm not sure I thought it was a good city for writers. It took me a while to get the city's point, which is (I think): in Pittsburgh you can start things; you don't need to be​ a​ follower. So, in 2001 I ​co-founded the monthly Gist Street Reading Series in order to try and find my people. It worked. Ideally, my people are not strictly writers but a mix of artists and musicians and creative thinkers and they all came together for these readings and then became my friends and collaborators and supporters over the years. It's easy here to try out something new—to take a risk—because it's cheap to live here and the creative culture itself is unpretentious, not quick to judge but curious to see what's going on. Now that I've lived here for 17 years, one of my goals is try and link up people who might not know each other in order to keep that eclectic community thriving."- Sherrie Flick, Co-director of the Chautauqua Writers' Festival & author of the novel Reconsidering Happiness & the forthcoming story collection Whiskey, Etc.
After the Gist Street Reading series ended in 2010, several unique reading series sprung up around town. There's Acquired Taste, which features readings centered around a food-related theme and is held in a different venue each time. Want to hear poetry at a whiskey distillery in the Strip District? Stop by Wigle's Happy Hour series. Most local universities have at least one reading series, often with a unique theme and focus.
And, of course, Gist Street wasn't the only game in town: I recently stopped by an event at the Hemingway's Poetry Series, which has been going strong for 40 years now. The community there is lively, and I was impressed by the booze-soaked, college-pub atmosphere, along with the variety of readers.
Pittsburgh Arts & Lectures has brought Jesmyn Ward, Jodi Picoult, Amy Tan, and Ian Frazier to town in the past few years. This year, they're bringing Pulitzer Prize-winner Anthony Doerr and Emily St. John Mendel, among others.
10. Experience life in a post-Cyberpunk apocalypse age.
In addition to City of Asylum's international flair and all the reading series that bring new voices to the mix, I'd be remiss not to mention Cyberpunk Apocalypse, an organization that features the nation's only zine residency, and whose goal is to put "zinesters, novelists, and comic artists on equal footing."
11. Some more opportunities in publishing (indie publisher edition).
Rounding out the scene are Pittsburgh's local publishing houses: Autumn House Press, Low Ghost Press (founded by Kristofer Collins, a Pitt alum who works in a rare and used bookstore near the universities and reviews books for Pittsburgh Magazine in his spare time), Six Galleries Press, Braddock Avenue Books, and Caketrain Press.
12. And even more job opportunities in publishing (University Press and contest prestige edition).
There are also the University Presses: Carnegie Mellon University Press and the University of Pittsburgh Press, which hosts the prestigious Drue Heinz Prize for a story collection. Many of these presses hold annual contests—the Drue Heinz Prize in particular is a great indicator of potential: past winners include Stewart O'Nan in 1993, Edith Pearlman in 1996, and Tina May Hall in 2010. The judges were Tobias Wolff, Rosellen Brown, and Renata Adler, respectively.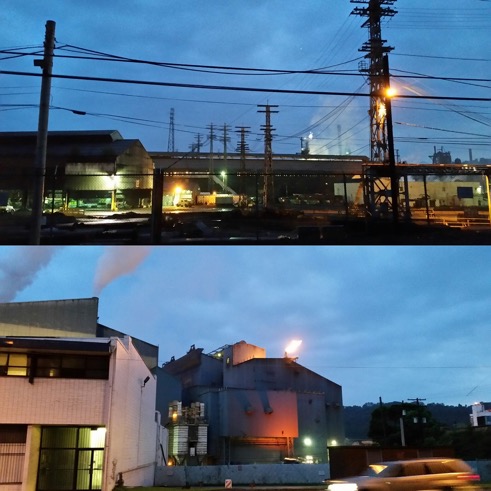 13. Pittsburgh's landscape is strange and varied: You don't need to travel far to find inspiration.
This is mostly due to its geography and industrial heritage. To give you an idea of what nearby Braddock looks like, location scouts for The Road decided it was the perfect setting for the film's godless, corpse-strewn wasteland. Drive there during the day and you might catch a glimpse of the mayor, who has the city's zip code prominently tattooed on his forearm. At night, you can see a working steel mill shooting plumes of orange and blue flames into the sky.
In Forest Hills, the Westinghouse Atom Smasher was a historical oddity that inspired at least one published short story. The building was torn down in January, sadly, but it will always remain part of the landscape in many Pittsburghers' minds, where it continues to inspire curiosity and wonder.
Harsh winters, heavy trucks, and blithering idiocy make the roads in Pennsylvania notoriously terrible, but the roads in Pittsburgh are a special breed. There's a color-coded beltway system no one understands, and the urban planning is so bizarre in places that all traffic laws are rendered void and you just hope for the best. I used to live in the Bloomfield, which boasts some intersections Dr. Seuss would be proud of. And don't get me started on the Squirrel Hill tunnels or the downtown on-ramps. To be a writer means dealing with detours and finding yourself in unexpected places, and Pittsburgh's roads basically guarantee that.
I'm always intrigued by the different ways people alter their landscapes, and due to a sudden population decrease after the steel mills closed down, Pittsburgh is full of interesting adaptations. The most noteworthy, especially to outsiders, is what we've done with our old churches. Many of them were repurposed with more worldly interests: you can visit the Church Brew Works in Lawrenceville, or the Altar Bar in the Strip District, which was formerly a night club called Sanctuary.
When I lived in South Oakland, I watched a beautiful abandoned brick church down the street transform into several different shabby coffeehouses and restaurants before finally becoming a shabby Hookah bar. The history of the building itself is pretty interesting: apparently, the church itself was abandoned in 1917 and then a Byzantine Catholic congregation moved in and remodeled it before outgrowing the space and building their own church down the street.
A big scene in my novel takes place in the Phipps Conservatory, which is a giant Victorian-style greenhouse near the universities. It's difficult to describe the exterior (and interior), so I spent a lot of time there taking notes. Inside the greenhouse, there are stone walkways that lead through exhibit rooms, each filled with different trees and plants. One day, a man brushed past me while I was taking notes. When I looked up a second later, he'd vanished. I finally spotted him on the dirt hill—he'd hopped the little stone wall and was walking among the trees. This guy was completely normal-looking (khakis and wire-rimmed glasses), and he was traipsing through the exhibits, plucking various fruit from the trees and eating them. At first, I thought maybe he worked there, but then I saw him skulking through the Desert Room, on the lookout for staff members and new cactus fruit to sample. In the end, the joke's on him: I can't imagine what a mix of starfruit, bayberries, unripe plantains, and unprocessed vanilla beans does to one's intestinal system. Shine on, you crazy diamond.
I've said before that universities and tech companies helped Pittsburgh recover after the steel industry collapsed. Down the street from my office, there's a DARPA lab where scientists, funded by the military, are trying to regrow soldiers' limbs. Somewhere in the city, Google technicians are competing with other organizations to create a practical self-driving car, and Carnegie Mellon University's robot soccer team continues to dominate.
Years ago, before I had a car, I found myself stranded in Hazelwood, which is famously depicted in the music video for Wiz Khalifa's "Black and Yellow." I was trying to walk home and found myself in a large field strewn with plastic bags and gravel. In the middle was a large chain link fence and a sign that read, simply: ROBOT CITY ROUNDHOUSE. Curious, I scaled the fence and as I hopped down, I rolled my ankle. I walked gingerly down a hill towards a large dilapidated warehouse. It looked like part of an old steel mill complex—and maybe it was. I was too injured and frightened to check it out in person, but sometimes that sign will flash in my head and I'll wonder what I missed. How many stories are being manufactured and stored in that building?
Pittsburgh is home to a mysterious underground river. Also, the steepest street in the U.S. If you drive around the North Shore or the Hill District, the city's hilly terrain makes it easy to find an unexpected, breathtaking view of the city. Also, the Hill District has the city's largest number of abandoned synagogues, and if you care to look, you can see the ruins of an old incline that once carried people downtown. The city's geography may help keep its secrets, but there is so much inspiration for someone willing to search for it.
14. There's a deep-rooted sense of art and culture.
Andy Warhola was born and raised in Pittsburgh before he shed the "a" and moved to NYC. We have a lovely museum on the North Shore dedicated to the man himself, along with like-minded artists. The Carnegie art and history museums and the Science Center are wonderful and seemingly endless labyrinths that educate and amaze countless children and parents, and the First Fridays gallery crawls bring an eclectic mix of people downtown every month. We also have the Toonseum, which is exactly what you hope it is.
15. Planes, trains, PAT buses, inclines, and trolleys bring folks together.
I grew up in a small town where everything was at least a 15-minute drive away. If you didn't have a car, you became a hermit. While it's easy to complain about Pittsburgh's public transit (and we do), I've learned through experience that buses and trains in many other cities are so sparse and unpredictable that they're basically useless. I lived without a car in Pittsburgh for eleven years, and I got around just fine. This summer, I've been teaching a course through OSHER for students 55 and older. Some are in their 70s or 80s. Many are retired professors who have so much to offer, and I've been impressed by their ambition and dedication—many of them take two or three buses, or a train to a bus, every week. It might sound obvious, but without reliable public transportation, people wouldn't be able to meaningfully connect with others to build a strong literary community.
16. Our bookstores are much more than just bookstores.
Speaking of interacting, we have a number of bookstores. When the Barnes & Noble in Squirrel Hill closed, two independent bookstores sprung up to replace it. Shout-out to Dan Iddings, who worked as a librarian for a decade before opening Classic Lines Bookstore, which is twice as beloved as the B&N ever was. Amazing books, true to its name, is the other.
Shout-out to Lesley Rains, who started the East End Book Exchange as a pop-up store and has been growing the Bloomfield-based location ever since. The EEBX has been an invaluable gathering space for countless book-lovers, reading series and get-togethers over the years, and it's so wonderful to see Lesley out and about at literary events all over the city.
While they didn't make the list I linked to in the previous paragraph, Phantom in the Attic is a great comic book specialty store near the universities, and New Dimensions Comics in the Century III mall is hands-down the best comic store in the U.S. It's not just the massive selection (only a fraction is depicted in the photo above), but also the way the store manages to appeal to the hardcore faithful as well as newbie or casual readers.
Pittsburgh is ranked as among the most literate cities in the US, and its strong independent bookstores are a testament to the city's dedication to knowledge and community.
"THERE are three cities readily accessible to the tourist, which are peculiar, — Quebec, New Orleans, and Pittsburg—and of these, Pittsburg is the most interesting by far….Was there ever such a dismal lookout anywhere else in this world? [….] The town lies low, as at the bottom of an excavation, just visible through the mingled smoke and mist, and every object in it is black. Smoke, smoke, smoke,—everywhere smoke! Smoke, with the noise of the steamhammer, and the spouting flame of tall chimneys, — that is all we perceive of Pittsburg."–James Parton, "Pittsburg," The Atlantic Monthly, 1868. This is the same essay in which Parton later refers to the city as "hell with the lid taken off."
"Fresh controversies over Pittsburgh Mayor Bill Peduto's gift-giving appearance on the reality TV show "Undercover Boss" have him questioning critics' motives and disputing reports that the gifts are under investigation. I think it's the first time any politician has ever been accused for lining someone else's pockets," Peduto said Friday. Peduto is disputing a report he's under investigation for asking VisitPittsburgh to use its public funding for promoting the city to help cover the cost of gifts he gave to city employees during his appearance on 'Undercover Boss.' "Peduto pledged to give $155,000 to four needy city employees during his appearance on the show last month. The mayor insists the gifts are legal. "There is a sublime ridiculousness to politics sometimes, and many times, the daggers come out," Peduto said. "I do think there's those from a political standpoint that want to turn something good into something bad. Some people want to use this as an opportunity as a battering ram.'" –"DA: Inquiries made about Pittsburgh 'Undercover Boss' money, but no investigation," WTAE, January 2015
"We're like Joe Chiodo, the legendary Homestead barkeep and longtime Steelers fan who, just days before the AFC Championship, told the New York Freaking Times he hoped the Steelers lost. Why? Because his seats in Heinz Field weren't as good as the seats he had in Three Rivers. That, my friends, is Pittsburgh. We don't really care who you are, or what you've done. The minute you try doing it to us, we're going to tear you from the pedestal we put you on. I'm sure it would be a lot easier to run an offense, or a city, if that wasn't so. But that wouldn't be Pittsburgh. It might not even be football. I like to think that attitude helped make Pittsburgh what it is today. If we suffered in silence or were easily impressed by millionaires, we never would have stood up to Carnegie in Homestead. We might still be tending open-hearths on 24-hour shifts."–Chris Potter, "Irony City," Pittsburgh City Paper, 2005
"Fiction is about one thing only: trouble."- Chuck Kinder
17. A sports history so vast it could fill a library.
A metric ton of books could be written (and have) about Pittsburgh's rich sports history. The immaculate reception. The Steelers' uphill slog to win 3 playoff games on the road, and then the Super Bowl. That gadget play where Randle El threw for a touchdown. Roberto Clemente. Satchel Paige. Garett Jones' home run that almost took out a cyclist near the river. Garett Jones is the first in Pirates history to hit the ball directly into the river. Hockey things. We have a women's football team (The Pittsburgh Passion), a defunct arena football team, a hockey team, college sports out the wazoo, and a professional soccer team—if that's not enough, Hollywood's graced us with fictional teams: Pittsburgh Pythons and Gotham Knights, anyone?
With all this activity and competition, there's passion constantly in the air. You'd have to try mighty hard not to tap into and be carried along by all the energy.
"And so we came into town through the Fort Pitt tunnel, at night. I don't need to tell you what a dazzling sight that is. It was an evening in early summer, and the Pirates were at home, and there, beyond the blazing city and the glinting rivers, lay that great bowl of light, dusted as if with stars by a million illuminated gnats hovering over it. The stadium where Sanguillen grinned, and my lost hero Clemente had once crashed into the walls, chasing down impossible pop flies. No, my first sight of Pittsburgh did not disappoint. Until then, I had been intrigued, fascinated, even charmed by the Pittsburgh in my mind, a city that continues to exist, somewhere deep down in there underneath everything that came after. But when our car burst out of the tunnel that night, I began to fall in love."–Michael Chabon, "My Report to the Carnegie Institute," 2001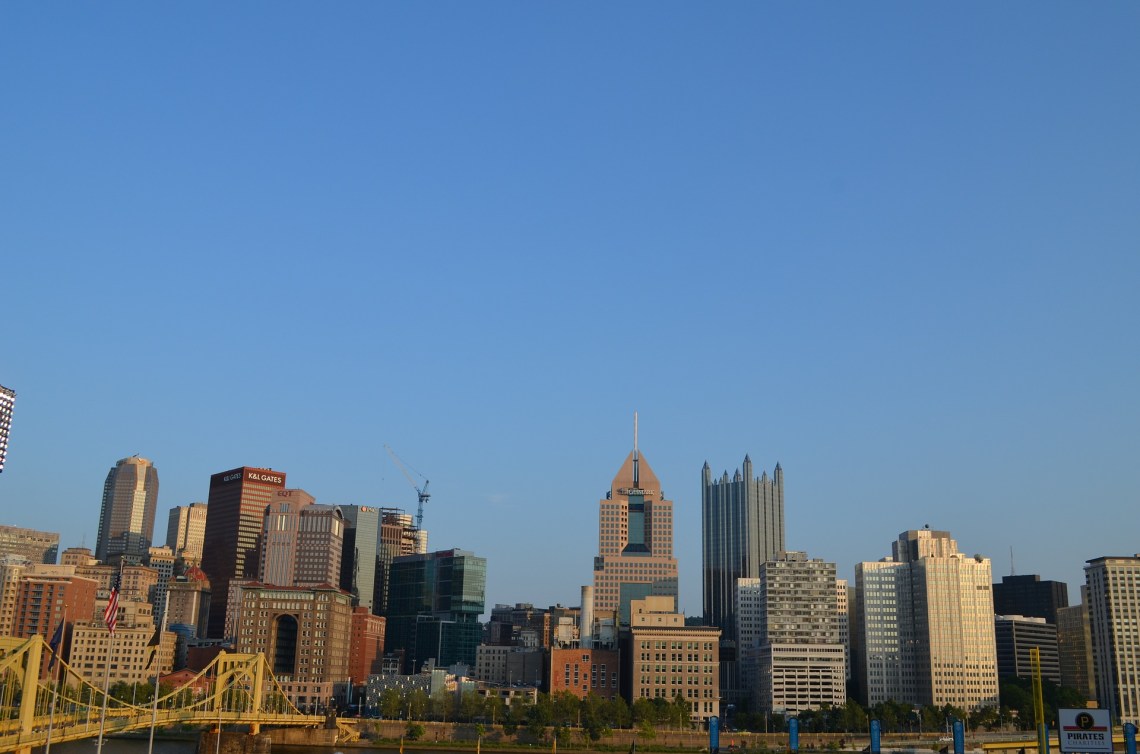 18. Strange architecture to match the landscape.
Pittsburgh has an exotic landscape, but its varied architecture also keeps things interesting. Each building was designed to make a statement, and each building tells a story, as you can see in this article, which only covers one of the city's 90 neighborhoods.
19. Necessity Pittsburgh is the Mother of Invention.
I've talked about high culture, literature, and architecture, but did I mention that 1968's Night of the Living Dead made Pittsburgh the birthplace of the modern cinematic zombie? Also, the Ferris Wheel, the Big Mac, and the Mr. Yuk sticker were invented here, and there's a not-so-subtle connection between the three. Maybe there's something in the water, or maybe close proximity to all this industry naturally inspires innovation. Now that Google and TechShop have established themselves in Bakery Square, who knows what new inventions are on their way?
Also, there's literally something in the water. I'm not sure what the industrial revolution did to our rivers, but I can tell you from firsthand experience that if you swim in the rivers, you'll stink for days and open cuts will bloom with interesting infections. My buddy Justin used to live in Lawrenceville, and sometimes we'd fish on the banks of the Allegheny. One afternoon, a middle-aged fellow set up a camp chair next to us and told us the secret to catching fish any time of day: dough balls the size of a marble rolled in crushed Frosted Flakes and soaked in Cherikee Red. And he was right: while we cast and recast without a bite, he caught half a dozen weird-looking fish and stashed them in a cooler. I've never seen fish that color. Maybe the bait attracted them. As the sun started to set, he packed up his stuff, grabbed the cooler, and started walking up the hill, whistling.
"You're not seriously going to eat those," we said.
"Sure," he said. "Why not? I eat all sorts of things out of this river."
I wanted him to elaborate but was afraid to ask. The moral of the story: this man is patient zero for the next zombie pandemic. He was wearing a red baseball cap with his fishing license clipped to the top, and torn Birkenstocks. If you see him lurching your way, it's already too late.
20. Concrete, ice, and smokestacks: No place for crybabies.
Writing is hard, and while writers might not be the loudest whiners out there, we're probably the most articulate (myself included). But when your neighbors tell you about working in the steel mills, where floors got so hot that people strapped on wooden clogs that smoked throughout their shift, it gets harder to complain. And with industrial smokestacks and billboards from shuttered businesses clearly visible on the skylines, it's easy to realize others' sacrifice and your own good fortune before getting back to work. The truth is, people who don't know better like to glamorize blue collar work, and they like to glamorize writing. But writing isn't a glamorous job. In the end, it's just you and your wits versus fear and the blank page.
In addition to all the teachers, writers, organizers, publishers, and zombies out there, I need to acknowledge the reporters and book reviewers who help keep the flame alive. Reviewing a book is time-consuming and the pay is miniscule, but that didn't stop Bob Hoover from reviewing countless books for the Post-Gazette since 1987. Bill O'Driscoll is always on top of the literary scene with his editorial position at the City Paper, and Fred Shaw's at the top of his book review game right now. In a world where most newspapers and magazines shy away from literature, Rege Behe regularly profiles Pittsburgh writers in addition to reviewing books for the Tribune-Review. Anthony Moore, Pitt's News and Information Specialist, is another key connector in the literary scene.
"Let the audience add up two plus two. They'll love you forever." – from Billy Wilder's screenwriting tips
21. It's the most affordable city.
"Cost of living is definitely the factor that keeps me in Pittsburgh—not worrying too much about money frees me up to work on my writing. But more than that, there are just so many writers in Pittsburgh. I've learned that most in my post-MFA years, as I've met writers who have come here at all different points in their careers, writing in all manner of genres. Having so many successful writers around makes the whole venture seem possible. We all know—from lifetimes of askance raised-eyebrow looks about our literary ambitions—that the mere idea of possibility is invaluable. And of course the support of the literary community makes it all the more possible. Other things too: Pittsburgh Arts & Lectures' Literary Evenings, Pitt's Contemporary Writers Series, all things East End Book Exchange. Constant events keep the community strong and active. And the way everyone wants to tell you about the history of any given detail of the city, down to Pittsburgh closets and Pittsburgh toilets. I love the constantly circulating lore, with all its revisions and embellishments. It is, itself, a literary tradition. And even this: the strange and unexpected lilt of the Pittsburgh accent, the first time you say Car-NAY-gie correctly, call the ice "slippy," or experience the unique satisfaction of calling someone a jagoff—there's nothing like the consistent surprise of words."- Katie Booth, a freelance nonfiction writer who arrived in Pittsburgh via Massachusetts
22. Pittsburgh is concentrated greatness, period.
Pittsburgh is special, and I'm not just saying that because I chose to spend the last 14 years here. Maybe it's because the city's weird geography and 446 bridges can make neighborhoods a little insular, but this city often has a small-town feel to it, in the best possible kind of way.
When I was in graduate school, I was heading to a party at Chuck Kinder's house in Squirrel Hill. I'd printed out directions from Mapquest.com, and I was still lost. A bearded fellow in a yarmulke stopped and asked me if I needed help, and when I told him where I was heading, he pulled over and jotted down better directions for me. Back when I was a poor nobody driving a shitty car that broke down every other week, I lost count of the times complete strangers stopped to help. During that car's first and last winter in the city, several neighbors I'd never met helped me push the car up the slick, icy brick road I lived on.
Pittsburghers know their own history and lean towards having a genuine respect for it, which is refreshing. This is a place many young people never want to leave, and a place many older people return to after they retire, or to help aging parents.
It's funny: as someone who's lived here long enough to call it my home, I don't just want to advocate for Pittsburgh as just a great place for writers—it's a great place to live, period. At the same time, every article (such as this one) that helps to spread the word might bring more people here, and in that crowd are the inevitable soulless greed-puppets who are frothing to build plastic McCondos on every corner until only the richest, blandest people can afford to live here. Even now, property rates are soaring and the change in some neighborhoods is downright shocking. I suppose I share the same dream, and the same conflict, of urban artists all over the country: I don't want this city to change, even as I know that's impossible. How does anyone handle this contradiction? Me, I'm going to keep faith in my city, hold on, and enjoy the ride for as long as possible.
If you're interested, I've compiled a list of my sources and notes here.
If you know of another reason Pittsburgh is a great city for writers (or a great city in general), please feel free to sound off in the comments.

I wrote a novel. Sixty percent (the best sixty percent!) takes place in Pittsburgh. The novel's called Eighty Days of Sunlight because that's how many days of sunlight we get here.