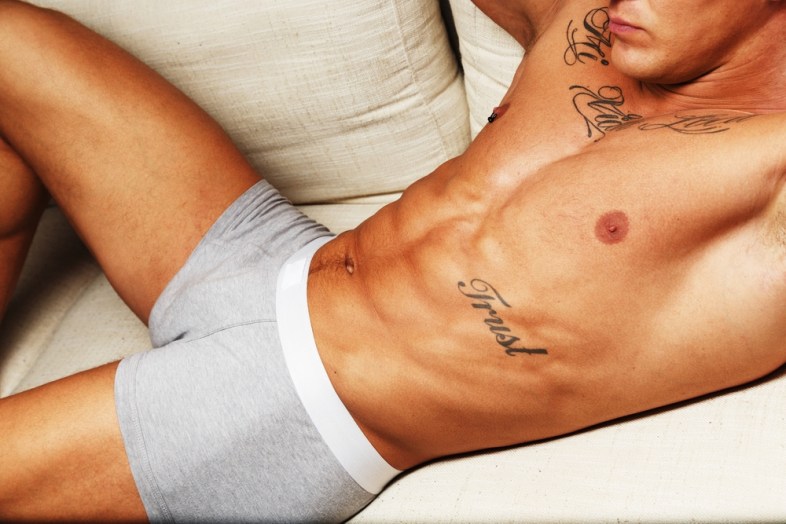 Whether you're dating a men's underwear model or a woman's, there are a few things you need to know. While any underwear model will have a figure to die for, there are some other intense things you should know before dating him or her.
1. Getting Ready Means You'll Wait Forever
Models don't take just 5 minutes to get ready. You'll be waiting around for them to get ready for much longer. But, it's well worth the wait. After all, models are great arm candy.
2. Fashion Week Is A Big Deal
If you like the Stanley Cup Finals or the Super Bowl, then you need to know that fashion week is on the same level of importance. Models live and breathe fashion, so when fashion week is on television, you'll be stuck watching it.
3. Sexy Is Meant For Them – Not You
It's too easy to get caught up in the idea that they're getting sexy just for you. Unfortunately, this is not the case. Sexy is part of these rare individuals' lives, so while they may love to look good for you, they are getting sexy because it's their life.
They know they look good, and flaunting it is a part of their life.
4. Who Wants To Go Shopping?
Do you hate shopping? If so, you'll be in for a lot of torture. Male and female underwear models both love to shop 'till they drop. Being at the top of the fashion world means that these models need to be in stores when new items are hitting the shelves.
5. They're Down For Anything
Worried that model life may make you a bore? Don't fret. You'll be able to impress no matter what you do. Walks in the park or a night at home is often welcomed compared to the hustle and bustle of normal life.
6. Instagram Is A Part Of Life
Do you check Instagram? Your counterpart will be on Instagram posting photos and trying to boost their following at every chance they get. If they're not boosting up their Instagram, you'll find them on YouTube and Twitter.
7. They Will Be The Center Of Attention
Even if you're beautiful, it won't matter. Very few people can match the look and appeal of an underwear model. After all, they are paid to look great in just their underwear, so if you're the center of attention now, you won't be for long.
8. You'll Need To Be Fashion Savvy
Sweats and a t-shirt won't cut it. You'll need to show that you're somewhat fashion savvy. Grab a book, watch some fashion shows and start brushing up on the latest trends.
9. They're Not Too Embarrassed To Ask Strangers About Fashion
Do you cringe at the idea of asking a complete stranger where they got their shoes, shirt or even bathing suit? Models will ask anyone about fashion and not think twice about it.
10.Confidence Is Natural
Oftentimes, minus the rare exception, confidence will ooze out of an underwear model. It's common sense. If you're paid to look good in front of the camera, you need to have some level of confidence to find success.
11. There Will Be A Lot Of Competition
The opposite sex will pose a lot of competition for you. This goes right back to being the center of attention. Others will make comments and try to lure your date away. Don't worry, this rarely works.
12. Independence is a Must
Being on the road all the time going to photoshoots requires a high level of independence. You will rarely find a model that clings to your arm. So, don't worry about having to take care of your model – they are used to doing everything on their own.
13. Fitness Is Essential
Models and fitness go together like peanut butter and jelly. Working out is a part of everyday life. These individuals will often be in the gym 4 – 5 times per week – or more.
14. Poses In Mirrors Are Common
Think you'll share the mirror? Forget it. Your date will be very critical of themselves and will always be posing in the mirror to see how they look. Sometimes, this is to prepare for a photoshoot. Other times, it's just a part of their "getting-ready" routine.
15. Food Is A Love / Hate Relationship
One day, ice cream is on the menu, and the next, they'll only be drinking kale smoothies. Staying in shape and getting ready for different modeling jobs will mean there is an immense love/hate relationship with food.
16. You Might Be Able To Travel
A major bonus for you, especially if things get serious, is traveling. You may find yourself in the unique position to travel with your partner all over the country – or the world.
17. Skype Dates When Shooting Makes Sense
Skype is a natural fit if you're not able to travel. Long times spent away from home will mean that you'll spend a lot of time on Skype saying goodnight.
18. Underwear Is A Huge Industry
There are so many different types of underwear that you've never heard of before. From thongs to regular boxers to lace panties and G-strings, there are dozens of underwear types. Many of them you will love, some you may completely hate.
19. Nights In Are Welcomed
After spending so much time traveling, models will often want to spend a night in instead of going out around town. This is especially true for models that are in their mid-20s and older. A home-cooked meal and cuddling on the couch next to the fire may be your partner's only desire.
20. Friends Will Envy You
This is a very fun one. Who doesn't envy the person that's dating a model? Your friends will be very jealous and will often tell you how lucky you are. If you're the jealous type, this may not be a good thing. If you aren't jealous, you'll be able to bask in the glory of having one of the hottest partners in town by your side.