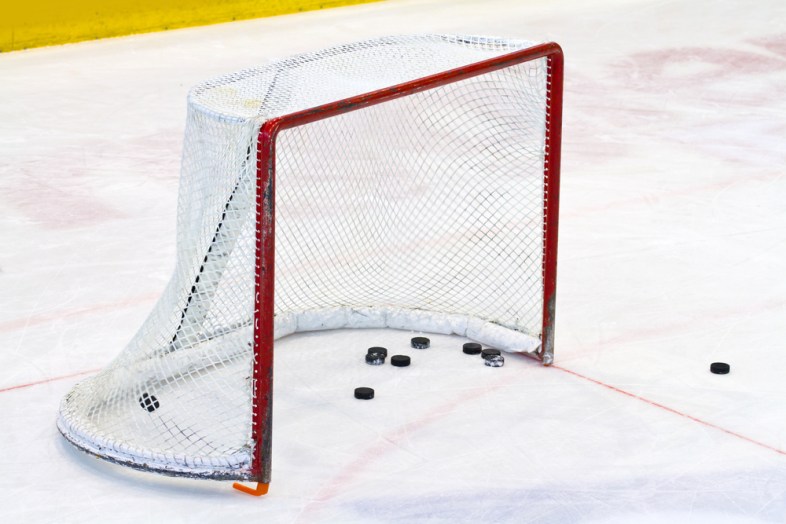 If you're paying attention to professional hockey right now, there's no denying that the New York Islanders are for real. I know, I get it, after the phenomenal dynasty years of the 1980s, the Islanders have, aside from a decent season here and there, been a consistently terrible team. This is personal for me. I was born in 1984 on Long Island. It's like as soon as I came into existence, the team started to tank. I wish I could say that it's not my fault, but I've always felt like my presence on earth has been somehow at least partially to blame.
And yeah, while the Islanders currently sit atop the entire Eastern Conference, it's difficult for a lot of hockey fans to imagine a team that hasn't won a playoff series since 1993, a team that finished dead last in the Metropolitan Division just last year, will somehow not only charge deep into the playoffs, but actually win the Stanley Cup. But I promise you: that's exactly what's going to happen. And here's why:
1. John Tavares
Arguably the best technical forward in the NHL, our lord and savior John Tavares is currently leading the league in overall points. And it's not just his raw skill that's kept the Isles on top all season. As team captain, JT has been instrumental in establishing the Islanders as serious contenders for the Cup.
He was drafted to New York with great fanfare back in 2009, but he's just now entering the prime years of his hockey-playing career. Anybody needing any proof needs only to check out Johnny Hockey's (yes, I know, sorry Calgary) overtime winning goal last night against Toronto. That was some serious nineties Jaromir Jagr level goal scoring. John Tavares is the league's MVP and he cannot be denied the Cup any longer.
2. Nick Leddy
Star defensemen Nick Leddy actually sustained some sort of an undisclosed injury during last night's game, but even if he is sidelined for a little while, and the optimist in me is hoping that won't be the case, the Islanders defensive future is bright. Leddy recently signed a seven-year contract with New York, guaranteeing blue-zone strength for years to come.
And it's not just Leddy. The Islanders have several star defensive prospects working their way through the team's minor league affiliates. With veteran D-man Lubomir Visnovsky making irregular appearances on game day, seventh-man Brian Strait has seemingly turned his career around, proving that he has what it takes to play solid Islander hockey (if anyone tells you otherwise, just tell them to stop Strait-hating.) And if the team can somehow land a fat contract with recent Boston transplant Johnny Boychuk, the league will probably institute a rule allowing opposing teams to play two goaltenders at once, just to give everyone else a fair shot.
3. Jaroslav Halak
I could write you a whole list of excuses as to why the Islanders finished at the bottom of the Metro last year, but the main reason for the team's lack of success was a near total void of presence in net. Everything changed last summer when GM Garth Snow signed Jaroslav Halak as starting goaltender. But would he be good? With a little under twenty games left in the regular season, the answer is a resounding yes, yes, yes. Jaro has not only succeeded, but he has excelled. He's broken all sorts of franchise records, including recently the most wins earned by a goalie in Islanders history.
While he's established himself as one of the best netminders in the league, there was always the question regarding what would happen if Jaro were hurt. Isles fans let out a collective sigh of relief as management pulled off a last-minute trade with the Buffalo Sabres, acquiring Michal Neuvirth as Halak's backup. With two solid options in net, there's every reason to believe that this team can go all the way.
4. Depth
While it's easy to single out the star players as a reason to bet on the Islanders, it's even easier to point to the team as a whole. In many ways, aside from a less-than-stellar penalty kill, the current roster offers no serious gaps in talent. In fact, the Islanders' depth on the roster is probably the biggest reason why the team has been able to handle several serious injuries without losing momentum on their way to the top.
The most obvious example is first-liner Kyle Okposo. The wingman suffered a detached retina a little over a month ago, and even though his eye problem didn't stop him from scoring four goals in an epic rivalry match against Pittsburgh in January, it became clear that his injury was serious enough to eventually warrant a six-week absence. Similarly, forward Mikhail Grabovski appears to be out long-term due to multiple concussions. And yet, despite the setbacks, the team is still winning. Each line is capable of scoring, and dependable backups like Colin McDonald and Kael Mouillierat have proven ready to fill in any holes in the roster.
5. Destiny
I'm probably getting a little off-topic here, but it's hard to ignore the fact that the Islanders winning the Stanley Cup this year reeks of destiny. Think about it, it's the franchise's last year at the beloved Nassau Coliseum. They're moving to Brooklyn next year (which is geographically still a part of Long Island) leaving behind the historic location where their predecessors won the Cup four years in a row back in the eighties.
How awesome would it be if the Islanders could Drive for Five, to bring it back one last time? Doesn't it kind of feel like it's the only inevitable conclusion to the 2014-15 season? I'm telling you, if this were a movie, you just know that the Islanders would wind up winning. In any case, I have a feeling that the playoffs this year are going to be an example of life imitating art, of a team defying the odds to go from last place to champions all in the course of two seasons.
6. I'll be out a hundred bucks if they don't
Also, I made a ridiculous bet with my brother-in-law Matt last year. It was right at the end of the playoffs, it seemed like all of New York had caught Ranger fever, and Matt surprised me by giving me one of those, "I'll root for any New York team," justifications for why he was all of the sudden siding with the blue shirts for the finals. "What about the Islanders?" I asked him, to which he replied, "What about them? They're in last place." The argument got heated, I don't know exactly how it happened, but I wound up betting Matt a hundred bucks that the Isles would win the Cup in 2015. Foolish? Maybe. But now that the Isles are in first place, I like to think of my confidence as prescient.
Although I'm careful not to count the chickens just yet. The Islanders are having a great season, but I don't want to totally jinx the team. And so even though I'm really confident in New York's chances, let's just say that I have faith that they can get the job done. Is it going to be easy? Hardly. The Islanders will face a big test tonight as they square off against their crosstown rival New York Rangers, who aren't exactly having a bad season either. But when the Islanders make it to the playoffs, as long as they can get past Montreal, I'm confident that no west coast team will be able to put up any serious threat. The Islanders are doing great, and there's no reason to think that a full-strength post-season team won't be able to do what hasn't been done on Long Island since 1983: win the Stanley Cup.