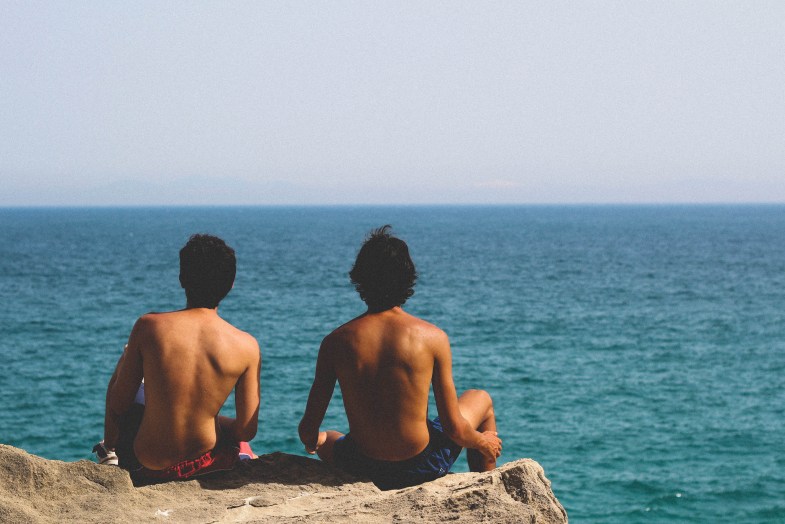 I want to take a minute and give a big shout out to my best friend. Craig, you're the greatest. I've never been closer to anyone else in my life. And even though you took that job in Cincinnati a year and a half ago and, yeah, we haven't really seen as much of each other as we used to, I just want to let you know that, Craig, I hold our friendship in a special place in my heart. And I guard that special place. It's protected. Because you're a special guy. Craig, you're my best friend.
Even though you got married last month, even though I wasn't invited to the wedding, it's cool Craig, and yes, I completely understand. Not every wedding is a big deal, sometimes it's nice to have a more intimate ceremony, I get it. And the bachelor party that you had in Vegas a few weeks before? That's cool too man, you were probably just looking out for me, you know how much I hate flying, right, and gambling. It's not that I hate it, I just suck at it, and so you actually did me a huge favor, saved me from losing my rent money at the blackjack table. Like remember that time in college when we road tripped it to Atlantic City and I wound up losing like eight hundred bucks and I didn't have any money to pay for our hotel room or gas back to the city? Yeah, why risk something like that happening again? So thanks dude, you're a good friend. You're the best.
And about the wedding, and the bachelor party, look, I wasn't stalking you on Facebook or anything, so I'm sorry if this is all coming off as a little intrusive. But I was talking to Phil a while back and he mentioned something like, "I bet you can't wait for Vegas, right?" and I was like, "Vegas?" and he was like, "Oh, you know what? I don't know what I mean … I meant … I mean … weren't you going to Vegas? Maybe that was someone else. Maybe that was … uh … I forgot what I was going to say."
And I let it go, I mean, I could tell that something was up, but I didn't want to get in his face. But even though I tried, I couldn't shake the feeling, like it was so obvious that Phil thought I had been included in something that I clearly wasn't a part of. So when everyone was out to lunch I started snooping around the office and, you remember Carl, right? I think you guys worked together for a little while after college, and then I started working with Carl, I forgot how it even came up, but yeah, we were talking one time about our mutual acquaintance.
Anyway, yes, now that I'm saying this all out loud, it does seem a little crazy, me remembering the one mutual Facebook friend Carl and I had in common, you. Me, waiting for Carl to go on his lunch break, then going over to his computer and searching your name under his Facebook account, confirming what I already kind of knew to be true, that you did the Vegas bachelor party thing, that I wasn't invited, that for some reason you changed your privacy settings to deny me from seeing what was going on while allowing casual acquaintances like Carl to see status updates and photos from the trip on his News Feed.
Craig, it's cool, man, you're my best friend. And yeah, sometimes you go through huge chunks of time without talking to your best friend. I mean, this is a big planet, and life has a way of pulling us in many different directions. So it's not totally unreasonable for two best friends to go a couple of years without speaking or answering each other's phone calls or returning any of each other's text messages. Did you get a new phone number? Like a Cincinnati area code?
It's cool dude, next time you're in New York, give me a shout, OK, I'll buy you a beer, we can catch up on old times. Did I tell you that Diane and I are expecting our second kid? Yeah man, it's going to be a boy. I was thinking about naming him Craig, after you, after my best friend. Would you be the godfather? I mean, you only have to be as involved in little Craig's life as you want to, but if you did want to, I mean, you could be like as into his life as possible. You could be like his second dad. Hey, if anything happens to Diane or me, would it be cool if I listed you as the guy that gets to raise the boys? No pressure, if you say no, that's no, that's cool. But just think about it. And if you and … what was her name, your new wife? I'm really anxious to meet her. But if you guys have kids and you want to do the same, Diane and I would be more than happy to … I'm getting carried away.
But I miss you man. I wish some of those jobs that I applied to in Cincinnati would at least give me a call back. It's like, you don't understand man, I've applied for everything. I went on Cincinnati craigslist and I sent my resume out to pretty much every listing available. Is there anything open by you? Just let me know.
Craig, I love you dude. I hope we get in touch soon. Man I hope you read this and you give me a call. Don't worry if it's like five years from now, you stumble across this and you think, shit, it's probably too late now to reach out. It's not too late. I don't care if it's like five, ten, thirty years from now, just give me a ring man, it'll be like we never lost touch. Because it won't be weird or awkward, it'll just be two best friends, hanging out, catching up on old times, shooting the shit.
Seriously, Craig, dude, give me a call man. For real.